Featured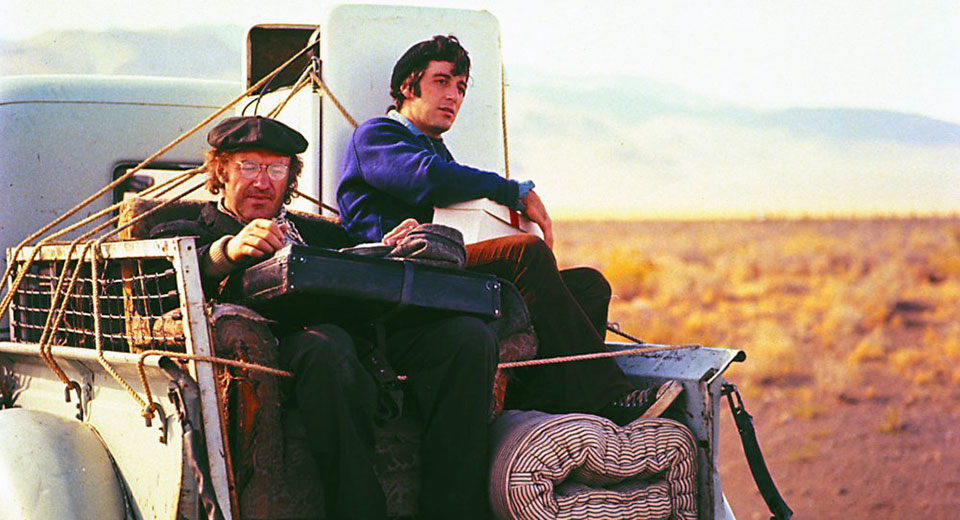 July 30th 2017
Appreciations of Jerry Schatzberg tend to focus on how underrated and underseen his work is relative to other American filmmakers of the '70s, but luckily, Metrograph has been working diligently to remedy this problem—within the past year, they've hosted screenings of Puzzle of a Downfall Child and The Seduction of Joe Tynan featuring the director in person. Tonight at 7:00 pm, Schatzberg returns to present Scarecrow followed by a Q&A alongside Josh Safdie, who selected the film to screen in a series spotlighting influences on the Safdie brothers' forthcoming Good Time.  As he and Benny put it: "Not that anyone really cares...but if folks thought our last film, Heaven Knows What, was a nod to The Panic in Needle Park in its story and some almost identical exterior locations, then Good Time finds its cousin in Schatzberg's other masterpiece: Scarecrow."
There's a certain eccentric mystique to Scarecrow: it tied with Alan Bridges's The Hireling for the 1973 Palme d'Or, but often gets lost in the New Hollywood shuffle in retrospect; it crystallizes Gene Hackman at the height of his early-'70s cinematic rise and a baby-faced Al Pacino at the beginning of his own, but offers a droller showcase for their talents. Their characters meet by chance on the edge of a deserted two-lane highway, where Hackman's ex-con Max is initially reluctant to trust Lion, Pacino's vulnerable, tactile jokester. He's won over when Lion offers him his final match for his cigar, and Max invites him to Pittsburgh, where he's planning to open a car wash. Lion agrees to go into business, as long as they can make a quick stop in Detroit to deliver a birthday present to the five-year-old child he's never met—he's selected a gender-neutral lamp, which he cradles in a red-ribboned box at all times.
With ample gag cuts and physical comedy, Scarecrow's tone departs from what you might expect of a road movie from the period, and it's a joy to watch both actors loosened from their tightly-wound brands of intensity (but without compromising on energy—watch what Pacino does when asked to create a distraction inside a department store). The film's rhythm also sputters and stops in unexpected ways, stitching together snatches of dialogue across disparate locations in order to maintain the thread of a conversation. The quick clip of such sequences creates a jumble of landscapes, rendering Hackman and Pacino perpetual drifters through an ever-shifting backdrop of urban outskirts. But when the film does pause for breath, cinematographer Vilmos Zsigmond injects a quiet splendor into the duo's surroundings, evoking his work on McCabe and Mrs. Miller in his glimpses of the fading promise of twilight.
Having fled commitment and responsibility, Max and Lion both explore the possibility of a clean start by means of an airtight plan (Max) or penance (Lion), but the film never pretends that sheer willpower will make it all okay. By starting off with levity, Schatzberg sets up the film's darker and more violent turns to land with devastating force, and he never asks secondary characters to merely exist as background noise, all building to Penelope Allen's stunning performance as Lion's ex Annie. He's also careful to emphasize the pair's sudden stops while hitchhiking rather than exult in the freedom of the open road, trimming scenes with his editor Evan A. Lottman (who also cut Downfall Child and Panic) to focus on the points at which they are dropped back off on the curb. We're left with this pair's unlikely bond in the midst of a life adrift, tentative shipmates cast into an uncertain future.