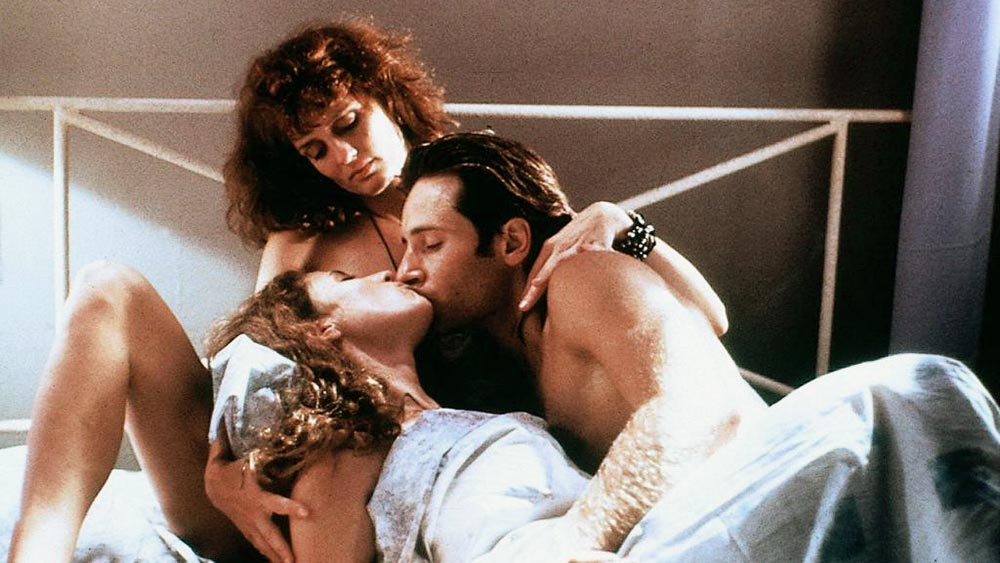 November 16th 2022
Though the lurid cover art and enticing pull quote ("It goes places movies seldom dare to go!") promise explicit, boundary-pushing eroticism, The Rapture (1991) is outrageous for entirely different reasons. The film's first 20 minutes or so do offer plenty of soft-core nudity and a quick threesome, but the audacity of the next 80 minutes is nearly sufficient to erase the memory of young David Duchovny's washboard abs and questionable haircut.
Sharon (Mimi Rogers) is Operator 134 at a bleak call center in LA who joins her lover (Patrick Bauchau) after hours for random sexual encounters with couples picked up at hotel bars. From the lack of human connection in the regulation 15-second-long phone calls she absently manages in her cubicle, to the use of a thoroughly beige furniture showroom for her nightly trysts, The Rapture establishes a numbing emptiness to Sharon's routines, each of her white-walled environs exemplifying the utter lack of depth or purpose to her life. One day, over a lunch of vending-machine coffee and cigarettes, she overhears her colleagues feverishly whispering about "the boy" and his predictions of the end times. As with the conspiracy theories and hidden networks of postmodern literature, Sharon has glimpsed the possibility of meaning and can no longer submit to the banality of her ordinary existence.
Almost overnight, Sharon becomes a blissed-out born-again Christian, persistent proselytizer, and devoted member of a small sect of doomsayers who believe the day of judgment is increasingly nigh. The plot zips past a remarkable number of turns that stretch credulity, to say the least, like the revelation that her boss at the call center happens to be the leader of the end-timers, or like her young paramour Randy's (Duchovny) inexplicable reversal from doubter to vociferous believer. This all occurs very early in Sharon's spiritual odyssey; the film then becomes more an experience than an unfolding narrative, as the other shoe seems constantly, precipitously about to drop.
Without deflating the delightfully ludicrous twists or revealing the scale of Sharon's struggles, it should be noted that the film is called The Rapture, and weirdly enough, it means it. Written and directed by Michael Tolkin, best known for adapting his own novel The Player (1992) for Robert Altman, The Rapture was embraced at the time of its release by some believers and denounced by others, lauded by Roger Ebert, and a relative dud at the box office. It's a uniquely difficult film to recommend, and yet, has so much to recommend it—Rogers's captivating performance, dialogue that fascinatingly teeters on the edge of obtuseness, the aforementioned audacity that recalls the blatant miracles of something like Ordet (1955) or Agnes of God (1985). Though hardly as shattering as those films, The Rapture offers a similarly bold exploration of spirituality, paired with distinctly '90s accoutrement and ennui.
The Rapture screens tonight, November 16, on 35mm at Roxy Cinema.