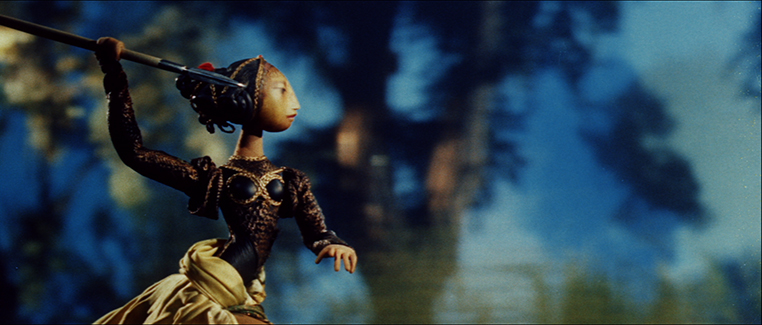 April 15th 2018
"Wood does not wound or break down," wrote Roland Barthes in "Toys," an essay considering the ideological underpinnings of playthings. "[I]t does not shatter, it wears out." Wood is "a familiar and poetic substance," unlike plastic and metal, substances "at once gross and hygienic." Children share with wooden toys a descent from living things; toys made of chemicals please the eyes but less so the hands. Barthes would surely resist the transplanting of his argument to the world of images, always already the untactile product of chemistry and mechanics, but his words underscore a particular charm central to the work of Czech animator Jiří Trnka. Working primarily with wood and cloth, Trnka's animated puppet films breathe vivaciously on screen, revealing in their exhalations the human hands behind them.
In a remarkable stretch between 1947 and his death in 1969, Trnka proudly preserved Czech folklore and adapted Shakespeare and Chekhov in reverent, lovely tones, but also satirized the Nazi occupation, Hollywood Westerns and his own Communist government's heavy hands. His sharp wit and eye for absurdist gags will be on full display at Film Society of Lincoln Center this week, as each of Trnka's six features and eighteen shorts arrive as part of a comprehensive retrospective produced by the Comeback Company. Not a single screening should be missed.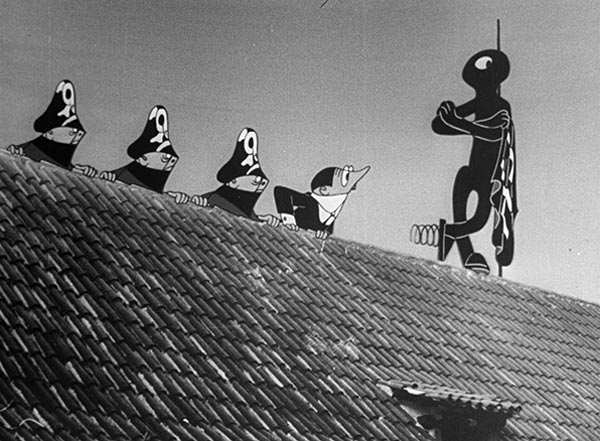 After gaining notoriety as a beloved illustrator of children's books, Trnka began producing cartoon shorts in postwar Prague, less than a decade after Walt Disney used Snow White and the Seven Dwarfs to erect an empire by forging a reputation for animation as a toothless and winsome medium. Of Trnka's early cartoons, the standout is Springman and the SS (1946, co-directed by Jiří Brdečka), a purgative attack on Nazism released only a year after their withdrawal from Czechoslovakia. In Trnka's dialogue-free farce, a Nazi functionary rises in the party by spying on his neighbors, noting carefully who's eating what and who's talking to whom. Revenging the populace is a chimney sweep capable of leaping tall buildings—photo collages of Czech architecture— in a single bound after inadvertently securing springs to his feet. Donning a black mask, Springman bedevils the SS blockheads, taunting them like bulls before taking off into the air to jailbreak the undesirables. Over 70 years later, these thirteen hilarious minutes serve as a reminder of the superhero genre's largely untapped political potential.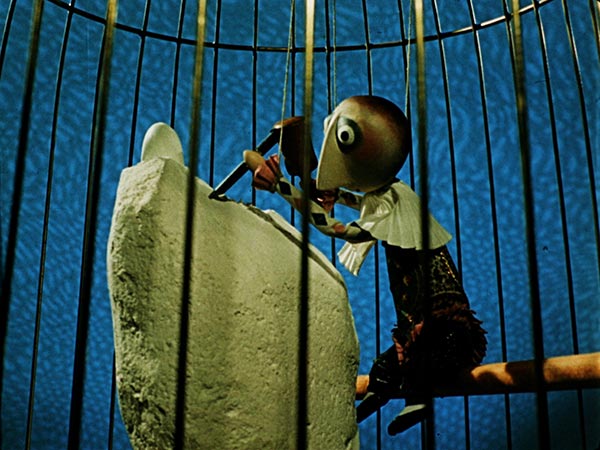 Trnka's final film The Hand (1965), is his best remembered in the West, presumably because it offers at the first glance the kind of unambiguous anti-authoritarian metaphorics beloved by each American generation's legion of nonconformist high schoolers. A white-gloved hand descends upon the workspace of a chipper sculptor, commandeering his potter's wheel to fashion five-fingered busts in its own image. The artist would rather make flower pots, and mounts an increasingly desperate resistance until he's imprisoned in a bird cage and attached to marionette strings, forced by his tormenter to sculpt a massive hand. For this he's rewarded with laurel wreath and a gentle pat on the head. The film ends with a coffin, the hand redressed in a leather glove. The allegory is easy to spot, so much so that party leaders banned it for two decades, but Trnka wrings an incredible amount of expression from a disembodied hand and his simple doe-eyed puppet, producing a thorough critique of totalitarian ideology from a relatively glib initial concept.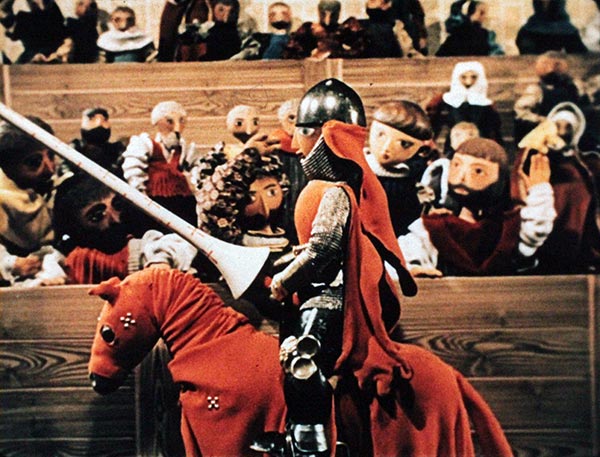 The parodic riffs on Stagecoach in the wordless Song of the Prairie (1949) are more subtle, though no less sharp. (This short precedes the feature-length medieval fantasy Bayaya [1950] in the program.) Here the simple wooden puppets, including an acrobatic gunslinger, mustache-twirling villain and drunk coachman, wobble clumsily through shootouts and chases so frantic the horses' asses catch fire. To call the film's fluttering motion "crude" is to traffic in Disney Co.'s ideal of plasticine recreations untouched by opposable thumbs. Trnka reproduces human gestures clearly with his puppets but does not conceal the material nature of his tiny performers and their handlers. While enjoying the plot, we read the puppets as small things moved by human hands. This moderate suspension of disbelief has more in common with live puppet theater than Uncle Walt's seamless, bountiful landscapes. His later work would smooth the flow slightly without sacrificing the sense of mass or the arduousness of the stop motion process. In every frame, devoid of any self-congratulation, Trnka reminds audiences of the animator's impossible task. Astounding, then, that he does this while at the same time we're happily ensconced in his tales.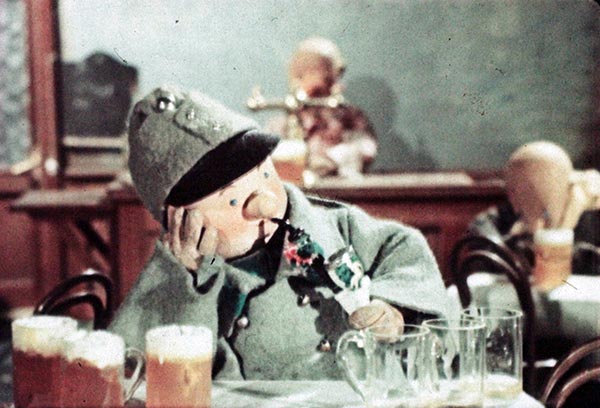 This paradoxical effect reaches its apogee in the feature-length The Good Soldier Švejk (1955), based on Jaroslav Hašek's novel concerning a subversively moronic volunteer in the Austro-Hungarian army. The titular Švejk's exceedingly literal cooperation with pompous superiors reinforces the insanity of military order. Despite a handful of live-action adaptations of the cherished book, wooden puppets are the surprisingly perfect embodiment of Hašek's satire. In the film's plot, slovenly Švejk's movements and appearance mark him as comically unfit for service, but his officers, sculpted from similar materials and subject to the same mimetic limitations inherent in Trnka's technique, lumber and jerk while aspiring to aristocratic refinement. Trnka's materials mock the military enterprise in toto by refusing efforts at precise regimentation. Theirs is a world meant for plastic.
Jiří Trnka's films are the antidote to the crystalline moralizing of Disney and Pixar. Their "gross and hygienic" films immodestly announce themselves as miracles in which we are to lose ourselves. In form and content Trnka's work is unashamed of its human provenance and consequently offers a more thoughtful immersion in his stories. We are never unaware of the effort and care required to refashion the world in wood and cloth.
All stills courtesy Czech National Film Archive