Featured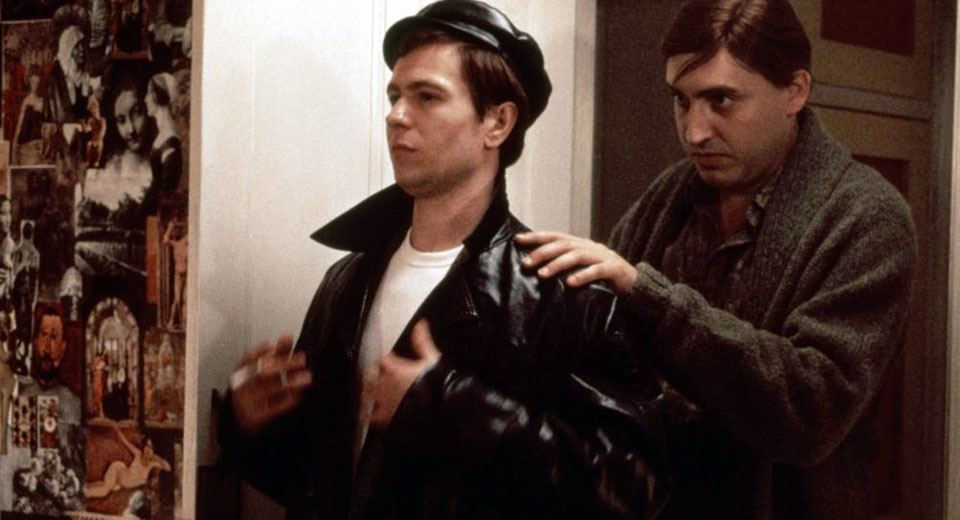 August 28th 2017
Prick Up Your Ears , Stephen Frears' 1987 biopic of the English queer playwright Joe Orton (played by a young Gary Oldman), offers a 1980s view of the repressive 1960s, kind of like how Todd Haynes' Far From Heaven (2002) offered a 2000s view of the repressive 1950s. The difference in permissiveness between the period of production and the period portrayed is much starker in the latter (Dennis Quaid's closeted suburban husband being forced into "rehabilitation" therapy), since Frears clearly had to "use shorthand for the dirty bits" (as the secretarially trained Orton actually did in his diaries). The result is a cautiously salacious film that winks at you over every naughty remark and erotic image, suggesting that coded subtlety was still as indispensable in 1987 as it had been in 1964.
A flashback structure introduces Joe as a fresh murder victim whose biographer (Wallace Shawn) is prying into his private life. Joe's agent Peggy Ramsay (Vanessa Redgrave) tells him about the "Dark Ages" of early 1960s England, where "friendship" between men was still punished with prison time. (Even the progressive characters approve of such friendship only "within reason.") Joe and his lover Kenneth Halliwell (Alfred Molina) live together officially as playwright and personal assistant, a lie that (to Kenneth's increasingly unmanageable despair) becomes true over the years. The tension between the lovers is the film's binding thread; an uneducated ragamuffin from working class Islington (Kenneth: "Cheap clothes look good on you because you're from the gutter") is molded into a sophisticated socialite. Kenneth, with his dandyish Oscar Wilde look, is Joe's social and cultural superior until their roles reverse with the drying up of the Kenneth's creative stream and the sudden blooming of Joe's brief career.
Among the film's best parts are screenwriter Alan Bennett's dry one-liners. (Joe: "I always wanted to be an orphan; I could've been, had it not been for my parents.") Among them are also those scenes that diagram the ritual of gay encounters in 1960s Britain: a request for the time followed by a wink and pursuit into the nearest public restroom (called a "cottage" in the U.K. and a "tearoom" in the U.S.), a game of lustful gazes and the unscrewing of lightbulbs for the cover of darkness, bell-helmeted cops kicking open stall after stall in search of felonious fellatio.
Prick Up Your Ears is distinguished by Hugo Luczyc-Wyhowski's meticulous production design: Peggy's office is adorned with posters from decades of successful productions, giving us a rich sense of her history at a glance; the walls of Joe and Kenneth's apartment are decked with the latter's living collage, the gradual growth of which represents the passage of time; the peeling exterior of their Islington terrace house illustrates their chronic semi-poverty better than any dialogue about money trouble would. (Because we spend so much time in this cramped but cozy abode, Prick Up Your Ears is more of a place-movie than a plot-movie.)
Also, the young Hans Zimmer played synths for the soundtrack.