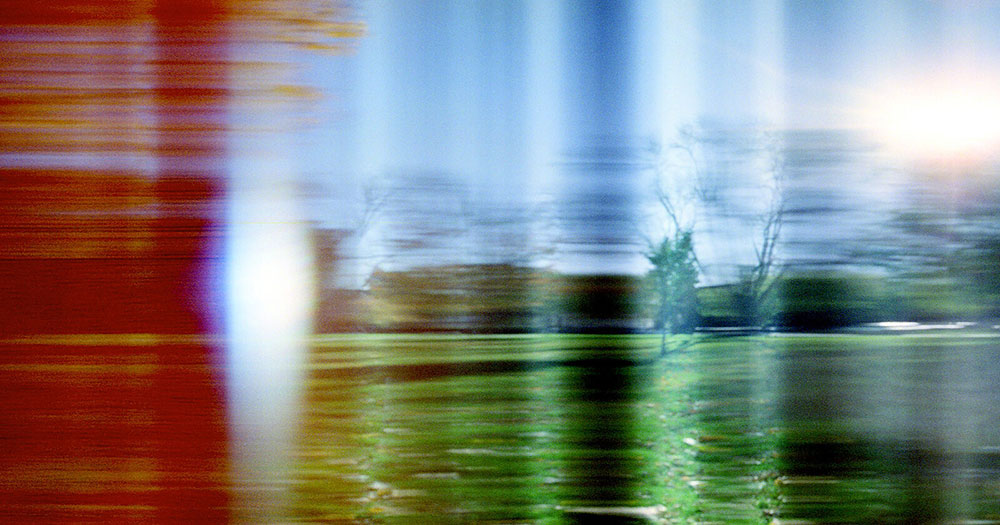 March 19th 2022
As a part of the Museum of the Moving Image's "First Look" festival, "Persistent Visions" presents a two-part screening of avant-garde short films from around the world—almost exclusively by artists working with celluloid. Program 1 was curated by MoMI's Director of Development, Becca Keating, while Program 2 was curated by MoMI's Assistant Curator of Film, Edo Choi
Program 1 opens with Tigre del Carbón (2022), a patient and painterly study by aZuLosa of nature and civilization in tension and agreement. The soundtrack is serene but doesn't quite fit the images: we witness the brilliant colors of a sunny day but hear the croaking of a frog and the hooting of an owl Through multiple exposures and single images, what was at first presumed to be the general unsteadiness of handheld camerawork is revealed as an intentional reflection of the oncoming storm. As invisible hail begins to fall, the images grow more irritated in their movement and hurried in their montage. Meanwhile, the whole of the film has stealthily moved from the countryside into the heart of the city.
The only found footage film of either program is Linda Scobie's The Pendulum (2021), placing flashes of concrete images in a jungle of abstract photochemical deteriorations set to the sound of the deteriorated optical tracks of this visual noise. The provided synopsis is simple but precise: "a tendency to stay in motion."
In Laura Harrison's The Limits of Vision (2022), Program 1's implicit feminism (the line-up consisting entirely of women filmmakers) is made explicit with an animated trip to 1975 South London. In addition to being one of only two "Persistent Visions" films to feature spoken dialog, it is the only one that does not originate on film and by far the longest work in either program. In this adaptation of Robert Irwin's novel of the same name, Harrison plays with the seeming simplicity of her animation style, especially in a shot of our protagonist walking down the stairs of a 3-D space clearly made from a 2-D image, the seams in plain sight.
Peruvian filmmaker Andrea Franco's Notes on Connection III (2021) blends a slowed-down and less-maximal Richard Kerr–styled view from a moving train with immaculately framed static beach compositions and free-floating shots taken from a boat on the water. A sudden cut to a colorful one-point perspective diagonally divided by sunlight is all the more striking, as our internal balance struggles to regain its sealegs. Its landscapes slide smoothly into the final film of this first program, Laida Lertxundi's Autoficción (2020), which focuses more explicitly on human forms than anything that has preceded it. Lertxundi juxtaposes a Martin Luther King Jr. Day parade in Los Angeles with questions of motherhood, solitude, and knowing oneself—ultimately facing the discomfort of sharing one's inner life in the public forum of a film.
Program 2 presents us with minor masterpieces of observational study, their diaristic style employed to write visual equations. To borrow from Jorge Suárez-Quiñones Rivas's description of his film Meihōdō, Program 2 is "guided by the energy of movement."
We begin with pài-la̍k ē-poo (saturday afternoon) (2021), whose soundtrack puts us at ease. In just under two minutes, Erica Sheu constructs a touching elegy for her grandmother ("for my a-má" reads the closing title, spoken aloud on the soundtrack in Taiwanese Holouē), an unadorned yet robust catalog of light and the clear blue sky around it. Like a life, the film appears for a miraculous moment and vanishes before we have time to say goodbye. With Meihōdō (2020), Rivas bestows upon us another dense collection of images sculpted from time spent in Japan. Working toward an idea of cinematic presence, the filmmaker observes the Meihōdō community, who "take the bushidō (Way of the Samurai) as the guide to integrate zen in their everyday life and practice." A sweeping pan over a misty mountainscape lands upon a practitioner of a martial art similar to Tai Chi. Suddenly in a dōjō, there is a dazzling mini-montage of hands and feet at work: moving, collecting, stacking.
James Edmonds's Configurations (2021) flashes by in a continuous flurry of images, which alternate between diaristic views of farms and kitchens, Rose Lowder–esque displacements of ancient architecture, and glimpses of simple patterns painted on canvas by Edmonds. Throughout Configurations, there is a return to a quick but steady monodirectional horizontal pan, which continues in Ben Balcom's News from Nowhere (2021) (wherein the movement is set to narration from Bernadette Mayer's book Utopia), and also in Mike Gibisser's Slow Volumes (2019, pictured at top) until Philipp Fleischmann's Untitled (34bsp) (2021) changes course toward vertical movement. Yet each of these films seek to escape the organizational space of the film frame in its own way. Slow Volumes was made by running the film strip through a vertical aperture in a camera designed and built in collaboration with artist Hannah Givler, creating the impression of movement from within a static object. The result is a glitchy smear of thin columns performing a new kind of horizontal movement, which Gibisser says "organiz[es] the image temporally." Faces and figures appear fleetingly, distorted and frozen in time as they zoom past us. But the specific aim of overcoming the frame as an oppressive unit of measurement is most important to Fleischmann, who alludes to Peter Kubelka: "As a critical response to structural filmmaking and a strong determined tradition in Austria surrounding the single frame, my films neglected the unit of the single frame completely." Like Gibisser, Flesichmann also designs his own cameras, but instead of creating the illusion of smoothness, he creates the illusion of stark photographic frames. Untitled (34bsp) is perhaps best described as a frameless flicker film.
The program closes with a return to nature as veteran filmmakers Malena Szlam and Nathaniel Dorsky walk us through the untamed and mysterious wildernesses of Merapi (2021) and William (2021), respectively, both soundtracked by silence. Merapi takes an active volcano in Java as its title, reflecting its serene exterior with a mostly soothing film, which occasionally flits by so as to hint at the furious potential that bubbles underneath. As with all of Dorsky's films, William is unavailable to view except on celluloid, but its premiere promises to close the evening with an overt interest in the human figure. He prepared his young actor with an outlandish setup: "Your sister's kidnapped and imprisoned in a Tibetan monastery. You fly there in a private plane to save her, but on the way there your plane runs out of gas and you land in the jungle. So we come upon you at this point staggering through the forest. Maybe it's like an acid trip."
"Persistent Visions" screens tonight, March 19, as a single-admission, two-program event at the Museum of the Moving Image. Filmmakers Linda Scobie, Laura Harrison, James Edmonds, Ben Balcolm, and Mike Gibisser will be in attendance.