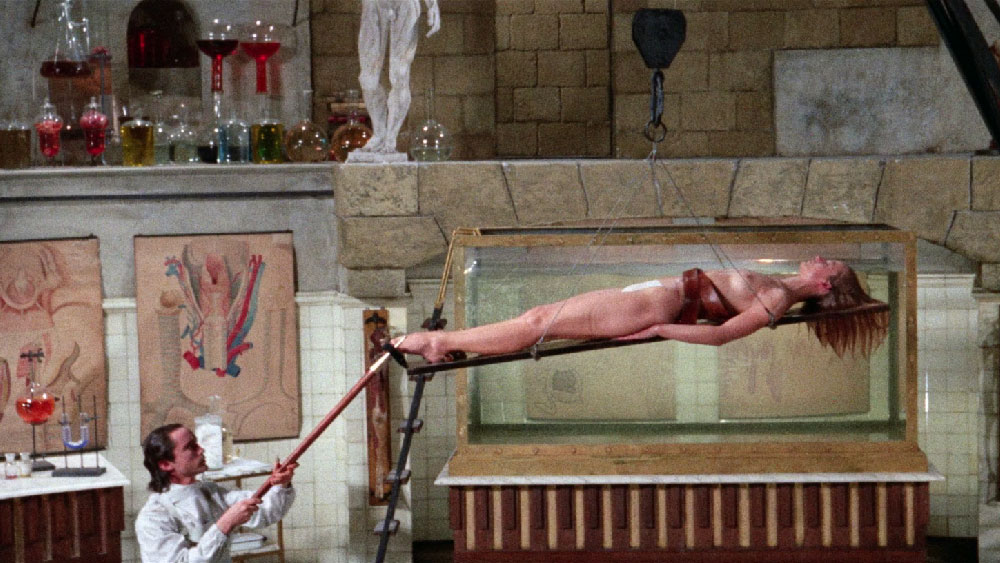 April 18th 2022
Entering the mid-'70s, as cultural mores continued to loosen and the appetites for adventurous cinema grew considerably, noted provocateur and Andy Warhol collaborator Paul Morrissey turned his focus from erotic-tinged outsider cinema to erotic-tinged horror films. With an emphasis on excess, these targeted the same audience that counter-culture impresarios Alejandro Jodorowsky and John Waters had recently cultivated in the wee hours of the night across America with El Topo (1970) and Pink Flamingos (1972), respectively. The result was two films, both based on classic literary sources, frequently adapted for the screen but never in such grand-guignol fashion—and certainly never with so much aplomb and courting of controversy.
At the time of Flesh for Frankenstein's 1973 release, Morrissey was most well known in cinema circles for the ostentatious, avant-garde flex of Chelsea Girls (1966), a 210-minute improvisational split-screen experiment, co-directed with Warhol, which sought to expand the minds, and test the patience, of spectators. But the closest peer to the exploitation thrills of Flesh for Frankenstein is Morrissey's trilogy—Flesh (1968), Trash (1970), and Heat (1972), all starring Joe Dallesandro—which predicted the sexual explicitness and dark humor of his forthcoming horror films.
Morrissey was a lightning rod for controversy and censorship well before Flesh for Frankenstein began to manifest—his aforementioned trilogy garnered varying degrees of protest, censorship, and negativity from critics and audiences, domestic and abroad—but nothing could compare to the initial reactions to his first horror film. Flesh for Frankenstein earned an X rating from the MPAA at the time of its release (it has since been re-rated R for "bizarre violence and sexuality"), alongside similarly prohibitive ratings worldwide, with some territories outright banning the film, causing it to be re-cut and circulated in different iterations for years to come. In the wake of something as outlandish and explicit as Pink Flamingos, it would stand to reason that audiences and censors would have been ready for Morrissey's all-out assault on good taste, but the mingling of sex and violence had rarely been rendered so gruesomely, or in 3-D.
Though not the first X-rated film to be released in 3-D—The Stewardesses (1970) and Prison Girls (1972) came prior—Flesh for Frankenstein was the first to offer fully naked actors alongside eviscerated organs being thrust at the anaglyph-glasses-clad viewer. What remains most impressive about Morrissey's film five decades later isn't its use of 3-D technology or its rampant display of viscera, but its assured sense of camp. It offers up a prime example of something impossible to define (even if Susan Sontag and others have tried).
Flesh for Frankenstein established the inspired pairing of Paul Morrissey and Udo Kier (playing the titular role of Baron von Frankenstein), and Blood for Dracula (1974) cemented them as a team that could hold their own alongside the most revered director-and-star duos. Where Flesh for Frankenstein utilized buzzy technology to drive thrillseekers to the theater, Blood for Dracula only needed to offer up the next thing from Morrissey and Kier (and Andy Warhol, too, whose name adorned advertising materials for both films in the US, though he had little involvement in either).
Though Blood for Dracula is inseparable from Flesh for Frankenstein, such that the titles are almost always named in the same breath, they're rather different films. Flesh for Frankenstein operates in a similar gothic space to the films of Hammer Studios, with impressive set design and costumes befitting a more expensive (or at least more tasteful) production. Blood for Dracula feels less operatic in scope and more confined; offering a Bram Stoker riff that avoids the grandiose castles and attention to period detail typical of more reverential adaptations and delivers a more intimate, though histrionic, portrayal of the eccentric Count.
Separately, Flesh for Frankenstein and Blood for Dracula testify to what Morrissey was capable of as a genre filmmaker. Together, they offer a textbook example of camp and cult cinema, whose influence in popular culture is now as hard to avoid as it is to describe. That Morrissey's horny, gory adaptations of iconic literature and screen figures are newly restored and preserved means audiences can be shocked by them for years to come.
Flesh of Frankenstein 3-D and Blood of Dracula screen at Anthology Film Archives through April 21 in new digital restorations.