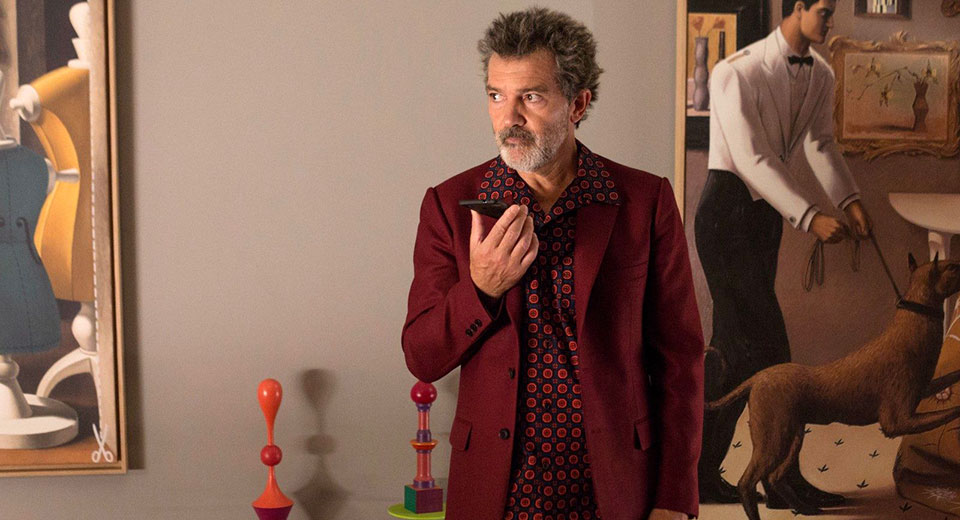 September 27th 2019
In the hedonism of the Madrid's post-Franco years, a period known as La Movida Madrileña, Iván Zulueta made Arrebato, a shockingly accomplished feature debut about an all-consuming addiction to cinema and heroin — a wry, and intellectually invigorating allegorical vampire film without monsters. Arrebato is a cult classic, but Zulueta never made another feature film; instead, he's otherwise best known for his subsequent work as a poster designer, principally for the films of his friend Pedro Almodóvar. The pair were united by a love of psychedelia, American underground cinema, and pop art. When Zulueta passed in 2009, Almodóvar wrote a moving tribute.
I couldn't help but think about Zulueta and Arrebato watching Pain and Glory, Almodóvar's advanced-career masterpiece of self-reflection, which likewise engages cinephilia, addiction, and the relationships both enduring and lost from Madrid's libertine years. Antonio Banderas is Salvador Mallo, who like Almodóvar is an internationally renowned filmmaker. (Banderas is also wearing Almodóvar's clothes, and the film was shot in the director's flat, adorned wall-to-wall with his collection of modern art.) Having recently lost his mother and suffering from sciatic pain, Mallo learns that the cinematheque is premiering a new digital restoration of his feature debut, Sabor, and is invited to appear at a Q&A with Alberto Crespo (Asier Etxeandia), the film's faded star. The pair had a spectacular falling out and have remained estranged for 32 years, but Mallo swallows his pride and rings Crespo's doorbell. After the pair decide to freebase heroin in a peacemaking ritual — as one does — Mallo, a lifelong lover of cocaine who has heretofore sworn off caballero, regularly turns to the drug to ease his back pain. Meanwhile, despite a continually strained relationship, Crespo becomes an increasing presence in the director's life. The actor discovers an unpublished manuscript about Mallo's former lover that he convinces the filmmaker to allow him to adapt into a one-man stage show. All this is intercut with scenes from Mallo's childhood, his relationship with his mother (Penelope Cruz), and his sexual awakening.
Maintaining a saturated color palette and transgressive sense of humor, Pain and Glory is nevertheless a relatively pared down, more introspective work for the filmmaker. Described by Banderas as Almodovar's "auto-fiction," it reads as a confessional, often elegiac work that remains tender — and often shockingly hilarious — in the face of lost friends and breaking bodies. And as a master's auto-fiction, it's also justifiably egotistical, as it seems to portray every man from Mallo/Almodovar's continuing to harbor desires to sleep with him. Still at the height of his powers after all these years, it's no wonder he can still get it.
***
Pain and Glory was reviewed at the 2019 Toronto International Film Festival and also plays at the New York Film Festival September 28 & 29. It arrives in theaters October 4.