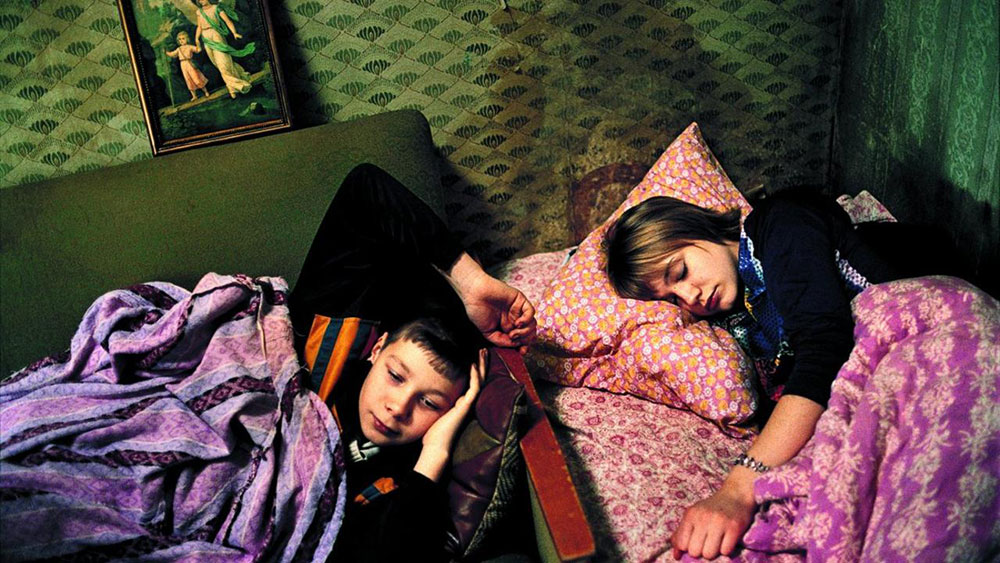 July 27th 2022
Set in a deliberately unnamed former Soviet urban hellscape, Lilya 4-Ever is a heart-scorcher bookended by the Rammstein song "Mein Herz brennt"—literally, "My heart burns." Sixteen years old, Lilya (Oksana Akinshina) is abandoned by her mother and left to fend for herself. An indifferent aunt only looks after her long enough to take over a more desirable apartment, and a close friend quickly betrays her when trouble is afoot. Every character acts out of desperation, dehumanized to the point of apathy for anyone else but themselves. Director Lukas Moodysson saw this as a story that could have been set in any poor nation, and intended it as a criticism of more affluent countries like his own Sweden, the place where Lilya ultimately ends up, exploited and stripped of any selfhood.
Lilya has several kinds of smiles: there's a smug one when she is emboldened by an imminent move to the United States, a mischievousness deepening of her dimples as she flips off a store cashier who refuses to give her cigarettes on credit. The smiles are fleeting in this bleak, but not hopeless, story, so you might find yourself intoxicated by those moments when Lilya enjoys the carelessness worthy of someone her age, and Akinshina imbues such honesty and warmth in her performance, amplifying the gut-punch. Her most playful moments are with Volodya (Artyom Bogucharsky), a young boy cast out by his parents and apparently the only one with pure intentions toward her. (Moodysson initially intended the film to include Jesus Christ as an imagined companion for Lilya, but made the right choice in replacing him with the kindhearted Volodya).
Moodysson's other films are likewise empathetic toward teenage girls—prior to Lilya there was Fucking Åmål (aka Show Me Love, 1998), which sweetly portrays the story of two girls who fall in love; then in 2013 there was We Are the Best, in which three aspiring punks find their way in a surprisingly nurturing environment. Lilya goes to darker territory, placing a young woman in a position of no options or support. Initially resistant to the suggestion of her aunt to "go to town and spread [her] legs," once she realizes the trade offers her the relative freedom of money in her pocket, she finds a way to bear it. Her situation makes her vulnerable so that when the charming and handsome Andrei (Pavel Ponomaryov) wooes her, and doesn't expect sex in return, she is captivated by the possibilities. He sets her up for a job in Sweden, but when she gets there, the equally drab landscape should be a warning that her fate has not improved.
Lilya 4-Ever screens tonight, July 27, on 35mm at Nitehawk Prospect Park as part of the series "The Outskirts," based on programmer Cristina Cacioppo's Screen Slate column