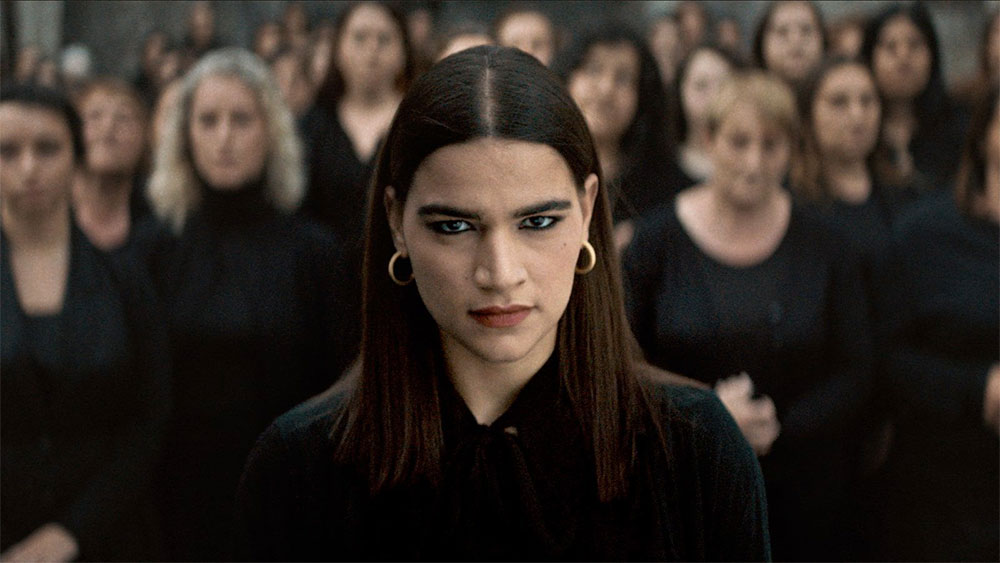 June 8th 2022
"Open Roads: New Italian Cinema" returns to Lincoln Center this week and next for its twenty-first edition. This year the series, co-presented by Cinecitta, brings new work by mainstays like Nanni Moretti and Paolo Taviani to the screen along with independent and documentary offerings from an emerging generation of filmmakers, such as Gabriele Mainetti, whose ambitious sophomore feature, Freaks Out (2021), serves as the centerpiece. Michelangelo Antonioni's enigmatic muse, the late Monica Vitti, will also be celebrated with a tribute screening of the 1964 existential masterpiece Red Desert. The remembrance of people and things past (cinematic and otherwise) seems to echo throughout many of the films in this year's program.
In Federica Di Giacomo's quirky and intimate documentary Unfinished (2021) and Paolo Taviani's elegiac Leonora addio (2022) the past is present on screen both thematically and through the extensive use of archival footage. The first work since the death of his brother and collaborator, Vittorio (to whom the film is dedicated), Taviani's latest details the death of Nobel Prize–winning dramatist Luigi Pirandello and the relocation of his remains to his native Sicily in 1947 after the deposition of Fascist forces. Pirandello's ashes, originally interred in Rome, become a potent symbol for Italy's cultural and political identity as they are transported to their final resting place in a collection of poignant and comic vignettes.
In the film's most densely metaphoric episode, the maestro's ashes are placed in an ancient Grecian vase and transported along Rome's Appian Way in the back of a US military jeep. Cyclists, newspaper stuffed in their shirts for warmth (an advertisement for Grand Hotel [1932] clearly visible), block the jeep's progress. The US soldier who is driving honks and shouts, and the cyclists part. The Italian official who is accompanying the remains cringes at the stinging indignity of American impatience barreling through the ancient heart of the Eternal City. Suddenly, the official's hat flies off, forcing the driver to stop. As the soldier jumps out to retrieve it, the cyclists overtake the jeep and continue on. The official watches and smiles. It's a precisely detailed scene that's both a simple parable about the pointlessness of undue haste and a complex metaphoric examination of the post-war shift in power after the US invasion.
Leonora Addio is a structurally unique and formally ambitious work of personal and cinematic reflexivity. The film shifts between color and black-and-white at key moments and devotes its last third to adapting Pirandello's final short story, Il chiodo. Taviani's film also utilizes footage from a slew of cinematic masterpieces (Antonioni's L'avventura [1960] and Rosellini's Paisà [1946]), including footage from the brothers' own Pirandello omnibus Kaos (1984).
Di Giacomo's documentary, Unfinished, follows a group of artists who reunite after the death of their friend and collaborator, Mauro. Intercutting a mountain of footage from the eccentric artist's years-in-the-making, unfinished film (think Jack Smith with a camcorder) with present day documentary footage, Unfinished crafts an intelligent study of its larger-than-life subjects' joys and disillusionments, and a profound statement on the triumphs and disappointments of an uncompromising artistic life.
Other films of note include Francesco Costabile's tough Mafia-revenge film, The Code of Silence (2022, pictured at top) and Hleb Papou's Legionnaire (2021). Energized by Lina Siciliano's ruthless performance as Rosa, Costabile's film follows a young woman who discovers her adopted family murdered her mother for breaking omertà (the Mafia's code of silence). After this shattering revelation, Rosa pursues a dangerous path toward revenge, pitting families against one another. The Code of Silence, with its dark and elegant cinematography, presents a raw and brutal vision of provincial gangsters with shades of classical drama and transcendent operatic passages.
Legionnaire is a slice of family drama set amidst radical politics and racial tensions. Daniel, an African-Italian riot cop, finds out the building in which his mother and brother are squatting is to be "cleared" by the police. He tips off his brother, possibly jeopardizing his place in the riot squad. Tensions mount between the brothers and between Daniel and the riot squad, culminating in an explosive and sobering finale. Palou's film carefully manages dual sympathies, giving screen time to both Daniel's adopted police family and the occupied building's collective in their fight to remain in their home. Legionnaire is an entertaining and engaging work of contemporary drama that paints a warm and human picture of political actors on the ground level.
Chiara Bellosi's Swing Ride (2022) begins as a pared down, Dardenne-esque slice of realist drama in which a teenage girl, Benedetta, struggles with her weight and the expectations of her mother, a former dancer. Life at home is chaotic and tense for the shy girl, but when a funfair arrives next door things take an unexpected turn. Benedetta befriends Amanda, a carnival worker and aspiring dancer. Deciding the young girl is his good luck charm, Amanda brings Benedetta along to a television audition and then to a dance party. The relationship between the two deepens, and when Benedetta discovers her father is having an affair with the woman downstairs, she decides to hit the road with Amanda and the funfair. Swing Ride is an intimate coming-of-age story filled with sensitive observations and with frank sexual and emotional realities. The film's dreamy lyricism, however, evokes some of the great works of Italian cinema.
In one of the film's most memorable scenes, the carnival rides pull into the lot next to Benedetta's apartment. The trailers move slowly through the drab, overgrown field, their headlights bobbing up and down as they push through the darkness. Seeing them from Benedetta's perspective, the viewer experiences a feeling of heartbreaking beauty as Bellosi's camera and montage turn this moment into something poetic and magical.
"Open Roads: New Italian Cinema" opens tomorrow, June 8, and runs through June 15 at Film at Lincoln Center.