Featured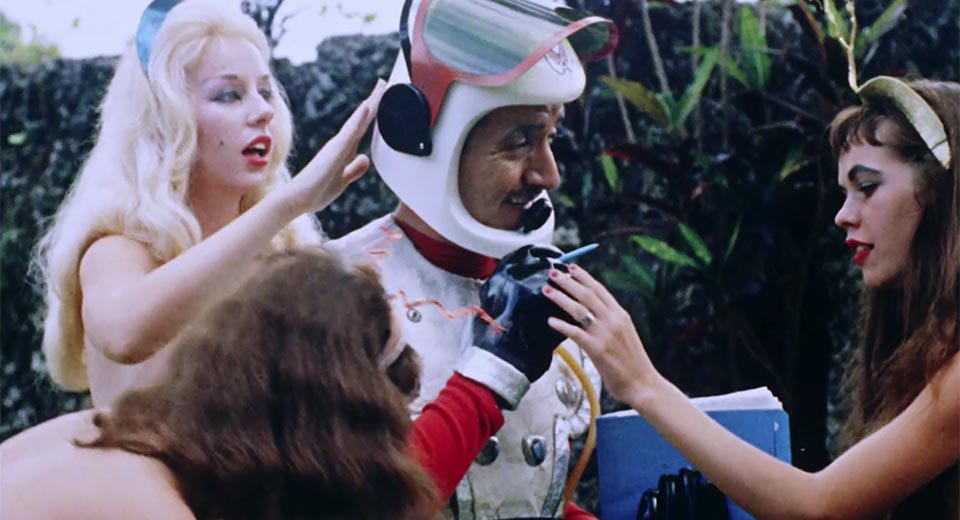 January 9th 2019
Paradise calling! Has there ever been a more Floridian exercise in filmcraft than Doris Wishman's spaced-out jiggle-fest Nude on the Moon? Tanlines abound and clouds are but a vague suggestion on Earth, and it is in heaven, when astronaut Drs. Huntley and Nelson climb aboard that rocket ship and trade the Sunshine State for an autonomous colony of telepathic, buxom moon maidens. Using lavish folk art-project-cum-palatial-estate Coral Castle (just a stone's throw from the aptly-named Leisure City) as a stand-in for the lunar landscape, Wishman photographs this alien shore with the same gentle caress as her frolicking ensemble, effectively recasting America's dangling vacationland as a mod Garden of Eden.
"Tasteful" was the go-to term for light, naughty fair in our grandparents' day, but with "taste" ever stuck in conceptual limbo, let's content ourselves with "mature" as the appropriate catchall for Nude's gentler tone. A chef d'oeuvre in the pantheon of low budget sexploitation, Wishman's sophomore follow-up to Hideout in the Sun finds the nudie-cutie auteur steadily building upon — and eventually, surpassing — the technical promise of her 1960 debut. Adroitly framed and liberally paced, Nude belongs to that long-forgotten category of soft pornography designed to titillate and intrigue, rather than outrageously arouse.
Compared to the pornucopia that has permeated our modern sexual practice, Wishman's lovingly handmade style of exploitation is for truly mature audiences who prefer a little sophistication in a skin flick. The encounters between our dumbstruck earth scientists and their languid, sunbathing hosts are conspicuously free of fluid exchange; instead, ample real estate is devoted to extended interpretive dance sequences and scenes of gleeful hot-tubbing.
Daniel Hart's jazzy score, bookended by crooner Ralph Young's love theme "Moon Doll," wouldn't be out of place in a swank bachelor pad; and the scientific jargon front loaded into act one adds a neat bit of worldbuilding now absent in today's clip-and-GIF-based spank banks.
No shortage of ink has been spilled over Wishman's abundant gifts and reigning status as the "Queen of Exploitation." For even the most casual underground enthusiast, her tawny output looms large: as touchpoints for the likes of John Waters, the Kuchar Brothers, and experimental filmmaker and video artist Peggy Ahwesh. Ahwesh will present Nude on the Moon tonight at the Museum of Modern Art, alongside her own 1994 found pornography short The Color of Love, to commemorate the reprint of her 1995 zine The Films of Doris Wishman. The reissue, published by Brooklyn-based screening venue and art space Light Industry, ought to bring fresh devotees into Wishman's sacred love cult, so bring your pocket money and be sure to snap up a copy – no swingin' shelf should be without one.