Featured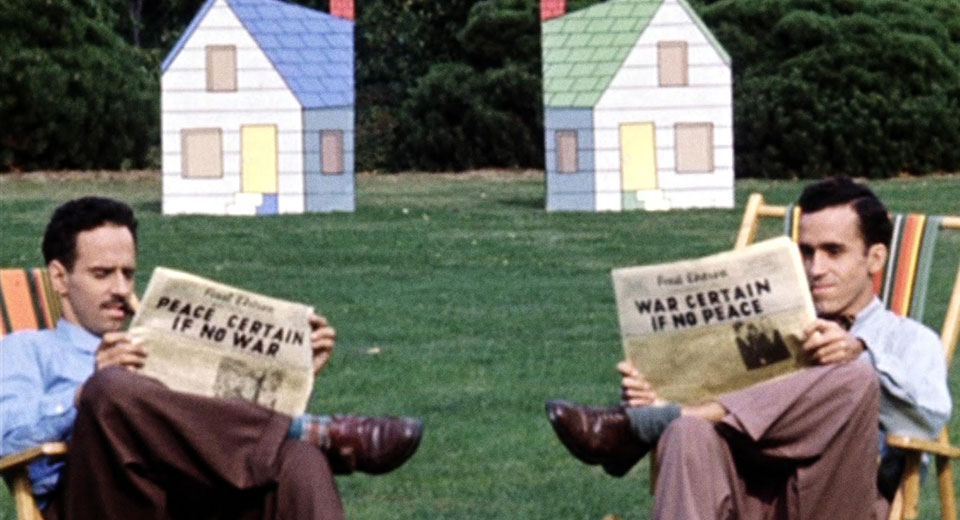 February 3rd 2019
Scottish-born Norman McLaren is often considered Canada's adoptive national animator. Early on in his four-decade tenure at the National Film Board he established himself as a master of camera-less direct animation, rhythm, and imbuing simple forms with life, character, and humor. He once wrote, "My militant philosophy is this: to make with a brush on canvas is a simple and direct delight—to make with a movie should be the same."
Tonight the National Film Board's Michael Fukushima presents a selection of McLaren's films at the New York Public Library's central building. Among them are classics like "Hen Hop" (1943) and "Blinkity Blank" (1955), which exemplify McLaren's ethos of simple and direct, with animation created from scratching straight onto film emulsion. Because the animator is scrawling onto a tiny space and also unable to directly trace over the image of each preceding frame, the images are primal and jittery. Whereas "Hen Hop" aims for the pure pleasure of visual music, in "Blinkity Blank," McLaren experiments with sophisticated optical illusions based on clusters of sustained images, followed by staccatos of black, which leave the viewer with faint after images. Another one of tonight's films, "Pen Point Percussion," is a portrait of McLaren at work creating experimental musical compositions by drawing directly into film's optical soundtrack area.
Ironically, McLaren's best known and most acclaimed film is neither camera-less nor hand drawn. "Neighbours" (1952) employs a technique McLaren referred to as "pixillation," which is derived from Georges Méliès and other early practitioners of fantastical and experimental cinema, and it applies the frame-by-frame intermittence of animation to live actors, creating exaggerated and hyper-natural movements, and making bodies appear to scoot around and fly. Its central conceit — of an escalating battle over a small flower between two men on either side of a picket fence — was intended to be an anti-war critique. The film was, oddly enough, nominated for an Oscar in two-categories, neither of them animation: Short Subject (One-Reel) and Documentary (Short Subject), the latter of which it won.
Tonight's program is effectively a career-spanning survey of one of the giants of animation. It starts at 6:30 pm, and admission is free with advance reservations recommended.