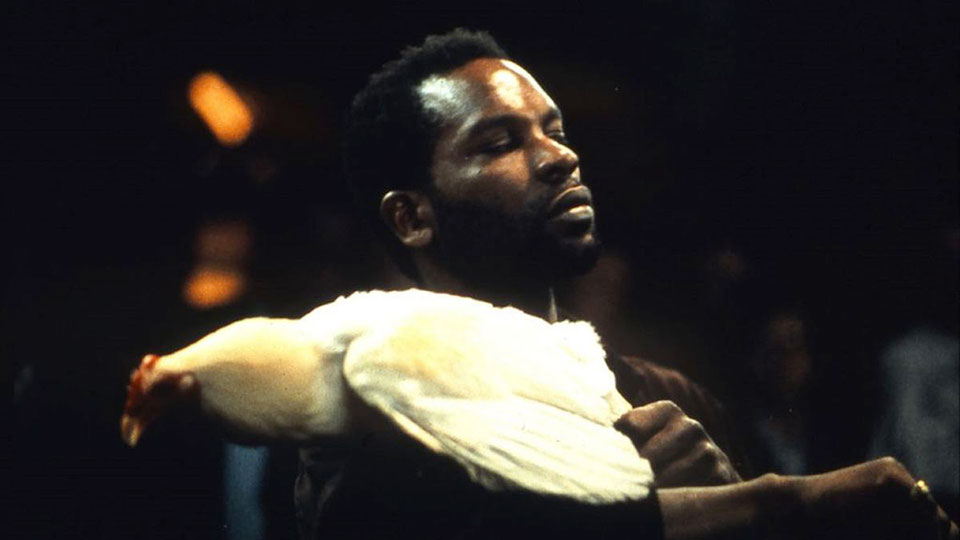 November 10th 2020
"Men, cocks … same thing," laments one of the protagonists in Claire Denis's infrequently screened 1990 film No Fear, No Die, as he observes the chickens he trains for a grimy, low-stakes cockfighting outfit in the industrial working-class outskirts of Paris. The French auteur's second feature is now streaming on The Criterion Channel as part of a retrospective of Denis's work.
After her Cameroon-set debut Chocolat, Denis revisited the legacy of French-African colonialism in No Fear, No Die, starring Isaach De Bankolé as Dah and her frequent collaborator Alex Descas as Jocelyn, two African immigrants who stage cockfights for a living. No Fear, No Die fills a critical gap in Denis' filmography as she begins to hone her style, striving towards the potent subtlety and hypnotic lyricism of her subsequent films.
Denis deals in intimacy, and she weaponizes it here to articulate violence underscored by the film's deceptively gentle, pleasing rhythm. This is a study of insidious violence that corrodes every facet of daily life. Denis drew inspiration from Frantz Fanon and wears that influence on her sleeve, invoking both Bob's Marley's "Buffalo Soldier" and Chester Himes within the first few minutes. This tale is set in the intersection of race, capital, sex, and (especially) masculinity. Jocelyn and Dah are trapped, crushed by a lack of options.
Dah is our steady narrator, but Descas's withdrawn, intense Jocelyn steals our focus. An apparent cock-whisperer, he employs private, secret rituals for training the animals. He strokes and primps with too much tenderness (particularly with his favorite of the bunch, which he nicknames No-Fear-No-Die). It's no surprise, then, when the bloodshed takes a toll, and he turns to drinking and sulking. Dah's resilience contrasts Jocelyn's unraveling as they share the indignities of sleeping in a basement hovel with the cocks and negotiating with their racist boss. Who's really treated worse, the men or the birds? When Denis arrives at a melodramatic climax, she is shrewd enough to execute with a light hand, punctuating tragedy with silence.
For Denis, with violence always comes grace. In a moment of pure cinematic pleasure, Jocelyn dances at a nightclub with a young woman, moving with such unbridled, misplaced, pre-verbal longing that she's frightened by him. Jocelyn's too soft for this cruel world, Dah's too hardened for it, and despite his impeccable training, No-Fear-No-Die can't win every match-up. Men and cocks.