Featured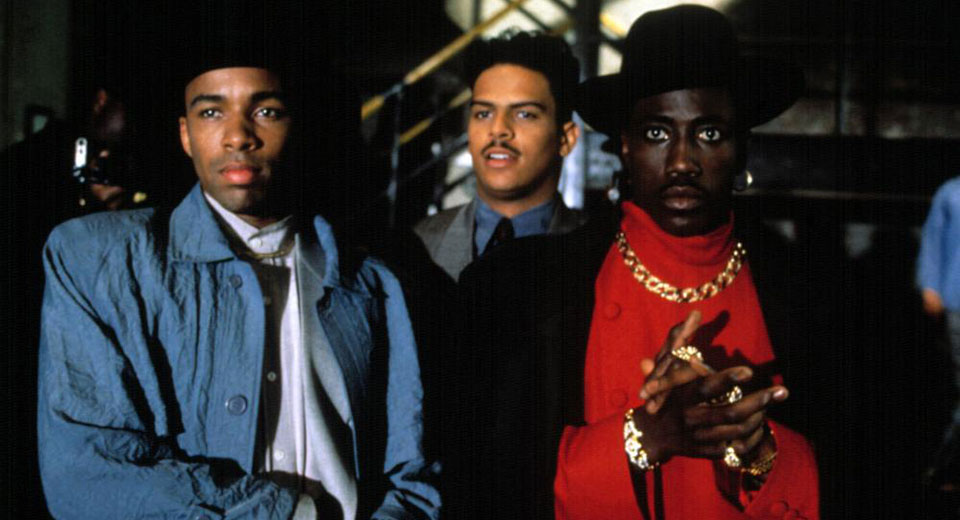 January 24th 2017
Alamo Drafthouse's 90s soundtracks series continues today with New Jack City , a dramatic, action-packed crime saga from blaxploitation scion Mario Van Peebles that retains a strong cult following.
The narrative is a cops and robbers story about the introduction of crack cocaine in New York City explicitly modeled after the operatic sweep of modern crime films like The Godfather and Scarface (a film that features prominently within). Wesley Snipes is Nino Brown, leader of the Cash Money Brothers drug ring, who hatches a plan to pump crack into the Carter housing complex in Harlem. He's also the murderer of detective Scotty Appleton's (Ice T) mother; naturally, Scotty's the cop assigned to take him down, and he does so by teaming up with hot-headed white cop Nick Peretti — a gloriously miscast Judd Nelson. There are high-octane shootouts, double-crosses, undercover missions, seductions, and a whole lot of montages.
New Jack City was puzzlingly well-received. It's a highly watchable and entertaining movie, and yet reviewers such as Roger Ebert singled it out, explicitly counter to its marketing campaign, as "a serious, smart film," which is odd, as it is indeed rife with absurdly overwrought shootouts, cop movie cliches, and even a scene where Judd Nelson and Ice T try to defuse a bomb based on the wire colors. Part of the movie's charm is that it truly embraces these populist thrills within a larger context that acknowledges structural oppression — but the balance often feels clumsily askew. Where it crystallizes best is in Chris Rock's remarkable performance, in his first major screen role, as a crack addict reformed by Scotty and put into service as an undercover infiltrator. The film wisely avoids directly appropriating Rock's standup, but pulls just the degree of his bombastic persona while allowing him to convey real pathos. His role has a richness that overshadows the relatively flat, static leads, and watching today, it's obvious why he became a star. Even if the rest of the movie pales in comparison, it's still fun as hell, and one of the definitive fashion documents of the new jack swing era.