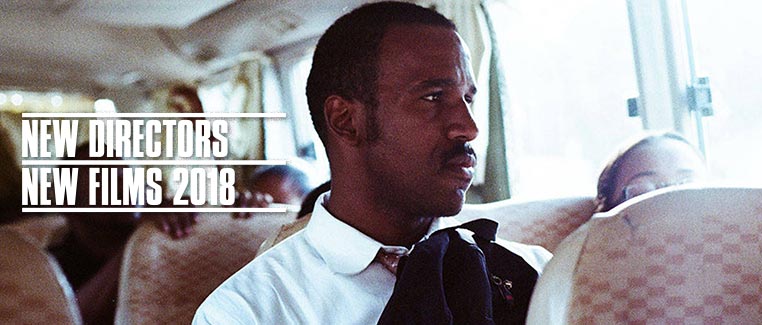 March 26th 2018
Now in its 47th year, the New Directors/New Films festival is an annual partnership between the Museum of Modern Art and Film Society of Lincoln Center dedicated to presenting bold works by early-career filmmakers. Past years have seen the New York debuts of films by Chantal Akerman, Hou Hsiao-hsien, and Kelly Reichardt. For New Yorkers, ND/NF is the calendar year's first look at films arriving on the heels of early acclaim at festivals like Sundance, Rotterdam, and Locarno.
Capsules by Danielle Burgos, Patrick Dahl, Jon Dieringer, and Jeva Lange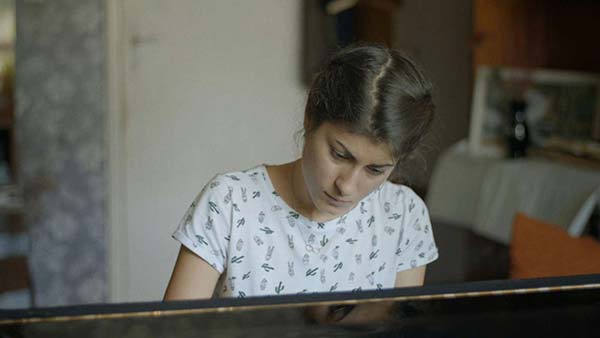 3/4 Dir. Ilian Metev. Bulgaria.. 82 min.
3/29 - 6:00 pm (MoMA); 3/31 - 1:00 pm (Walter Reade)
There's the John Cage-ian assertion that silences are the music, but how long a pause between notes before you can't call it a song? Despite potentially being lulled by the languid pacing and extensive, meditative walking of 3/4, there's an excellent short within Ilian Metev's feature about a family's last summer together. Though occasionally occupying the same dinner table, there's already a wide gulf separating oblivious physicist father Todor, tightly wound Mila, and giddy younger brother Niki, spelled out in silence, absence, and on-the-nose isolating framing meant to symbolize emotional state but occasionally reading as mistake.
3/4 is brilliant at capturing a realistic, sweet sibling relationship between two adolescents on the cusp of change. Preparing for a foreign conservatory exam, Mila lives in a disconnected state of worry, her internal berating after each piano lesson palpable. Niki, more confident and carefree, tries to draw her out with free-associative rambling and limit-testing branch-slapping; Mila's stoic tuning it out will feel familiar to anyone who's been on a long family car ride.
An unspoken absence haunts the entire film, though a mother is never explicitly mentioned, and death (in bird form) is expressly left unseen. It's only an intentional absence, emphasising the unsaid, that sets off a search ellipsing to genuine intimacy, walking together instead of away. (Danielle Burgos)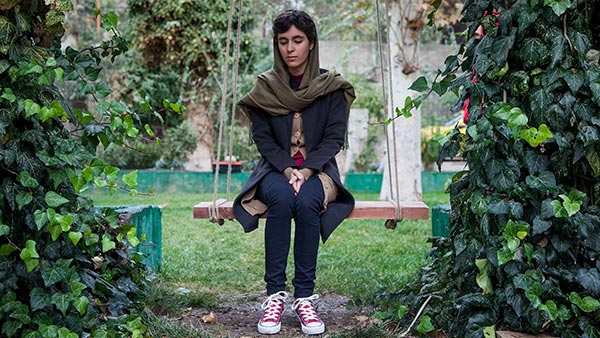 AVA Dir. Sadaf Foroughi. Iran/Canda/Qatar. 103 min.
3/29 - 8:30 pm (MoMA); 4/1 - 7:30 pm (FSLC)
The joint Canadian/Iranian/Qatari debut of Sadaf Foroughi, Ava is a quiet force of a film, not terribly unlike its title character. Determined to prove to her friends that she can win over the attention of her crush, spirited schoolgirl Ava (Mahour Jabbari) lies about where she is going to her mother only to get caught wearing bright red telltale lipstick when returning. This would perhaps not be such a problem if it were not happening in Tehran; wracked with anxiety, Ava's mother (Bahar Noohian) forces her daughter to undergo a humiliating examination by an OB-GYN to assure she is still a virgin. As the walls close in around Ava—her parents don't understand her, the school seems out to get her—she lashes back in recognizable, universal teenage rebellion. The former class wallflower ("you were once so calm and quiet that we always forgot your presence in school"), Ava soon learns the trials that undeserved notoriety brings. (Jeva Lange)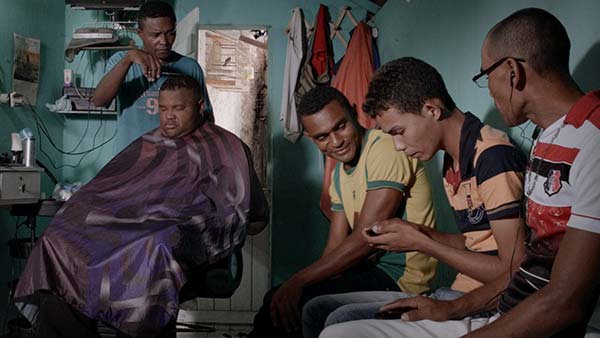 AZOUGUE NAZARÉ Dir. Tiago Melo. Brazil. 80 min.
3/30 - 6:30 pm (Walter Reade); 3/31 - 7:30 pm (MoMA)
Azougue Nazaré is an electric jolt of a film, set in the small northwestern Brazilian city of Nazare de Mata. While some movies might be said to have soul, this 80-minute debut by writer-director Tiago Melo has an unrestrained spirit, with the naïve, loveable cross-dresser Tiao (Valmir do Coco) serving as its heart. Tiao's wife, Darlene, has recently fallen in with the rising evangelical community in the city, even as Tiao refuses to give up the ungodly "Maracatu," an Afro-Brazilian dance performance in which he participates as his boisterous alter ego, Catita Daiana. Azougue Nazaré is more than just colorful high jinks, though—the film is a patchwork of tones, at times even employing a kind of eerie Lynchian sound design (a job well done by Guga S. Rocha and Marina Silva) as it phases into the magical realist realm of the sugar cane fields on the edge of town. It would be cliché to say this stylistic threading is like the improvisation of samba, or the call-and-response of Maracatu, but it would also be negligent to fail to mention the music that holds Azougue Nazaré all together in a tight, delightful package. Azougue Nazaré is proof that even God and the Devil can't stop the show from going on. (Jeva Lange)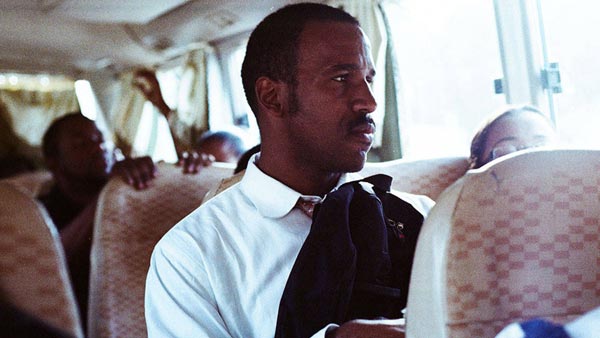 COCOTE Dir. Nelson Carlo de los Santos Arias. Dominican
Republic/Brazil/Argentina. 107 min.
4/3 - 6:15 pm (Walter Reade); 4/4 - 8:15 pm (MoMA)
Oral tradition, the particular cadence and expressions of Spanish spoken in the Dominican Republic, syncretist death rituals, class politics, a rooster announcing the coming of Christ, and the remnants of colonialism—these are but some of the elements that encircle Nelson Carlo De Los Santos Arias' Cocote. In this mercurial tale of retribution, Alberto (Vicente Santos), an evangelist gardener, learns that a prominent citizen has murdered his father over a debt dispute and must grapple with his immediate family's urging him to settle that vicious act of brutality. Set in the municipality of Villa Mella, the film intimately documents the novena—nine days of mourning—with such distinct dignity that it would make early ethnographic filmmakers quiver with remorse. Frenzied shots of rezos, where the grieved see the dead out, complement Alberto's inner struggle as he is provoked by his sisters (brilliantly played by Yuberbi de la Rosa and Judith Rodríguez), who represent the moral anchor of the film, while confronting his own belief system.
Like an ouroboros, the film is flanked by a sequence at Alberto's place of work, a wide shot of a garden pool at the home of an affluent family in Santo Domingo where its faceless dwellers carelessly carry on. Cocote, along with 2014's Sand Dollars and 2016's El sitio de los sitios, is further indication that Dominican film is undergoing a long-awaited flourishing as a powerful voice in Caribbean and world cinema. (Caroline Gil)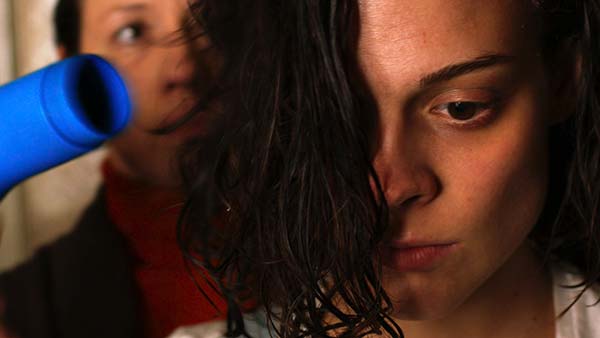 CLOSENESS Dir. Kantemir Balagov. Russia. 118 min.
3/31 - 4:30 pm (MoMA); 4/1 - 4:30 pm (Walter Reade)
Closeness is the sort of film you hope to discover at New Directors/New Films, a neon arrow pointing at a stunning new talent: In this case, a disciple of Alexander Sokurov, director Kantemir Balagov. Balagov's debut is based on a real kidnapping that took place in his hometown in the Northern Caucuses in 1998. Ilana (Darya Zhovner), a mechanic who prefers overalls to dresses, begrudgingly celebrates her brother's engagement only to learn that after the party, he and her would-be sister-in-law were kidnapped and are being held for ransom. The Jewish community in Nalchik fails to raise the money to save the couple, and Ilana escapes her desperate parents by turning to her boyfriend, who passes night shifts at a gas station watching VHS tapes with a group of fellow Kabardians. While ND/NF's description for Closeness warns of a scene "of documented violence," it is essential to stress this not be taken lightly: Balagov incorporates truly horrific actual footage from the 1999 Dagestan massacre, including extremely graphic clips of Chechens brutally torturing and murdering Jews as they beg for their lives—an artistic decision many critics have argued crossed a line. Be it as it may, Closeness is a powerful, chilling, nauseating movie about the sacrifices one must make for one's family—and oneself. (Jeva Lange)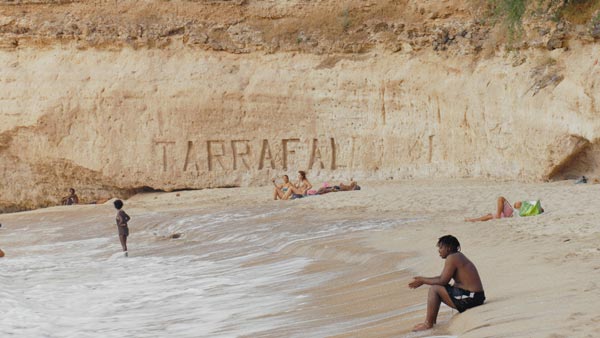 DJON ÁFRICA Dirs. João Miller Guerra & Filipa Reis. Portugal/Brazil/Cape Verde. 95 min.
4/4 - 9:15 pm (Walter Reade); 4/6 - 6:00 pm (MoMA)
Guerra and Reis' first feature riffs on their previous documentary Li Ké Terra, recasting protagonist Miguel Moreira as a fictional version of himself still getting by, living undocumented in Portugal. Whatever names he uses here, Miguel, Tibar, Djon Africa, he's marked by a man he never knew – strangers on the street recognize him as his father's son. Curious about his heredity, perhaps curious for the first time in his laid-back life, Miguel heads to Cape Verde to track down his father based on grudging clues from his maternal grandmother, who chides he's running away just when he could finally be of use.
Miguel's seatmate on the flight over gets in a flirty debate, questioning whether someone without roots can call themselves local, if Miguel can say he's returning to a place he never really knew. The distractions of flesh, food, and rhythm (followed by violent vomiting) suggest Miguel inherited more than just his father's physiognomy. The people of Costa Verde are warm and open to their prodigal son, even while robbing him - the land runs on amity.
His quest gets derailed by grouge, and the film woozily slips into meandering travelogue. Miguel drifts without anchor, moving deeper into the heart of Cape Verde as he falls into the (possibly imagined) thumping rhythm of rural life. A call sets him up to complete his father's cycle, but for Miguel, home isn't just where you choose to be, it's where you find meaning. (Danielle Burgos)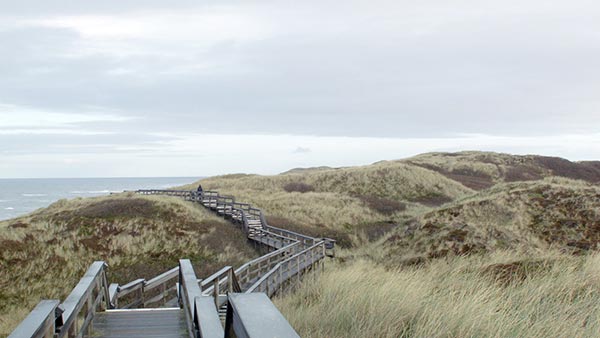 DRIFT Dir. Helena Wittmann. Germany. 96 min.
4/5 - 6:30 pm (Walter Reade); 4/7 - 4:00 pm (MoMA)
Director Helena Wittmann also shot and edited Drift, a contemplative exploration of memory and space. Wittmann's sparse narrative of two friends before and after a weekend together along the North Sea serves as backdrop to her sonic and visual textures which hypnotically capture the terror and splendor of the tides. Without bludgeoning her audiences with truisms, Wittmann presents an invitation to consider our triangular relationship to other people and the Earth. Among countless gorgeous, mysterious images is a truly spellbinding final shot worth the price of admission alone. (Patrick Dahl)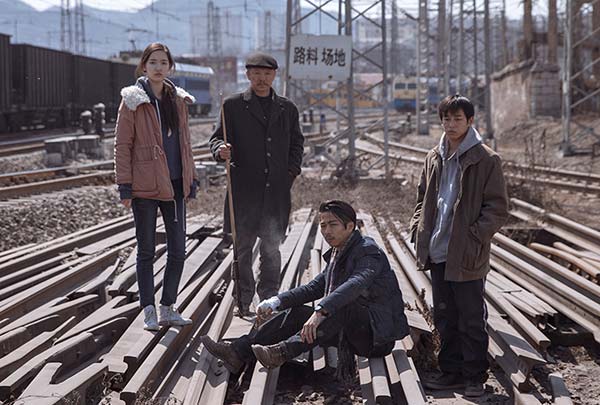 AN ELEPHANT SITTING STILL Dir. Hu Bo. China. 234 min.
4/1 - 6:30 pm (MoMA); 4/8 - 6:00 pm (Walter Reade)
Hu Bo's first and final feature film (he committed suicide last October), An Elephant Sitting Still combines long-take heroics with a deeply felt series of interwoven stories concerning characters young and old, joined by a shared longing to escape their suffocating lives. After assaulting a classmate in self-defense, Bu flees from his victim's brother, a mopey gangster himself reeling from the death of a friend. Bo captures their desperate cat-and-mouse with tight, patient tracking shots, giving the film an uncommon immediacy, even as it sprawls to include a handful of similarly gritty tales of false starts and dead ends. Epic at 230 minutes, yet deeply intimate in its proximity to its central characters. (Patrick Dahl)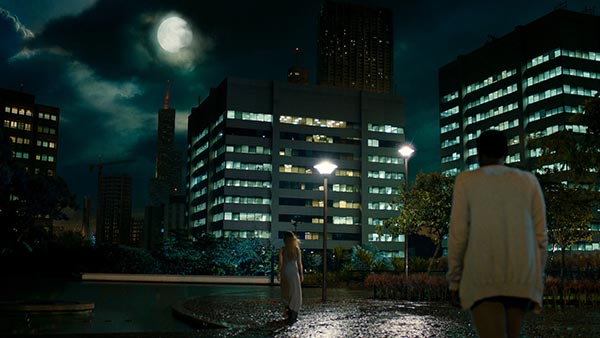 GOOD MANNERS Dirs. Juliana Rojas & Marco Dutra. Brazil. 135 min.
4/5 - 8:30 pm (MoMA); 4/6 - 8:45 pm (Walter Reade)
After she becomes pregnant with a stranger's child, Ana (Marjorie Estiano), a wealthy white young heiress, hires Clara (Isabél Zuaa), a resilient black woman who lives near Sao Paulo's favelas, as a live-in maid. The two begin an unlikely tender romance—but what seems like it might be the story of a same-sex interracial relationship transcending class differences makes a hard left turn one full moon night when Ana's baby violently claws its way out of her stomach. Clara, who can't bring herself abandon the surprise were-child, instead decides to raise it as her own.
Good Manners is a strange beast: a heartfelt social drama with major, albeit fleeting, genre elements and even a few musical numbers. This is to say nothing of the film's intermittently idiosyncratic visual style, which rerenders parts of Sao Paolo's cityscape with colorful matte paintings. Given the effectiveness of Rojas & Dutra's more offbeat choices—which, at their best, suggest the dark fable-like quality of classic Disney films—one wishes the film wasn't so evidently resistant to being pigeonholed and instead went full-bore on its weirdness. Instead we're left with a mixed bag in which the themes of race and class seem underdeveloped beyond signifiers of outsiderness; the occasionally striking visually style is other times blandly static; and, at 135 minutes, it's significantly overlong. But the lingering impression is of Zuaa's excellence as a compassionate guardian. (Jon Dieringer)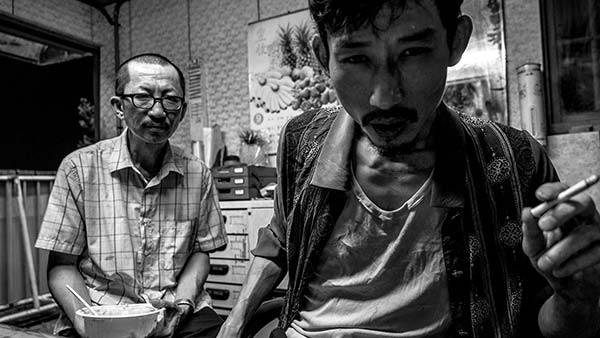 THE GREAT BUDDHA + Dir. Huang Hsin-yao. Taiwan. 104 min.
4/3 - 8:45 pm (MoMA); 4/4 - 6:30 pm (Walter Reade)
Starting off as a short and bumped up to a feature (the '+' a dry nod to phone nomenclature), Huang Hsin-yao's first fiction film feels like a throwback, not just to New Taiwanese Cinema's focus on daily struggle, but to 90s American indies' affected quirkiness and self-consciousness. Hsin-yao avoids being too flip by showing genuine affection for his hangdog protagonists, including menial night watchman Pickle, his only friend, scrap-picker Belly Button, and lone drifter Sugar Apple. Out of sheer boredom and the fact Pickle was too meek to ask for his watchpost's TV to get fixed, Belly Button demands he fetch the dashcam from wealthy boss Kevin's BMW so they can voyeuristically peep at the high life. (The dashcam videos, capturing just some of Kevin's sexual conquests, are the film's only color footage.)
Kevin's engaged in all sorts of small-town corruption, including wrangling the contract to build the titular Buddha for a major peace convention. What Belly Button and Pickle witness on the dashcam goes well beyond the compulsory evil expected if you want to make it in the world, leaving them stunned and uncertain. There's plenty of open ends and supernatural overtones, but it's the brief moments of human connection before the sad fates of people too small to count that ground Hsin-yao's film. (Danielle Burgos)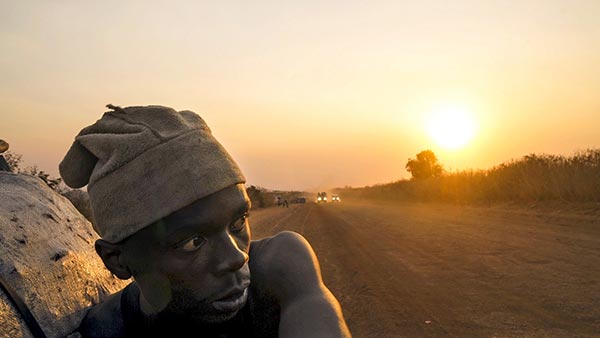 MAKALA Dir. Emmanuel Gras. France. 96 min.
4/1 - 2:00 pm (Walter Reade); 4/2 - 8:45 pm (MoMA)
The Congolese documentary opens hovering behind Kabwita Kasongo, setting off alone at dawn to start his work. The camera circles as he wordlessly, unremittingly hacks down an enormous tree, the only soundtrack wind whipping through. During a break Kasongo mutters, "Lord, give me the strength for the task ahead;" we underestimate what he's asking.
Kasongo wants to build a house—to pay for expensive metal roof sheets, he'll sell charcoal at market. Selling charcoal seems to be his family's main source of income, so it's uncertain why Gras needs to tie this particular journey to a specific purchase—that Kasongo regularly endures this ordeal is a deeper drama.
The majority of the film follows him stoically maneuvering an overburdened bicycle stacked so high with charcoal sacks Kasongo leans his entire weight to balance it. His exertion and bone-deep exhaustion, contrasted with miles of quiet landscape, are physically palpable, and every cloud of dust whipped up on the dry road by passing cars feels painful at a distance. His expression is blank, no trace of anything but resignment.
As Kasongo nears town, men pushing similar loads create the shock of effort already seen suddenly tripled. Towards the end of Makala, a church service with parishioners loudly praying to make a living invokes Job, but the entire documentary is Sisyphean testament. (Danielle Burgos)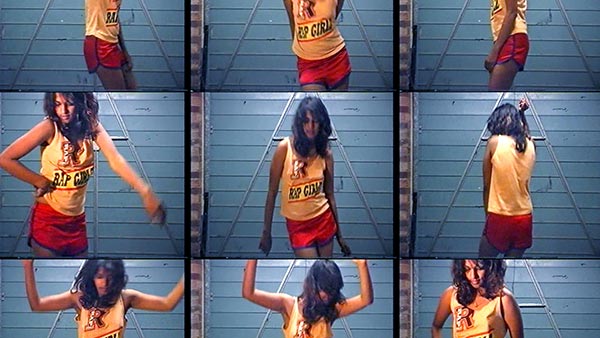 MATANGI/MAYA/M.I.A. Dir. Stephen Loveridge. Sri Lanka/UK/USA. 95 min.
3/28 - 7:00 pm, 7:30 pm (MoMA); 3/29 - 6:30 pm (Walter Reade)
Befitting its pastiche-happy subject, St. Martin's school chum/first-time documentarian Steve Loveridge stitches together a portrait of musician M.I.A. revealing as much about her personal evolution as her canny sense of branding. Tagging along present-day, Loveridge also mines a wealth of former filmmaker Maya's self-documentation. She reconnects with family in Sri Lanka; with teen hubris she believes she'll fully grasp cultural dynamics extending her stay from one month to two.
No matter how seriously Maya takes topics or clearly she puts in creative work, there's a shallowness. The code-switching she's accused of is her lived life, moving between worlds as perpetual outsider, proving herself. Yet that doesn't automatically gift her with depth—too many moments reveal an art school casualness, even as her irritation at not being taken seriously is justified. Controversies in the film's second half, including American outrage after giving the finger at Super Bowl halftime, pale compared to genocide, but in the media landscape M.I.A. navigates optics are all, careers are destroyed over less, and anger seems to stem from her merely existing as a confident brown woman. You leave queasy, wondering if you're complicit writing her off for putting image over all. (Danielle Burgos)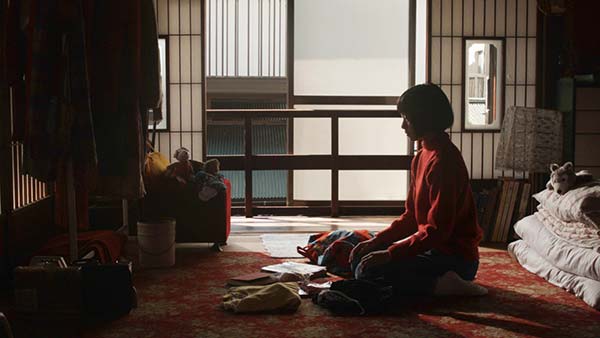 OUR HOUSE Dir. Yui Kiyohara. Japan. 80 min.
4/6 - 8:30 pm (MoMA); 4/8 - 3:30 pm (Walter Reade)
What if two groups of people inhabited the same home at the same time without knowing of each other's existence? In Our House, this isn't a matter of happenstance, but something apparently metaphysical—as if, in otherwise common realities, the domestic space contains parallel universes. The home in this case exists behind an unassuming storefront in a washed-out seaside town. Teen Seri occupies it with her single mother; meanwhile, Sana awakes on an empty ocean liner without her memory and encounters Toko, a peculiar woman who invites Sana to stay with her. Meaningful relationships develop among the pairs of women alongside conflicts—Seri's disapproving of her mother's relationships on one end, and, more disquietingly, strange phone calls Sana receives that are intended for the increasingly inscrutable Toko. Gradually, mysterious suggestions of ruptures between the separate spheres reveal themselves in obscure and haunting ways.
In her first feature, Yui Kiyohara doesn't betray her background as a student of Kiyoshi Kurosawa, and while she already has a masterful command of alienation and dread, Our House never veers into abject horror; instead, it balances the antiseptic and strange with a sense of play and wonder—yet always seems to circle back to a tenor of melancholic longing. Even if this brisk feature occasionally feels like a sustained exercise in tone rather than a fully realized feature, it is a truly remarkable one, and I'll eagerly follow Kiyohara wherever she heads next. (Jon Dieringer)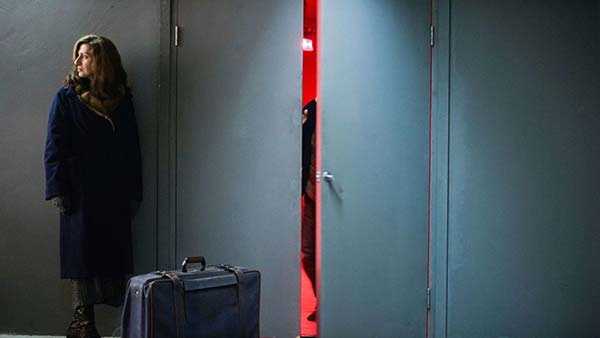 SCARY MOTHER Dir. Ana Urushadze. Georgia/Estonia. 107 min.
3/31 - 9:00 pm (Walter Reade); 4/2 - 6:00 pm (MoMA)
"Don't you hear me yelling in my sleep?" Those words, delivered by Manana (Nato Murvanidze) to her husband, are both an accusation and a bewildered inquiry, serving as something of a thesis statement for Georgian director Ana Urushadze's dark debut feature Scary Mother. A dreamlike take on the unraveling housewife trope, more Yellow Wallpaper than Jeanne Dielman, Manana horrifies her family after reading aloud to them her grotesque, erotic new novel at the rabid encouragement of Nukri, the stationary store owner across the way. Recognizing themselves in the book, as well as Manana's disgust of them, her family recoils. "You write cheap pornography pretending you're a genius," her husband lashes out at one point, horrified by Manana's desires laid bare. If it all seems a little on the nose, there is the suggestion that that might be the point: "You have no imagination," Manana's father scolds while staring directly into the camera. Who is he chiding? Manana? Urushadze? Or is it us? (Jeva Lange)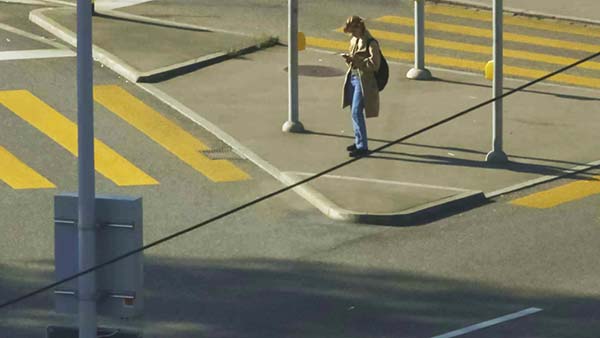 THOSE WHO ARE FINE Dir. Cyril Schäublin. Switzerland. 71 min.
4/5 - 9:00 pm (Walter Reade); 4/7 - 1:45 pm (MoMA)
The Swiss dark comedy Those Who Are Fine initially suggests itself to be a series of absurdist vignettes—idle conversations between friends, riot police, and call center employees in which they struggle to remember film titles, songs, or artists' names for which they can provide only vague description. But gradually, these seemingly disparate moments of familiar mnemonic disjunction coil into a narrative, spun from a seemingly offhand anecdote relayed early in the film, about a young woman committing fraud against the elderly by pretending to be a friend of their granddaughters.
With its grifter narrative wrapped in a keenly tuned festival-movie aesthetic, Those Who Are Fine suggests a loose analogy to the Dardenne films infused with crime tropes, albeit from a radically different, exacting formal approach. In its understated manner, Those Who Are Fine is blazingly insistent in its portrayal of modern alienation—the kind of movie that employs obliquely framed action isolated within harshly canted modern architecture in shots impeccably timed to last just a little too long before abruptly cutting to symmetrical closeups of affectless characters discussing everyday modern banalities such as WiFi passwords, social network privacy settings, and bank security codes over the white noise of distant traffic and office humdrum—etc. It's charming, but even at 71 minutes, it pings the same connections too often. (Jon Dieringer)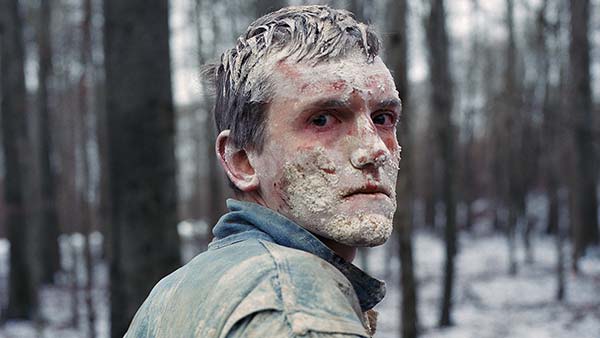 WINTER BROTHERS Dir. Hlynur Pálmason. Denmark/Iceland. 100 min.
3/29 - 9:00 pm (Walter Reade); 3/31 - 2:00 pm (MoMA)
Although Winter Brothers is an extremely terrestrial film—all frost and forest and animal desire—at times it can feel so distant and disembodied that it is almost like watching science-fiction. Shot by the supremely talented Maria Von Hausswolff in meticulously composed, photograph-like frames, Winter Brother is the aggressively anti-hygge debut by Copenhagen-based Icelander Hlynur Pálmason. Brothers Johan (Simon Sears) and Emil (Elliott Crosset Hove, who deservedly won best actor at the Locarno Film Festival for this role) live in a small mining village in Denmark, a place so remote and alien that it is seemingly adrift from the rest of the world. Together they steal chemicals from the mine to make an amber-colored homebrew that they sell to colleagues—until the mixture ends up poisoning one man, landing Emil in dangerous trouble with the boss. Winter Brothers is a film that excavates manhood, certainly, but also the adolescent impulse that makes us pull the trigger of a rifle, if only to hear how it sounds. (Jeva Lange)