Featured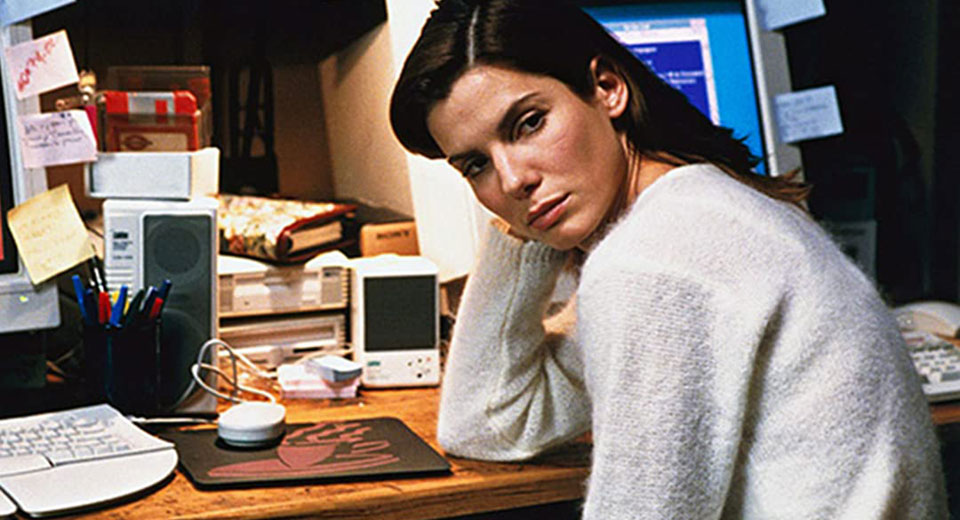 March 9th 2020
The Net is by many measures the most vanilla cyber movie released in 1995. Its nearly all white cast is a stark contrast to the black leads of Virtuosity and Strange Days, the multiracial ensembles of Hackers and Johnny Mnemonic, and the futuristic Japan of Ghost in the Shell. Aesthetically, it engages in neither cyber worldbuilding nor the same degree of stylized net visualization represented in the CGI flythroughs of an imagined online architecture. Whereas other soundtracks lean heavily on the vanguard of electronic music, The Net's theme is an Annie Lennox cover of Procol Harum's "A Whiter Shade of Pale." And while other filmmakers brought relatively youthful, hip perspectives, The Net's director Irwin Winkler started his career as a talent agent for comedians Jackie Vernon and Sammy Shore around the time most of the others were born.
The Net is square. And while it alone eschews the cyberpunk trappings of its contemporaries, The Net's mapping of a tried-and-true Hitchcockian wrong (wo)man narrative onto a moment of seismic technological change still feels heady and relevant. It captures the Kafkaesque dread of identities mediated by — and increasingly existing within — rapidly entrenched new technologies.
Sandra Bullock plays Angela Bennett, a systems analyst who stumbles upon a conspiracy involving a cyber terrorist organization, the Praetorians, and its corporate front, Gregg Microsystems. By investigating an obscure piece of software, Bennett discovers that the Praetorians have targeted entities including the US government in order to drum up lucrative contracts for Gregg Microsystems, which sells these victims cybersecurity software that in fact creates a backdoor allowing for further hacks and access to information.
The Net's true thrills come from the extent to which the Praetorians are able to leverage their cryptographic toolkit against the increasingly online systems that regulate daily life to surgically dismantle Bennett's identity. After being seduced by a debonair British hacker while on vacation in Cozumel, Bennett is knocked unconscious. When she washes ashore with a lapse of memory, she discovers that her Social Security Number has been reassigned to a criminal named Ruth Marx — and speaks to an unknown woman over the telephone claiming to be Bennett. Because Bennett is a borderline agoraphobe, attempts to identify her are complicated: her mother has alzheimers and can't recall her face; her ex-boyfriend is killed when the computer misidentifies his medication; Bennett's online friends are summarily tracked down and disposed of.
By 1995, technology had advanced to the point that the machinations of Philip K. Dick-style paranoia moved from science fiction to everyday fact. Flight paths, banking systems, medical test results, pharmaceutical records, criminal databases: The Net confronted audiences with the reality of what it means for these to be translated into bits and bytes. Although the filmmakers claim to have been largely ignorant of technology and essentially learned as they went along while making The Net — and, of course, there are many, often comical ways in which it shows — the film manages to succeed in part because its makers recognize that the things that define ourselves, such as our social circles, what we eat, where we go, and our health, were increasingly being transposed into vulnerable new systems. While many security experts were already sounding the alarm in 1995, a quarter century later, the public is still wrestling with the privacy — not to mention existential — implications of things like fitness trackers, social media, rideshare apps, hospital systems, and countless other everyday technologies that quantify the self. Some hackers criticized The Net as scaremongering — but is it paranoia if Pizza.net is really out to get you?