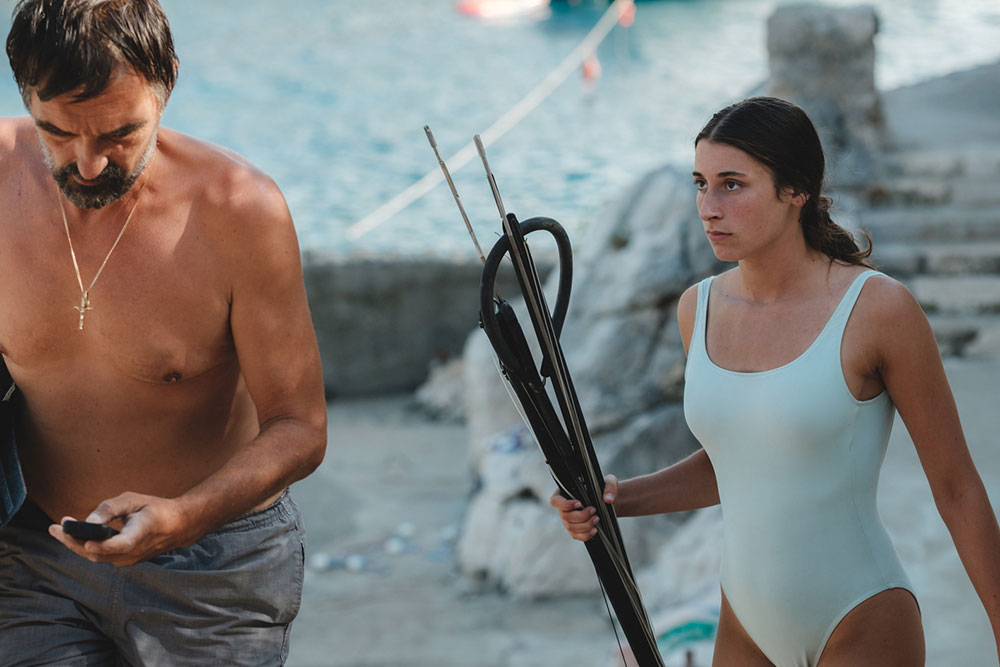 January 8th 2023
Murina (2021) is a perfect movie to watch in the middle of brutal New York January: a sun-dappled Croatian seaside resort town is the backdrop for this auspicious debut from Antoneta Alamat Kusijanović. Sixteen-year-old Julija and her parents, the rigidly controlling Ante and silently suffering Nela, live in this remote paradise, but Julija and Nela are counting on Ante to sell their land for a hefty price so they can move back to Zagreb. Javier, an old family friend, comes bearing promises to buy, but instead stirs up a whirlwind of emotional commotion that uncovers deep familial rifts.
Julija (Gracija Filipovic) is a teenaged girl trapped in a world of adults; she has no peers her age and no connection to social media or the outside world. It's no surprise that she immediately gravitates toward Javier, who is kind to her and treats her like a person with her own identity. Ante pushes his daughter to entertain Javier, but he doesn't understand that Julija is no longer a little girl. When she meets Javier's group of chic European companions while sopping wet in a white bikini, the tension between girlhood and womanhood hangs threateningly in the air. Julija is unsure if she wants Javier as her new father or something else, but she believes, wrongly, that she can trust him.
While it sounds melodramatic, Kusijanović's film is a quietly simmering, sun-baked affair (thanks to sparkling cinematography from Hélène Louvart). There are plenty of beautiful underwater scenes, including eel hunting—murina refers to a moray eel, the prey of the family's spear-fishing enterprise and an apt metaphor for the slippery relationships at play—and an extended face-to-face between Julija and Ante. "Dreams die in paradise," Javier warns; Filipovic's Julija is a girl on the brink, forced to reckon with the unbidden power of her female body as she plots her escape.
Murina screens this afternoon, January 8, at the Museum of the Moving Image. Director Antoneta Alamat Kusijanović will be in attendance for a Q&A.