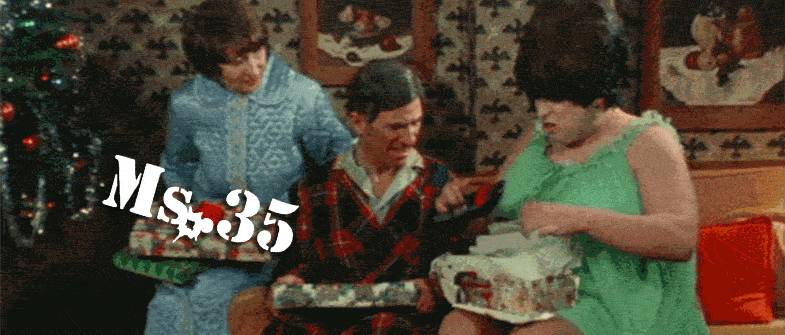 December 7th 2016
Ms. 35 offers helpful advice and answers to your etiquette questions related to NYC's moving image culture. Have a burning question about navigating the exciting world of New York City moviegoing? Unsure of how to conduct yourself during a communal experience? Feel like you're… in the dark? Send your inquiries to Ms35@screenslate.com!
Dear Ms. 35,
I'm a longtime reader and fan, even though I don't have as much time to actually go to the movies as I'd like. But I am, however, in a kinda sorta I think relationship with a serious cinelady—no names, she's a Screen Slate subscriber, of course! So my question is, this winter, what's the perfect gift to get for someone who goes to the cinema seven days a week to make sure you get some reciprocity underneath the mistletoe? No DVDs, no streaming memberships—we're talking someone who's strictly in it for the full, theatrical experience, and already has a membership to every possible venue and a shelf full of books. Any illumination you can provide would be much appreciated!
Thanks Ms. 35, you're the best!
Sincerely,
Holidazed and Confused
Dear Holidazed,
The Season of Saturnalia is well upon us, and as nights grow longer and darker, so too does the dread of that most fraught interaction: socially mandated gift-giving. Navigating the juncture of Fiscal and Emotional Investment is especially hard for the tetchy folk on your list—not your distant aunt and uncle in Nova Scotia (just send them a lovely hand-drawn card) or any surly teens (straight cash), nor even your maladjusted townie uncle who pounces on every opportunity to complain (get him a Ryan McGinley book and watch him writhe with irritated delight)!
No, that most difficult creature to buy for is the Cinebabe/bro in your life. Their depth of knowledge makes your attempts to sate their passion look feeble ("I got you a Borowczyk boxed set!" "Oh, I have the individual uncut Region 2 releases of each."), and their compulsion negates even the most creative attempts to out-purchase them at their own game. Count on your kino-cutie to have memberships for every rep joint, tickets to all the festivals, and a downright-dank collection of tote bags.
And so to keep you, Holidazed, from succumbing to awful Amazon algorithms that disappoint giver and receiver alike, Ms. 35 humbly suggests these sure-to-satisfy tchotchkes for the filmgoing freak: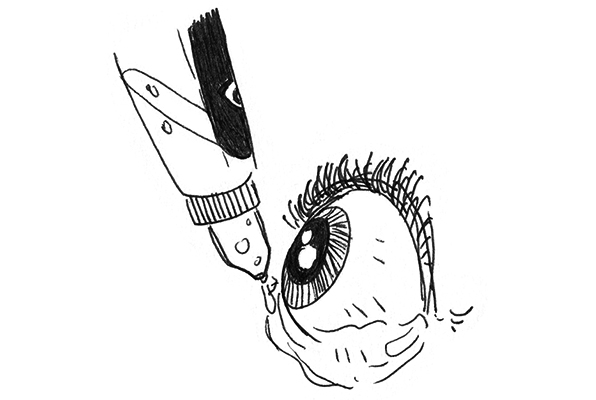 EYE DROPS
Ms. 35 would say you'd be absolutely shocked how poorly city cinemagoers can treat their bodies, but these are people who voluntarily submit—nay, pay for the privilege—to sit for 3-8 hours at a stretch. Take a tip from my Uncle Barry, Boca Raton's foremost ophthalmologist: whether it's a VistaVision epic or a gloomy doc, those long screen-slogs can run roughshod over your tender cornea. This holiday season, help your special somebody preserve the one organ they care about, even as their hearts grow arteriosclerotic on a steady diet of popcorn and Junior Mints.
Available at: your local druggist, where they are surprisingly pricey for a small bottle of saline water.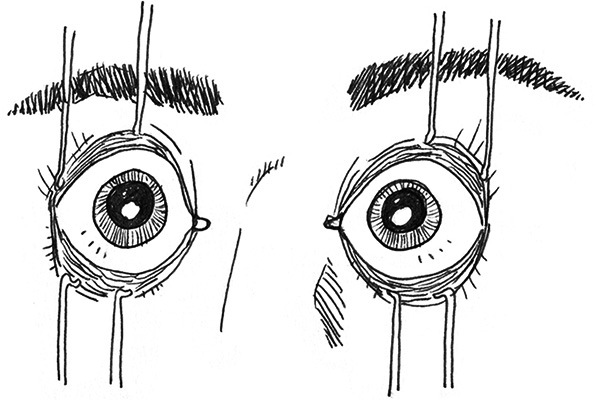 "CLOCKWORK ORANGE"-STYLE EYE-SPECULUMS
The recent proliferation of luxury rep houses is a fine development even Ms. 35 can get behind, but with great comfort comes greater responsibility: fighting the urge to ass out in the theater. Is your lover struggling to stay awake during the latest foreign auteur retrospective? Take a tip from Bronx-born provocateur Stanley Kubrick and keep those peepers wide open with a lightweight eyelid hook. Compatible headband not included.
Available at: the weird medical supply place on your local High Street, probably less than $20/pop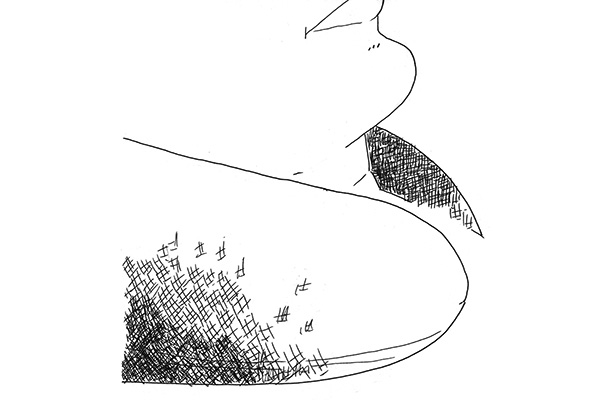 NECK PILLOW
And how does one strike that gentle balance between cinema comfort and cinema commitment? For filmgoers who prefer, shall we say, off-kilter screening spaces, anything less than cushy Alamo-style ass-cradlers will eventually take its toll. For the freaky frequenter of folding-chair-scattered screenings, this neck pillow will be a godsend. Sure, it'll prop your head up during that final 90 minutes of Fanny and Alexander, but it also does double-duty as a handy seat cushion! Better yet: if an irritating, self-indulgent Q&A (that's mostly A) goes on too long, they can lob it without fear of a damaging lawsuit.
Available at: foofy gift stores, Hudson News kiosks, price varies.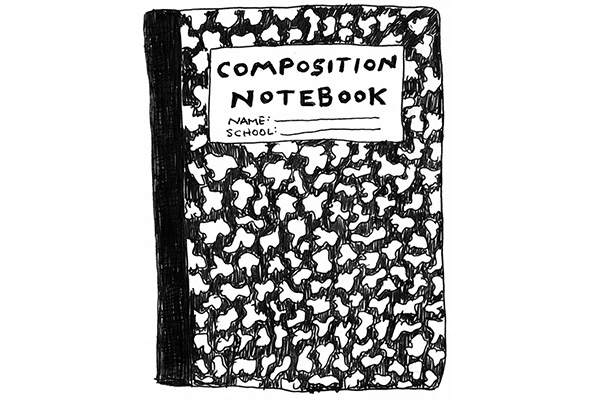 COMPOSITION NOTEBOOK
Ah, Christmas in New York: sidewalks redolent of fresh pine and ever-present garbage, tourists penned in Rockefeller Center like hogs in an abattoir, all soundtracked by the joyous caroling of neckbeards in your local theater lobby. Every year, as the first frost melts into grey slurry, we take a pause from our go-go lives and fondly reflect on the Reason for the Season. No, you yutz, not "good will towards men": it's End-of-Year List Season, BIOTCH! What better gift for the tastemaker in your milieu than a cheap, handy notebook for perfecting their very own critical Top Ten! Unlined pages are just the thing for mid-screening scrawls in the dark (no pesky lines to follow), to be deciphered and reorganized into later coherence. At Screen Slate, we keep to the old traditions: like celluloid, sometimes analog is best. A notebook is far less likely to get you slapped by fellow filmgoers than live-tweeting the latest Jarmusch. And don't forget: if it's not on a list, it doesn't exist!
Available at: finer dollar stores throughout the Five Boroughs, somewhere in the ballpark of $1-2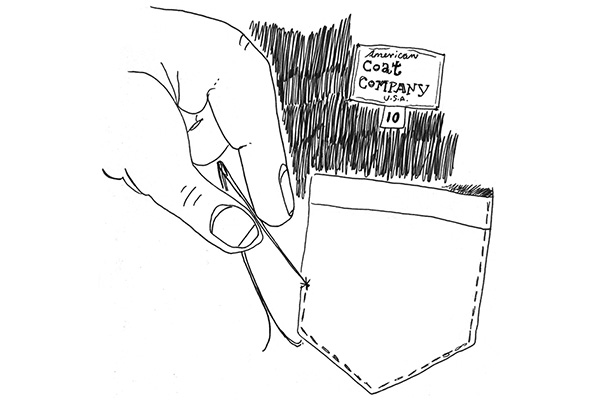 SEW-ON SNACK POCKETS
Whether your regular portage includes a Tupperware full of cold lentils, a fat 'J,' or an aforementioned notebook, shlepping is a crucial part of the New York filmgoing lifestyle. This clandestine storage solution pays loving tribute to the "Deuce"-dwelling trench coat fiddlers of yesteryear, and scores you major bonus points for effort. For the handier among you, nothing will endear you faster to a movie nut than providing them with a surefire way to sneak their snackage (and other sundry goods) past security.
Available at: craft and fabric stores, costs maybe $5?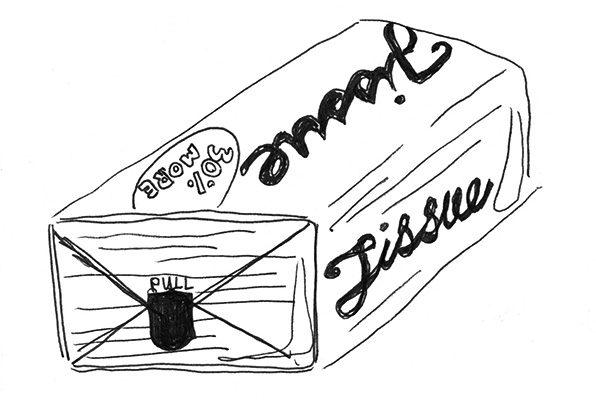 INDIVIDUAL PACKAGE OF TISSUES
To put it bluntly, we cinephiles are a revolting lot: every hour we enjoy parked in front of the silver screen is another hour we aren't using to bathe ourselves, do our laundry, or go to the gym (shudder). With a familiar chill in the air, research scientists citywide are asking themselves the same question: how many coat sleeves have been ruined when a hanky would have sufficed? Moving between a frigid streetscape, the petri dish of a subway car, and too-steamy theaters can wreak havoc on your sinuses. With weepy holiday programming in the mix, that 30-seat screening space becomes a veritable Snot City—and you're the mayor! Give your cine-sweetie the gift of personal hygiene, and secure yourself a mucus-free smooch in the back row.
Available at: literally any deli, for a price even you can manage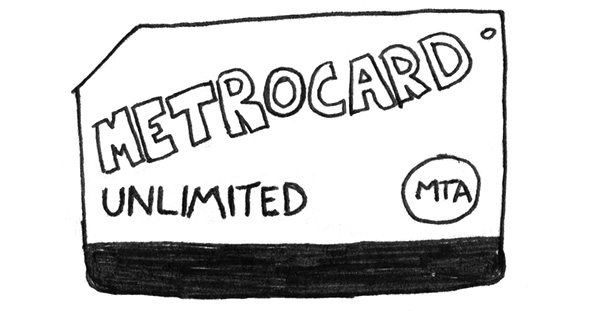 SPLURGE: UNLIMITED METROCARD
Your one-and-only spent all their cash on a dream triple-screening scattered across the city, and now can't afford a taxi from MoMA to Anthology to Japan Society! Enter, our hero: you swoop in like an Angel of Mercy with their ticket to NYC freedom, without the prospect of massive head trauma that only a bike can provide. Free them from even a moment's hesitation of whether trekking up to a Maysles presentation is worth it. Bonus: nothing like the subway for that full NYC surround-sense experience (especially olfactory).
Available at: one of our many fine subway stations, $116
Should all else fail, Ms. 35 suggests the kindest gift might be consideration—offer to accompany them to a movie of their choice, your treat. Dinner and a movie is the ultimate gift, providing the joy of curation with the delight of good company. And if the film turns out to be a real bore, at least you'll have something to talk about over soup dumplings and seltzer.
See you at the movies,
Ms. 35
Illustrations by Caroline Golum.
In the spirit of giving, please consider becoming a Screen Slate member. Screen Slate is edited, published, updated, and written entirely by volunteers operating seven days a week, 365 days a year to serve devoted readers like you every day. Support from people like yourself is 100% of our tiny budget, so if you benefit from our service, please sign up to make a monthly contribution equivalent to a cup of coffee ($3), a beer ($5) or a matinee movie ticket ($10). And if you contribute today, I will also personally write your name on a cocktail napkin that I'll slide under Ms. 35's martini glass, so she'll know you appreciate her work. Thank you, and happy holidays! —Ed.