Featured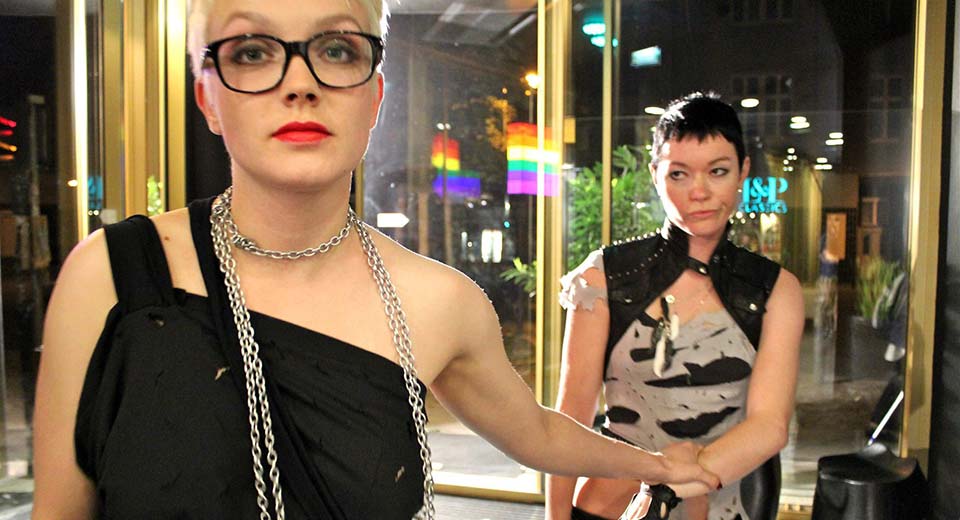 March 4th 2018
From very first moments of Mommy Is Coming, director Cheryl Dunye wants the audience to know exactly what it's in store for. The credits run over a shot of a suitcase filled with erotic paraphernalia: handcuffs and sex toys and colorful lingerie pulled out like scarves from a magician's sleeve. Sure, it's sexy—but it's also sweet, funny and full of surprises. Playing at Anthology Film Archives as a part of NYC Feminist Film Week 2018, Dunye's film is a queer, feminist, sexually explicit romantic comedy full of safe sex where everyone is having fun.
Lil Harlow and Papí Coxxx play Dylan and Claudia, a couple with intense sexual chemistry, but serious commitment issues. The plot, like Grand Hotel or La Ronde before it, spins out from there, detailing Dylan and Claudia's affairs and misadventures that center around a particularly sexy hotel. The couple is reunited at the end of the film—but have they learned enough to finally appreciate one another? Mommy Is Coming plays out its central story as a queer soap opera—a lively, (mostly) feelgood exploration of sex, kink and gender fluidity. The cast, full of sex educators and activists (Coxxx, Maggie Tappert as the title mommy, Jiz Lee, and Judy Minx), also appears in between-scenes vignettes, where they are interviewed about the film (both in and out of character) and their thoughts on gender, taboos, and Berlin as the new San Francisco. And if you're impressed by the cast, the behind-the-scenes talent is equally exciting: legendary adult actress Annie Sprinkle cast the film alongside Dunye, and playwright and novelist Sarah Schulman co-wrote the script.
Dunye is interested in the faces of eroticism, having her actors look directly into the camera during the interview sessions, and often using close-up shots on her actors' faces during sex scenes to convey the pure pleasure of the situation. And the directorial voyeurism doesn't end there: Dunye herself plays a cheeky role as a cabbie (right out of Night on Earth) that witnesses a lot of the action. Mommy Is Coming is an intersectional, respectful film that is also incredibly erotic and just plain fun.