Featured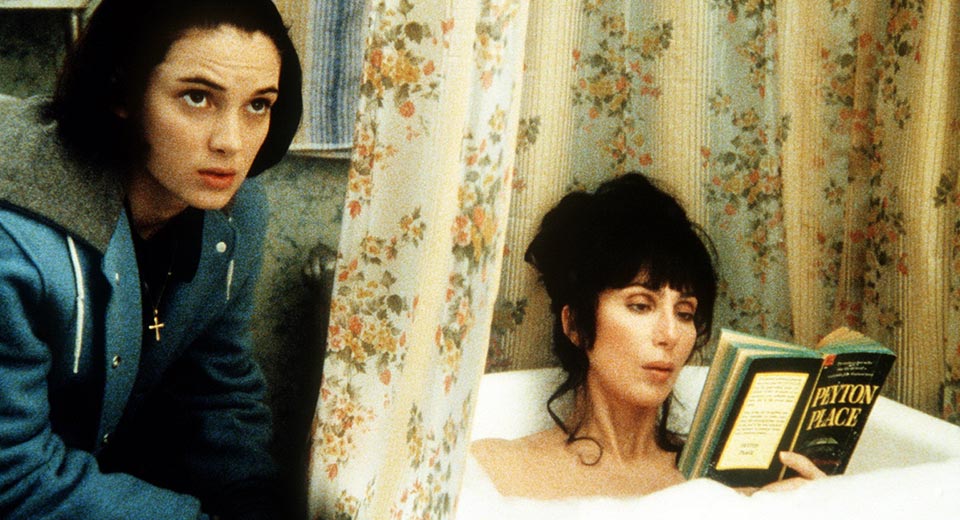 August 27th 2018
Richard Benjamin's Mermaids is the sort of endlessly quotable '90s family dramedy that a young girl (say, me) could catch on cable to glimpse an avatar of teen angst: the surly teen and wannabe nun Charlotte Flax (Winona Ryder). Like a refraction of Ryder icons Lydia Deetz and Veronica Sawyer, the self-serious Charlotte wears demure, buttoned-up black dresses as she pages through her embossed copy of The Lives of the Saints or kneels in prayer before ceramic nativity figurines (sometimes fudging the Latin: one hears "plutonium" and "potassium" among her invocations).
Meanwhile, her mother, a bouffant Cher with a va-va-voom walk and an endless closet of risqué polka-dot wiggle dresses, raises hell in her native 1960s with another daughter, Kate (a chubby-cheeked Christina Ricci), from another father (absent, of course). Mrs. Flax, as Charlotte calls her in a dour voiceover, flees from town to town the second the claws of disappointing men threaten to encircle her. When the film begins, the trio have just hit the road from Oklahoma to Eastport, Massachusetts, after Mrs. Flax discovers mid-coitus that her boss is bedding another woman: his wife. "Moving on" can be as simple as closing one's eyes and placing a manicured finger on the map.
Make no mistake: Despite shop owner Lou (Bob Hoskins), who swoops in to woo Mrs. Flax, Mermaids is a mother-daughter flick. Charlotte spurns her mom's sexual swagger, her brassy wardrobe, her resistance to playing the paper-doll part of the happy homemaker (marshmallow-based hors d'oeuvres are the dinnertime norm), and even her heritage. (Mrs. Flax is a Jewish Italian whose folks owned a kosher deli.) She thrills at the nunnery next door, seeing in its presence a confirmation of her holy calling, only to fall prey to an unholy lust for the laconic, dreamboat groundskeeper Joe (Michael Schoeffling) that mirrors her mother's high-school improprieties. Or as Cher deadpans: "Charlotte, I know you're planning a celibate life, but with half my chromosomes, I think that might be tough."
Truant wives, dead mothers, and AWOL fathers abound; none leaves a wound more gaping than America's Catholic patriarch, JFK, whose assassination cleaves the film and spurs Charlotte's first, desperate kiss, from which she, taking the pregnancy-clinic alias "Joan Arc," later believes she has immaculately conceived. Yet for all the film's subterranean concern with the failures of fathers, Mermaids endures in our pop-cultural memory for a single image: the three women dancing together. With joy that palpable, no absence is felt.