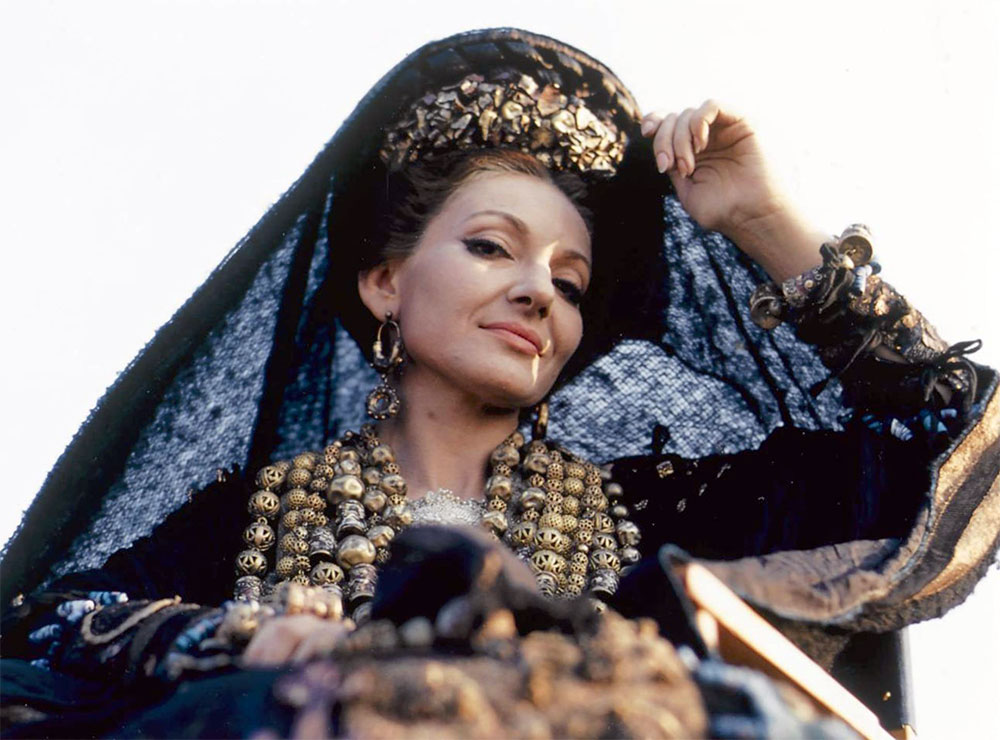 September 20th 2022
Pier Paolo Pasolini is said to have told famed opera singer and close friend Maria Callas that she was the only woman he'd ever loved aside from his mother. Not incidentally, he cast both women in archetypal roles, starting with Susanna Pasolini as the Virgin Mary in The Gospel According to Matthew (1964). For Callas, he reserved the title role of Medea (1969).
The ancient myth and Euripedes play centers on the granddaughter of sun god Helios and her abscondment from her native land of Colchis in a doomed love affair with adventurer Jason (of the Argonauts). When Jason abandons Medea to marry a princess, she kills the new fiancée and her own children in revenge. Pasolini's telling omits certain beats and adds others for the purposes of giving both Jason and Medea backstories, and to add political and personal commentary.
The director's uncanny prowess for breathing life into ancient, and/or mythical tales is exemplified in an early sequence that transports us to otherworldly Colchis. Medea is dressed in ornate vestments—mounds of flowing fabric and rungs of sleighbell–sized beaded necklaces. Her compatriots' dress is even stranger—horses are swathed in denim–blue quilts; warriors wear dangling bronze plates over their mouths and hats that look like wicker waste baskets. A ritual sacrifice takes place against a backdrop of the honeycombed mountains of Cappadocia, Turkey, and a non–diegetic Tibetan hymn.
Pasolini's unvarnished camerawork in combination with his avant–garde staging hearkens back to early, exoticizing ethnographies, and critics have interpreted his take as an allegory of European conquest. But if Medea represents the colonized, she nonetheless runs away with Jason of her own volition, killing her brother in the process. Her passion is a force of nature that equips her with the strength to commit inhuman—and inhumane—acts.
Characters with more foresight than Jason—who's portrayed as sort of a simpleton —anticipate Medea's revenge in the aftermath of his engagement to King Creon's daughter. "I'm afraid of you, I'll say it openly .‌ . . Everyone here in Corinth knows of your evil spells," the King says to Medea. "You're a barbarian, from a foreign land, different from us." Her female aids, on the other hand, are encouraging. They urge her to wield her sorcery, as though it's on their own behalf.
Despite the hearsay, Pasolini provides little evidence that Medea actually possesses sorceress powers. In contrast to Jason, she retains a reverence for the natural world, inclusive of her innate, human emotions. It's implied that her powers stem from her capacity to act on passion with conviction. Admonishments like King Creon's—which conflate her otherness with sorcery—ring with gynophobia.
Feminist writers have interpreted the witch trials of the high and middle ages as punishment for "reproductive crimes,"or women's attempts (with the help of midwives and healers) to manipulate their reproductive cycles. This idea sheds light on the abiding power of Medea's saga. More than her infanticide, we're horrified by Medea's autonomous resolve in ending the lives of her children.
Pasolini's adaptation ends abruptly after Medea's infanticide. Over a funeral pyre, she shouts at Jason the last line of the film: "Nothing is possible anymore." Her redemption by the gods isn't shown; Medea's revenge is her redemption in this earthly telling. Pasolini doesn't attempt to justify her crimes so much as revel in their anarchy.
"One must .‌ . . consider the significance that Callas's past (working class origins) and her graceful beauty had for Pasolini," writes the Italian scholar Colleen Marie Ryan, going on to describe her celebrity that "brimmed with public success as well as great personal despair." Callas's long-term love Aristotle Onassis left her shortly before the filming of Medea to marry the American equivalent of a princess: the former Mrs. Jacqueline Kennedy.
Callas's offscreen persona and relationship with the director imbue her Medea with an interiority rare for a Pasolini film. At the same time, Pasolini's casting betrays his profound—if othering—awe of women as a species, and specifically, his perception of their preternatural capacity to "Love, [and] at the same time hate."
Medea screens tonight, September 20, on 35mm at Film at Lincoln Center. It will be accompanied by a panel discussion with soprano Toni Marie Palmertree, scholar Ara H. Merjian, and journalist Nicholas Gage, moderated by Metropolitan Opera's dramaturg Paul Cremo.