Featured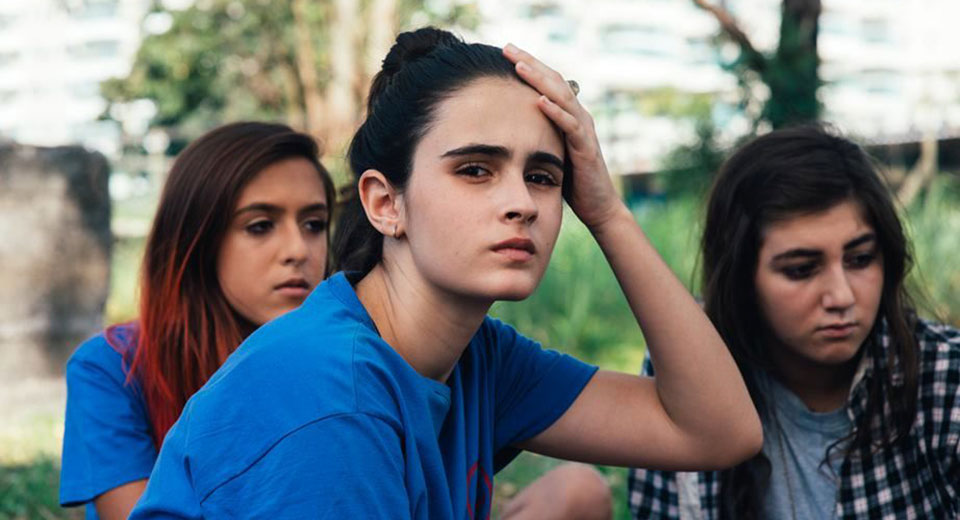 May 20th 2019
First-time director Anita Rocha da Silveira's film starts audaciously: a prolonged, fourth-wall-breaking moment of eye contact with a heavily made up, glassy eyed teenage girl. As the girl leaves her friends and begins to feel like she is being followed by an unknown pursuer, the somber vibe shifts into something neon and threatening, and by the time the title is splashed in all caps across the screen — Mate-me por favor (Kill Me Please) — we hear the girl's screams. But Rocha da Silviera's film isn't quite the horror film its beginning suggests; instead, it's a different type of horror, an existential story about privileged teen girls in Brazil coming of age in the shadow of brutal murders.
As it becomes obvious that there is a serial killer in her affluent Rio de Janiero neighborhood, 15-year-old Bia (Valentina Herszage), who lives with her brother João, becomes obsessed with sex and death. She explores her sexuality with her boring boyfriend and constantly talks about the murders with her friends. These two threads come together in disturbing but inevitable ways, as when she finds a friend struggling to live after being attacked, and kisses her dying lips.
Rocha da Silveira understands the complex teenage girlhood web of gossip, the yearning for "real" life, undertones of violence, and intimate, all-consuming female friendships. Mate-me por favor is a daughter of The Virgin Suicides, particularly clear in the scenes where Bia's group of friends lounge in the grass with insouciant grace, telling each other ghost stories. Violence pulses right underneath the surface of Mate-me por favor like it does under Bia's skin, impossible to ignore. Mate-me por favor, released in 2017 and playing at Spectacle this month, marks the debut of a director unapologetically unafraid to explore the dark obsessions of girlhood — here's hoping for a new Anita Rocha da Silveira film soon.