Featured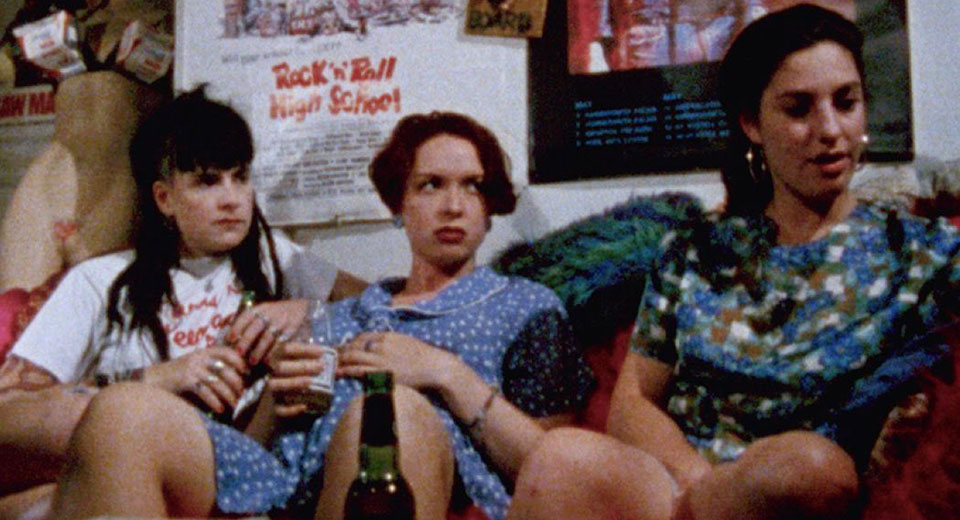 August 15th 2019
Fans of the late cult filmmaker Sarah Jacobson tend to have a possessed fervor more akin to bargain vinyl crate-diggers than traditional cinephiles. The raw slapdash energy in her work was too big, brash, and furious to be contained within a movie theater — it spilled out into the streets where Jacobson sold t-shirts and "Not a Virgin" bumper stickers, slept on stranger's floors, and traveled across the country in her mom's station wagon to distribute and fund her work. The pure wattage of her enthusiasm about DIY film is evident in all of her shorts and features, which sneer and simmer with rage while maintaining a sweet tenderness. Like her riot grrrl peers in punk rock (Heavens to Betsy's rage anthem "My Secret" both inspired and appears in her I Was a Teenage Serial Killer), Jacobson, above all, wanted to be a beacon for girls; namely restless, horny, creative girls on the outskirts.
Jacobson passed away in 2004, but her films have continued circulating. The idea of American Genre Film Archives' new 2K restorations of Jacobson's work, playing at the Alamo Drafthouse Brooklyn, even existing feels like an impossible dream realized. But it comes with a tinge of uncertainty, an unexpected sense that viewing 1993's I Was a Teenage Serial Killer and 1997's Mary Jane's Not A Virgin Anymore, Jacobson's most prominent works, not on an overcooked, oft-rewound VHS transfer would sully its illustrious grit and grime. On the blown-out copy of Not a Virgin I'm used to watching, Mary Jane's pluck of potential punkish paramours seem even more indistinguishable than they ought to, their faces burning a featureless, doughy washed-out white. The idea of seeing Mary Jane's grubby movie theater basement hangout in all its gutterpunk glory feels so untenable it makes my heart skip.
Mary Jane's Not A Virgin Anymore is a classic girl-meets-her clit teen rom-com. It's after school sex ed by way of George Kuchar, or if the prep school kids of a Whit Stillman picture were burnouts who traded Rock 'n' Roll High School and Lost Boys references instead of debating Austen. Jacobson's closest comparison in terms of depicting driftwood dirtbags shooting the shit would be the work of playwright Annie Baker. Like in Baker's opus The Flick, Mary Jane and her friends and lovers lust over each other while scrubbing the scum from the popcorn machine at their local movie theater, coital groans echoing from off of the big screen. (The end credits attribute the voices in this running gag to "some horny French people.")
Jacobson's filmic cheerleading extended well beyond her own work: she championed Alex and Sylvia Sichel's All Over Me (1997) and relentlessly dragged Lou Adler's beloved 80's bomb Ladies and Gentlemen, The Fabulous Stains (1982) out of pop culture obscurity. Listed in the thank yous of Mary Jane's credits are Jon Moritsugu, Kim Gordon, and "everyone who has ever bought her a beer." We owe her much more than that.