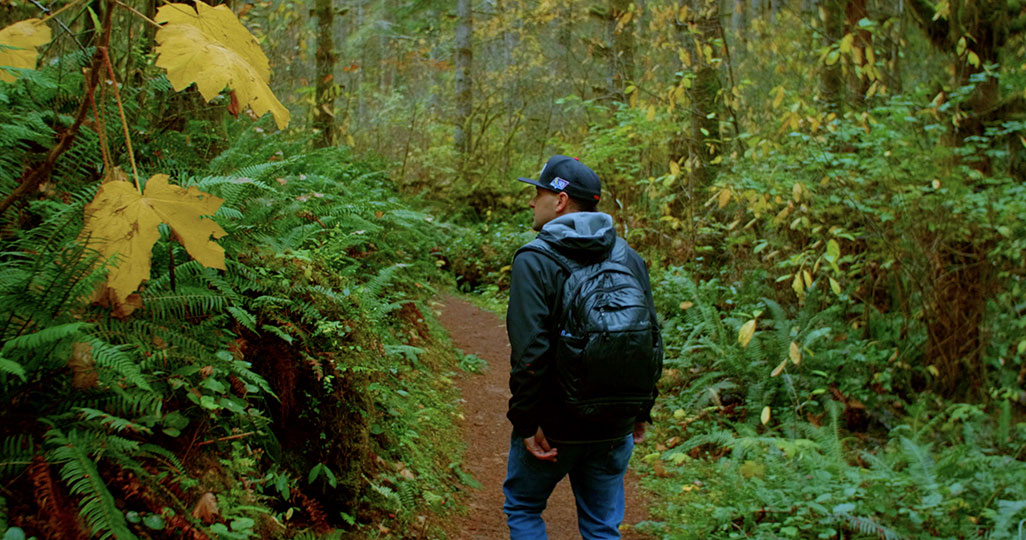 November 20th 2020
In the opening shots of maɬni – towards the ocean, towards the shore, Sweetwater Sahme and Jordan Mercier, the central figures of Sky Hopinka's first feature film, face away from the camera. The filmmaker follows Jordan down a forested trail of green and orange shades, while Sweetwater appears as a silhouette against a vast blue ocean. These images show the landscapes that thread the space of the film, and invite us to follow the characters as they contemplate birth, death, rebirth, and the afterlife.
In a voiceover spoken in Chinuk Wawa, Sky Hopinka retells the origin of the Chinookan death myth–or as much as there is of it now. Throughout the film, Sweetwater speaks of giving birth in the same room in which her grandmother recently passed away, while Jordan speaks of healing through sharing the song of his ancestors with his newborn child. Although the separate voices ponder on similar questions, maɬni – towards the ocean, towards the shore doesn't seem to be about birth, or about death... instead of directly dealing with a subject, it seems to occupy the space that encircles it.
With the visual smoothness of a boat floating over water, maɬni inhabits a space that both contains and observes rebirth and the afterlife. This space is present in the frame, through the almost unfathomable contrast in greens, oranges and blues; it is present in the ever-changing landscapes that the film depicts: the rising levels of a river, a cove where the sand meets the ocean; it is present in the poetic breaches between sound and image that occur during ceremonies and nondiegetic drum rhythms.
These poetic sounds, in turn, encircle the film: voices, music, and nature that, when threaded together, create connections between past, present, and future, and similarly to Jordan's song, reverberate through generations. The drum rhythms and chants that emotively flood from the on-screen celebrations to the outside viewer once again put into question the space that maɬni occupies.
Perhaps this ineffable space is the image, or perhaps it is the sound. Perhaps it is Sweetwater's living room, or the middle place between now and nowhere 1 ... towards the ocean, towards the shore.