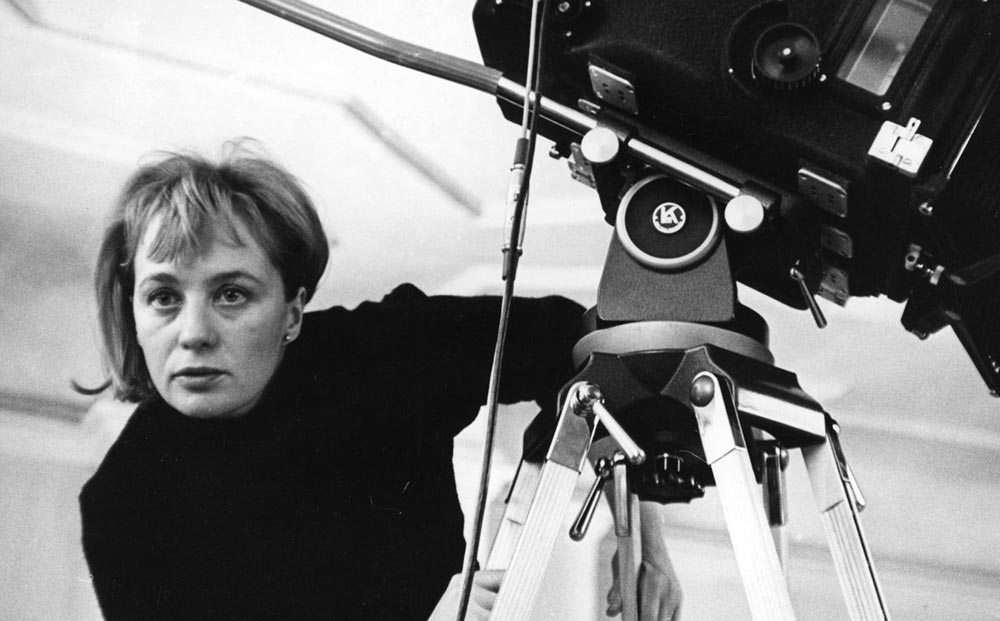 May 9th 2022
Mai Zetterling's career ran the gamut: the glamorous actress who worked in Sweden and England became the probing, feminist director who made documentary and fiction film and television across the European continent. Zetterling studied at Stockholm's Royal Dramatic Theatre School, like Ingrid Bergman before her, and was positioned to be another Bergman, a beautiful Swede who conquers English-language film. At nineteen, she met a different Bergman—Ingmar, of course—when she made her unforgettable onscreen debut as the lonely, alcoholic Berta in Alf Sjöberg's Torment (1944), also Ingmar's first film as screenwriter. The two would reunite for Music in the Dark (1948). Zetterling worked steadily in England throughout the '40s and '50s with directors like Basil Dearden (the noir Frieda, 1947), and would eventually end her career in England with roles in films by Nicholas Roeg (the child-terrifying The Witches, 1990) and Ken Loach (Hidden Agenda, also 1990).
When Zetterling's acting career slowed in the early '60s, she took her prodigious talents behind the camera. Starting with the (Ingmar) Bergman-influenced chamber drama Loving Couples (1964)—the story of three women giving birth in a 1914 Sweden maternity hospital and their divergent paths arriving there—Zetterling directed eight features through 1986, including a Lysistrata retelling starring Bibi Andersson, Harriet Andersson, and Gunnel Lindblom (The Girls, 1968); a bitter, haunting, near-camp psychosexual melodrama about impotence (Night Games, 1966); and a women-in-prison drama (Scrubbers, 1982).
At Film Forum, two lesser known films from the '70s show Zetterling's impressive range. In a BBC production, We Have Many Names (1976), Zetterling plays a middle-aged woman left by her longtime husband for a teenager, dealing with the grief, doubt, and loss of self that comes with being dumped. Zetterling is emotionally and literally naked in front of the camera, and the film is like the best breakup songs, inspiring the like-minded to grieve alongside her. The Moon is a Green Cheese (1977) is ostensibly a children's film, but likely plays best for people on mushrooms. A family vacation is seen through the eyes of two youngsters learning their colors, and is mostly nonsensical, albeit in a gorgeous, lawless way. These and other examples of Zetterling's complexity, breadth, and depth as both an actor and director make hers one of the 20th century's most intriguing filmographies.
"Mai Zetterling" runs through May 19 at Film Forum.