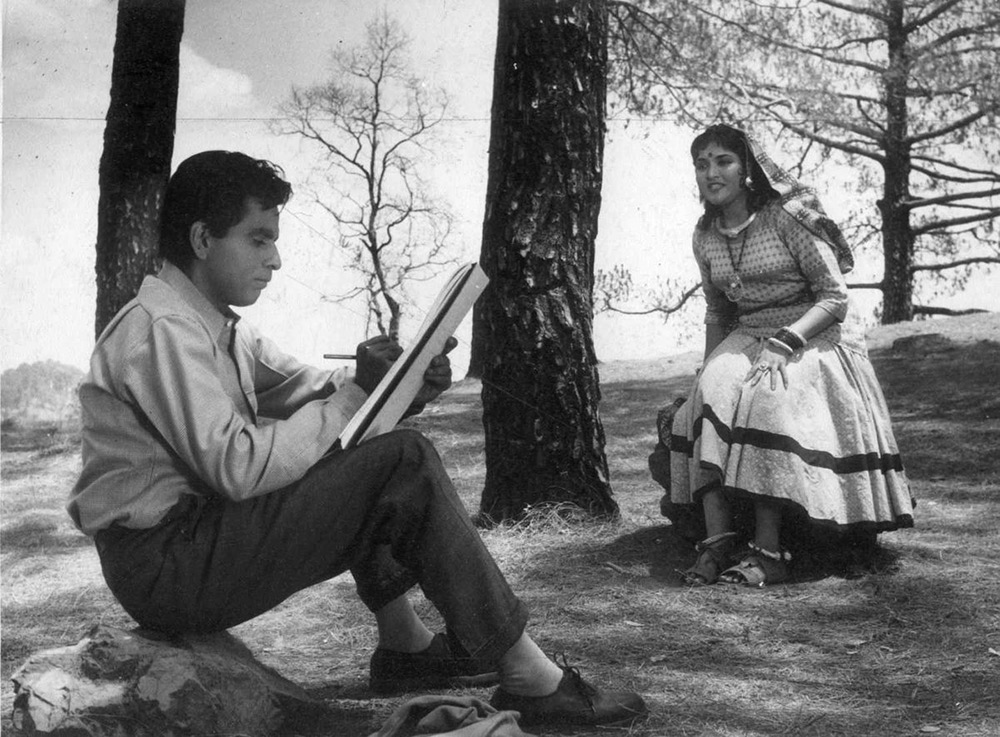 May 25th 2021
Bimal Roy's 1958 film, Madhumati, now streaming on the Criterion Channel as part of the "Directed By Bimal Roy" collection, is a ghostly tale of past lives and ill-fated lovers shrouded in shadows and fog. Following their onscreen pairing in Roy's now classic Devdas (1955), the film stars India's first female superstar, Vyjayanthimala, and Dilip Kumar, the actor credited with bringing method acting to Indian cinema. Bolstered by Salil Chowdhury and Shailendra's hit songs, Ritwik Ghatak and Rajinder Singh Bedi's supernatural script, and Dilip Gupta's spectral cinematography, Madhumati reminds us of Roy's role in bridging the gap between the crowd-pleasing, go-for-broke entertainment of Bollywood and the artistic ambitions of Indian Parallel Cinema.
In Madhumati, two men take refuge from a violent storm in a crumbling mansion. Devinder (Dilip Kumar) feels he has been there before. Seeing a portrait of the mansion's former owner, Devinder claims to know every brush stroke because he painted it, but not in this life. From here, the film moves into the past, the gothic mansion giving way to a misty mountain forest. Devinder is now a young artist named Anand making his way to a timber estate in Shyamnagar to start a new job. While in the forest, Anand encounters a beautiful young woman, Madhumati (Vyjayanthimala). Anand asks to draw her portrait and they begin to meet daily, eventually falling in love. The young couple plan to be married, but the lord of the Shyamnagar estate, a bourgeois tyrant, Raja Ugra Narayan, sets his sights on the young woman. After sending Anand away on a business trip, Raja has Madhumati brought to him under the pretense that her lover has been injured. When Anand returns, Madhumati is gone. Unable to find her, he begins to lose his mind.
Following the critical and commercial success of Do Bigha Zamin in 1953, Madhumati went on to become one of Roy's biggest hits and, perhaps, his most influential film. Where Do Bigha Zamin fit into the parameters of Parallel Cinema, India's version of Italian Neorealism, Madhumanti dealt with metaphysical fantasy. It was one of the earliest Indian films to touch on reincarnation. This conceit allowed Roy's already masterful command of mise en scène to reach stirring heights of stylization, the dark, gothic mansion and the mist-filled forest evoking a mind space where the past becomes present and the spirit drifts like fog. And while the film's plot reaches a point of untenable melodrama, the expressionistic imagery and expert performances unlock something raw and powerful that is not quite "real" but, like the love of its main characters, transcendent.
Madhumati is streaming on the Criterion Channel and Mubi