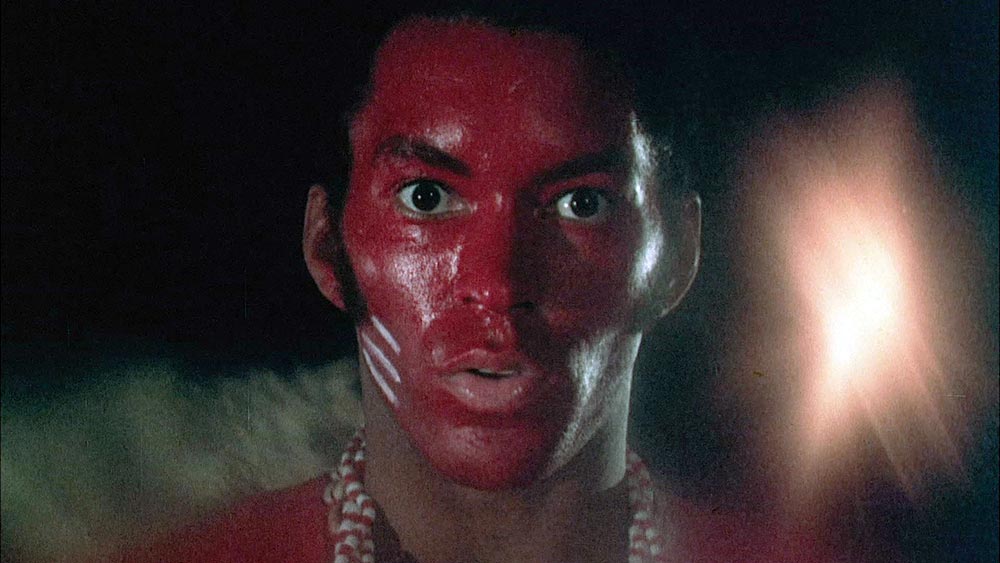 April 14th 2021
Ray Marsh's 1975 film Lord Shango (aka The Color of Love) begins with a man, Femi (Bill Overton), running through the pastoral Tennessee countryside to the driving rhythm of Milford Graves's blazing percussion. His mad dash is intercut with a large, white-clad Christian congregation at a nearby river, as Graves's drumming gives way to a gospel song. Billie, Femi's girlfriend, is about to be baptized, and the young man is on his way to intercede on her behalf, hoping to save her from Christianity's hegemonic grip. But for his troubles, Femi, a member of a Yoruba religious cult, is drowned by three parishioners in the baptismal river, effectively silencing his protest in a violent act of religio-cultural repression.
After Femi is murdered, Billie, distraught and mentally unstable, becomes pregnant. It is unclear whether the father is Femi or his killer Memphis, a congregant from the local church and the boyfriend of Billie's mother, Jenny (Marlene Clark of Ganja & Hess). Billie runs away and Jenny turns to Femi's African cult to help her get Billie back. In the process, Jenny — whom Clark plays with wild-eyed intensity — slips into a strange relationship with a wino named Jabo (Lawrence Cook of The Spook Who Sat By the Door). The forlorn and stoic Jabo seems to have an intimate knowledge of the dark forces that might bring Billie, and perhaps Femi, back, as those involved in the young man's death meet mysterious and violent ends.
Lord Shango is rife with powerful allegory, beginning with Femi's desperate race to "save" Billie. This image has become familiar in Black cinema, the symbolic (and, in some films, literal) "runaway slave" escaping to freedom. Melvin Van Peebles's seminal Sweet Sweetback's Baadasssss Song is structured around such an escape to freedom and Lord Shango uses the sprint in the film's opening sequence to symbolize the flight from white cultural domination and the rush to preserve African cultural heritage.
The struggle between Christian cultural indoctrination and Black African identity is the main thematic thrust in Paul Carter Harrison's script, and the playwright imbues his supernatural revenge tale with a righteous — and rare — power. The film's performers add human passion and dignity to the proceedings, and what results is a film of style (particularly through the use of Graves's powerful percussion) and deep substance that ranks among the best independent works of 1970s Black cinema.
Lord Shango is streaming on Prime.