Featured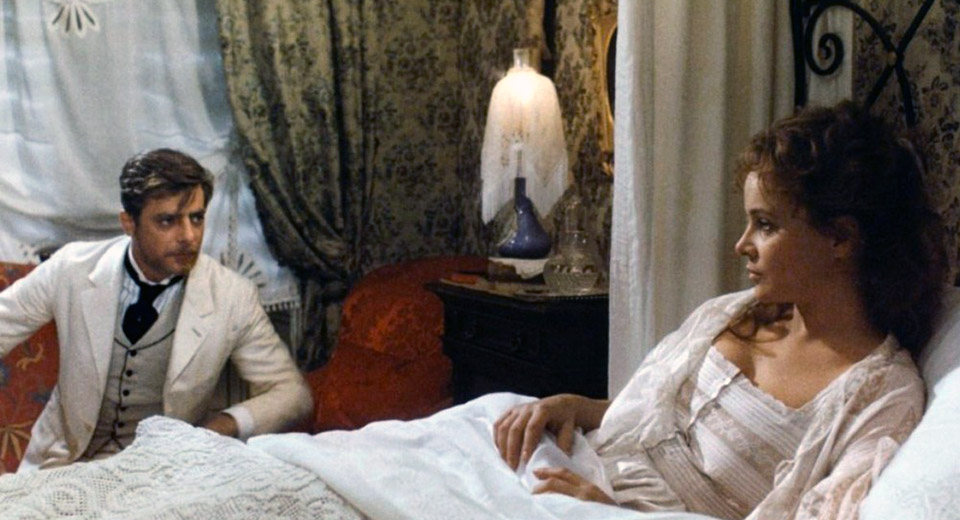 February 16th 2020
Without too many alterations, L'innocente (1976), would have made an exquisite horror film. The final work of the great sensualist Luchino Visconti dragnets the male psyche to find little but lust, death and hubris. His wrenchingly tight closeups capture the unraveling of a vile gentleman within the satin-coated grand villas of the landed class from which the director himself descended. In the opening frames he uses his own liver-spotted hands to turn the pages of a golden book resting on a stretch of red velvet, an elegiac beginning to what would be his swan song. Visconti died during the editing, leaving one last, unhurried masterpiece to his legacy.
Aristocrat Tullio Hermil (Giancarlo Giannini) has fabricated for himself an identity as an ubermensch of sorts, unbeholden to the church or the laws of 19th century Italy. His similarly liberated mistress (Jennifer O'Neill), a widow of means, revels in his affections while his wife Giuliana (Laura Antonelli) endures an undignified solitude and forces herself to look the other way. When the latter takes up with d'Arborio, a young author, Tullio's progressive facade is consumed by ancient jealousy. He desperately seduces his wife in response, claiming her infidelity is his own fault for not tending to her sexual education properly. They promise to restart the marriage in the countryside, but Tullio can't escape his wife's lover, whose burgeoning literary fame has put his name on everyone's lips. Great fortune arrives with d'Arborio's sudden death, followed immediately by a grim revelation that Giuliana is pregnant. His inescapable compulsion to dominate women—"to lift us up with one hand and push us down with the other," as the mistress puts it—forecloses Tullio's professed desire to reconcile with any bygones. His wife's child stirs in him a profound hatred, leading to a ghastly return of his Randian mania.
Mirroring his star, Visconti presents handsome surfaces that struggle and ultimately fail to conceal the stalemate between the past and an accelerating modernity. Unblemished flesh, yards of Imposing wallpaper, and a perfect shave aren't enough to prevent Tullio's rage when confronted by d'Arborio's massive manhood in the showers of their fencing gym. His faux-Nietzschean pontifications attempt to embrace ecstatic experience but lack the courage required to live beyond good and evil. Against the misunderstood philosopher's espousal of life-affirming ("yes-saying") thought and deed, Tullio's amoralism courts death, unwittingly shackled to Christendom's grim pageant. As Visconti methodically pushes Tullio's hypocrisy to its breaking point, L'innocente grows as unnerving as any monster movie.