Featured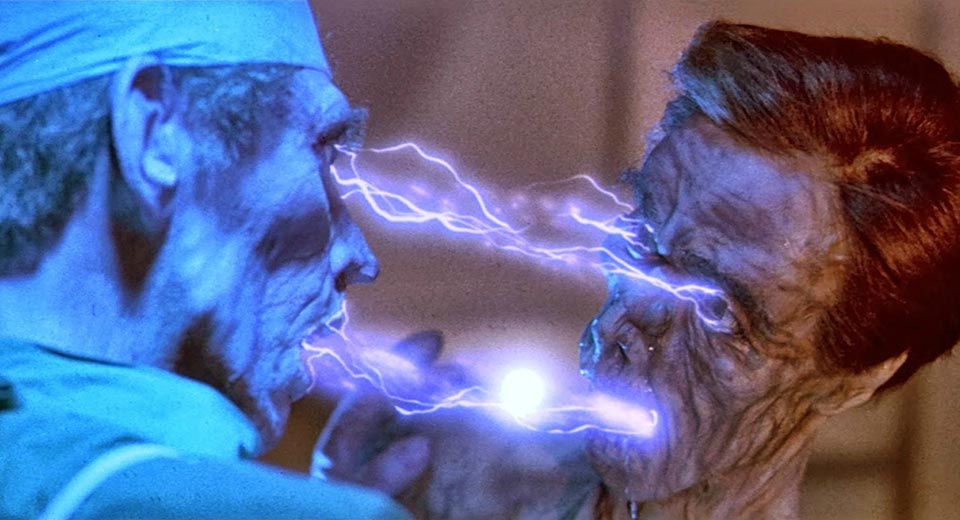 August 12th 2018
Tobe Hooper's 1985 cult favorite Lifeforce screens this evening in appropriately large 70mm at the Museum of the Moving Image. Adapted from the pulpy 1976 novel The Space Vampires by Colin Wilson, the film nimbly moves from ideas and monstrous set pieces with the lightness and ease of the author's expansive thought. Wilson was an almost demonically prolific writer whose work blended metaphysical pseudoscience with a deep knowledge of the occult, philosophy, and genre fiction. In Lifeforce these elements come together with a gleeful postmodern panache, combining a bit of Bram Stoker and Sheridan Le Fanuwith sex and sci-fi to create a genre fan's dream movie.
Perennially grizzled leading man Steve Railsback plays a space traveler whose ill-fated mission unleashes an ancient, supernatural force hellbent on sucking the life from its victims. The vampiric lifeform makes its way to earth in the shape of a woman who locks lips with every dopey dude within eye-popping "awoooooga!" distance, unleashing a sentient evil.
Hooper's bravura lighting and skill with tapping into the unsettling substratum of a scene is in full effect, and for as big as the movie's production gets, it manages to stay a true work of intimate, character driven horror. While the late filmmaker is commonly associated with the viscerally macabre and grisly, works like Salem's Lot and Lifeforce show Hooper's ability to give the most ephemeral ideas and sensations form, whether King's dread or Wilson's hyperactive lust and ancient alien evil.