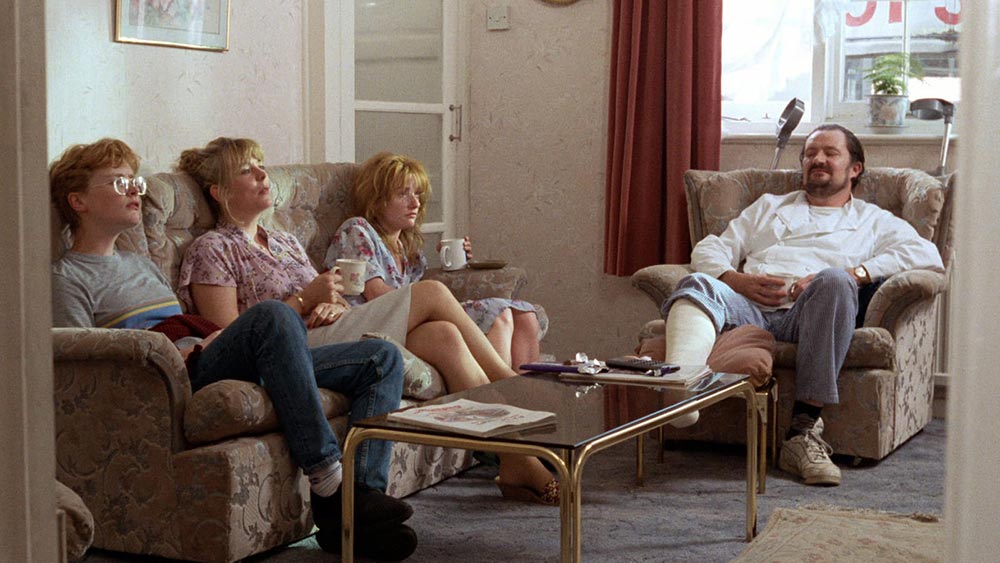 February 20th 2022
In his commentary for the Criterion Collection's edition of Life Is Sweet (1990), Mike Leigh begins with a 103-term index of the film's themes, alphabetized from accordions to zest. Among these terms, to name a few, are violence, garlic, sex, free enterprise, Princess Margaret, bullshit, kith, survival, and pineapples. Fittingly, Life Is Sweet is as mercurial as its sprawling cast of working-class North London suburbanites: Andy (Jim Broadbent), a chef at a catering company who misguidedly purchases a decrepit burger van; his coltish wife Wendy (Alison Steadman) and their twin daughters; Natalie (Claire Skinner), a people-pleasing plumber; and Nicola (Jane Horrocks), a disaffected bulimic who feigns radicalism through willful unemployment and a t-shirt that reads "BOLLOCKS TO THE POLL TAX."
Leigh's third cinematic feature and his most commercially successful at the time of its release, Life Is Sweet is more airy and elastic than his debut Meantime (1983), but far less murky than its successor, Naked (1993). Though notionally a film about family, labor, and Margaret Thatcher, it's mostly about food. Leigh casts an unromantic gaze on consumption; there is both intimacy and revulsion in the way we experience Nicola binge, purge, and scowl at the full plates of others, and we later encounter her sitophilic fetish of getting chocolate spread licked off her chest by a young David Thewlis. There's also the bevy of unappetizing French dishes to be served at family friend Aubrey's (Timothy Spall) bistro, The Regret Rien: beef tongue in a rhubarb hollandaise, saveloy on a bed of lychees, pork cyst, a single prawn in jam sauce, tripe soufflé. And the film's one constant: a grotty, fruitless fast food van parked in the driveway.
It's not easy to make the act of eating appear so foul without resorting to horror tropes, but Leigh manages to sustain his primary-colored buffet from hell. The director confesses in the commentary that this film is his least favorite effort, for reasons he is unable to nail down. Still, Life Is Sweet is packed with effusive beats and familial fractures, spackling over the cracks with chocolate and treacle-soaked spinach.
Life Is Sweet is streaming on the Criterion Channel. Today, February 20, is Mike Leigh's 79th birthday.