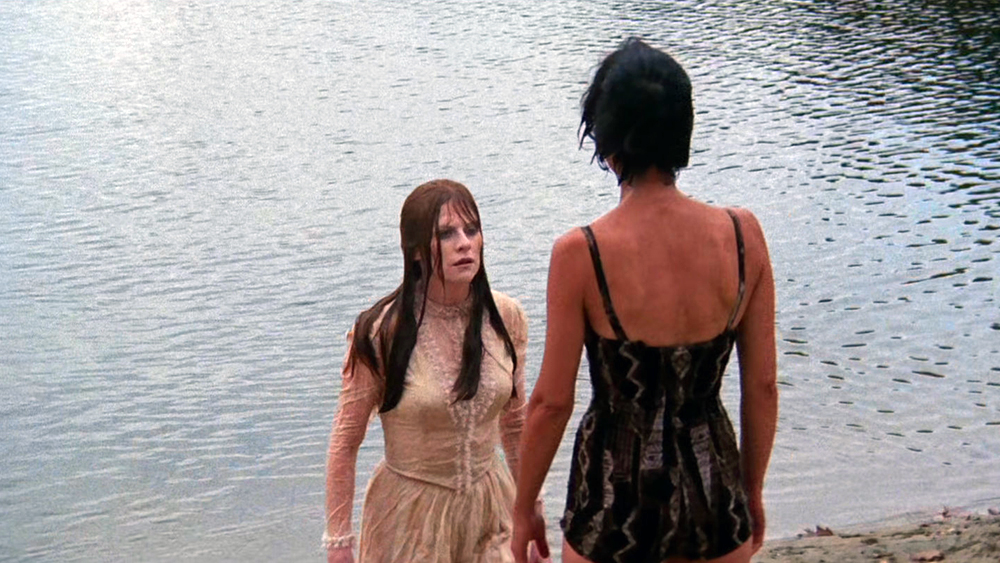 July 10th 2022
Let's Scare Jessica to Death (1971) is both a masterclass in suspense and a treatise on the agonizing effects of self-doubt that accompanies those straying through life. John D. Hancock's feature debut pieces together a genius spectacle of gaslighting in which the eponymous Jessica (Zohra Lampert) restlessly struggles to distinguish whether she's being haunted by her own imagination or by real, supernatural forces beyond her comprehension. As Jessica is beguiled by her surroundings and own intrusive thoughts, a shadow of doubt is cast over the entire film. She may or may not have seen a corpse submerged in a nearby lake, and the audience may or may not catch sight of ghostly bodies shuffling behind Jessica. It's not whether such frights are real or not that matters, but how the slightest sights and thoughts in an uninviting environment can boil the brain with paranoia.
Although Hancock's sparse storytelling reflects his meager budget, his ability to bring forth such distress out of simple motifs—billowing fog, pale women, and close-ups of elders—marks him as an artist with a clear understanding of the gothic dread inherent to the northeast corner of the United States. The simple narrative about unwelcoming townsfolk trying to drive out a couple of New York transplants with scary stories soon reveals itself as a smart portrait of a defeated trio with nowhere to go, riddled with frustrations as the promising '60s turn into the listless '70s, forced to trade their dreams for permanent peace in a hostile suburban environment.
Jessica, her cellist husband Duncan (Barton Heyman), and their mustachioed friend Woody (Kevin O'Connor), are city castoffs looking to start a farming commune in Brookside, CT, but their plans are quickly shut down by the supernatural forces of an aged community looking to keep things simple and stagnant. It's the frozen past that haunts Jessica, embodied by a legion of plaid-clad old white men under the command of a vampiric maiden from the 1880s whose calcified constitution indicates her desire to preserve her sliver of New England.
Dubbed the "thinking man's vampire movie," by Roger Greenspun of the New York Times, Let's Scare Jessica to Death untangles the politics of distrust through the lens of genre. Jessica's heightened insecurity—possibly a product of her mental unease and definitely a product of her standpat new neighbors—incarnates the despair of a once-hopeful dreamer. Looking to start a new life, she comes face-to-face with American history suppressing its future.
Let's Scare Jessica to Death screens this afternoon, July 10, on 35mm at the Museum of Modern Art as part of the series "Messaging the Monstrous: Gender and Horror."