Featured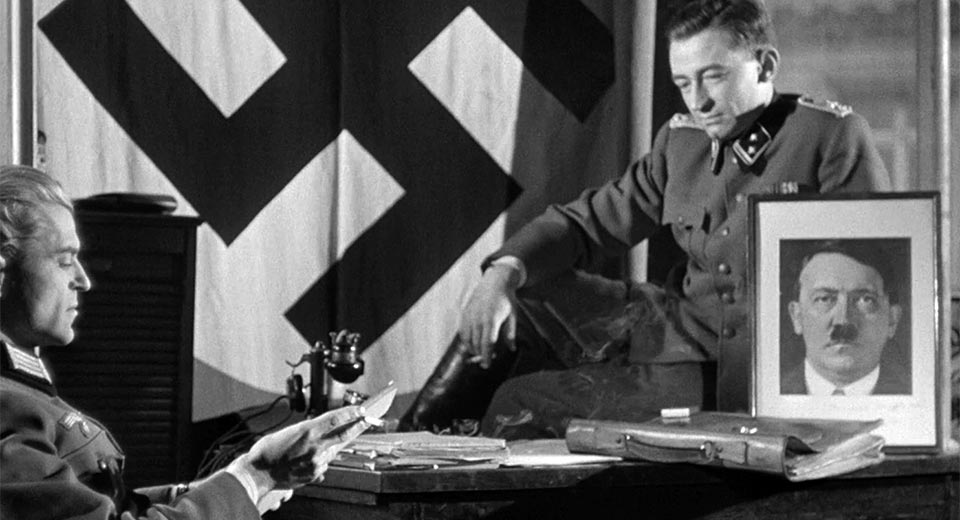 April 23rd 2017
Jean-Pierre Melville's first feature film Le silence de la mer (1949) is an anti-cinematic jewel. Shot on a very tight budget by stellar cinematographer Henri Decaë , and taking place in a single room (in the original author's house), the film's austerity sets it apart from not only Melville's later works but most other films as well. Based on the novel by the same name, the film rejected cinema's conventions of the time in order to stay fiercely loyal to the text, of which Melville was a resolute admirer. Written by Jean Bruller under the pseudonym Vercors, and published clandestinely in 1941, only a year after France's defeat, the underground novel was considered by many to be the Bible of the Resistance movement.
Set in a small village in France, the film centers around an elderly uncle, played by Jean-Marie Robain, and his young niece, played by Nicole Stéphane (who would be later cast in Melville's next film Les enfants terribles) and their quiet resistance to the German officer who occupies their home, Captain Werner (Howard Vernon). Werner though is not a typical Nazi. A composer in love with French culture, he not only understands the uncle and niece's unwavering silent treatment, but respects it, and spends every night with them, as they perform their daily habit of ignoring his presence, soliloquizing his thoughts on the cultural benefits of the German and French union. Rather than attempting to break their resistance, it appears Werner enjoys their company, and though tense at times, a silent bond is soon formed between the three.
Werner's diatribes and the uncle's voice over narration are the only dialogue of most of the film, and it is thanks to this astute and brave choice that Melville is able to leave plenty of space for the audience to insert itself into the awkwardness of the small living room, where the crackling of the fire and the ticking of the clock reign supreme. Our senses as viewers are reinvigorated as realize that we can learn more about a character through the trembling of their hands, and a glance that is refused, than with words. And it's this bare honesty which not only adds to the film's emotional depth but allows us to explore what it truly means to be human, making it one of the most subtly powerful and moving films of not only Melville's career.