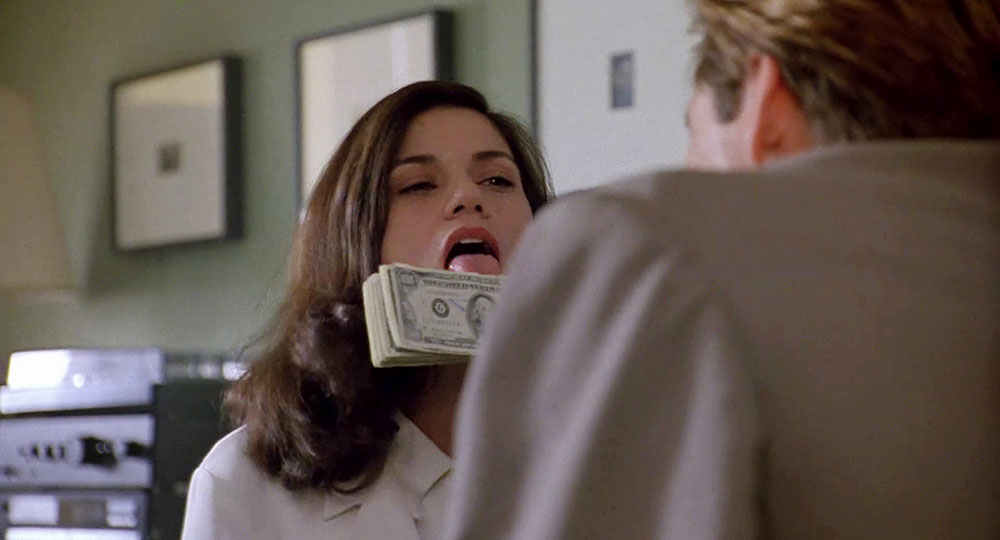 September 22nd 2022
Taken at face value, John Dahl's 1994 neo-noir The Last Seduction would seem to have more in common with, or at least be intentionally capitalizing on, the decidedly erotic thrills of early-'90s thrillers like Basic Instinct (1992) and Indecent Proposal (1993); but outside of its title and some mostly clothed bouts of adventurous lovemaking, The Last Seduction is more interested in power than sex. In that, it bears striking similarities to Dahl's previous film Red Rock West (1993), likewise set in a dead-end town, wherein a cast of men, from various walks of life, falls prey to the deceit of a woman smarter, stronger, and ultimately more determined than they are to leave the barren wasteland they call home.
Starring Linda Fiorentino as an unfulfilled wife to a smarmy doctor, The Last Seduction finds her concocting a plan to sell his medical-grade cocaine to drug dealers. She rips him off and leaves New York City for the small, fictional town of Beston, NY, right outside of Buffalo. The men there spend their night at the bar, arguing over potential one-night stands and getting into fights with their long-time friends. Like Red Rock West before it, The Last Seduction is a movie about starting over in a new place, some random corner of the US that time seemingly forgot. As much as the environment of Beston is a place for Fiorentino's character to lay low (she changes her name to Wendy Kroy, which the film will tell you is New York spelled backwards), it's also a place for her to find her next victim.
Like many femme fatales before her, particularly those from neo-noirs of the 1980s like Bob Rafelson's Black Widow (1987), Fiorentino's character sees men as a commodity; she is as cavalier about her sexual prowess as she is about their disposability—"you're my designated fuck." Her exploits culminate in a climax that pits her lovers against each other with only one possible result.
The Last Seduction screens tonight, September 22, in 35mm at Nitehawk Prospect Park as part of the series "Nitehawk Diaries."