Featured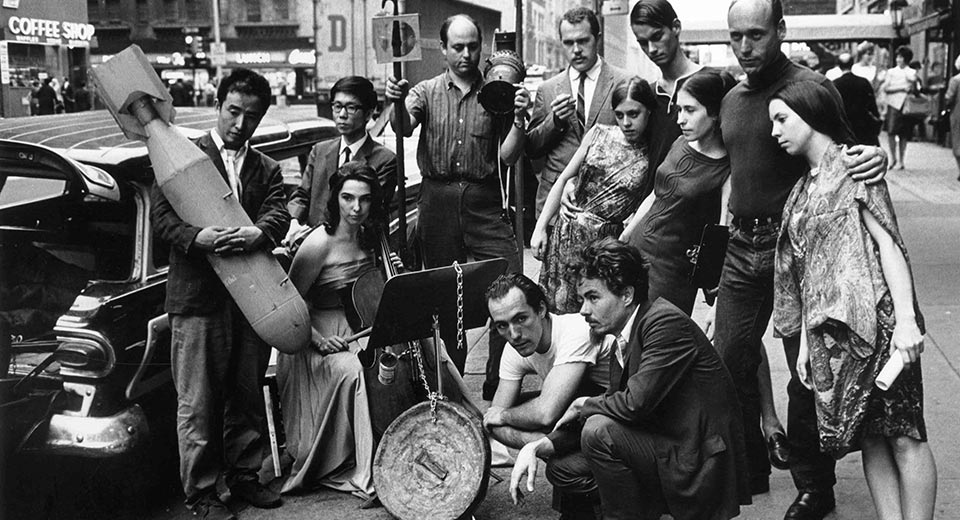 September 18th 2016
Presented in conjunction with NYU Grey Art Gallery's A Feast of Astonishments: Charlotte Moorman and the Avant-Garde, 1960s-80s, the two Jud Yalkut & Charlotte Moorman programs at Anthology Film Archives present six works by Yalkut, with an emphasis on historicizing the vast and anarchic arts scene that surrounded both figures. Yalkut was the resident filmmaker of the anonymous media collective USCO, who lived communally in a Rockland County church. Though charged with documenting the group and other artists' activities, his approach is hardly archival – quick cuts, atypical lens, and zealous use of superimposition give the films the approximate feel of a "trippier" Mekas or prototype to early Video Days-styled skate vids.
Program one features "Metamedia," a hodge-podge of event documentation ranging from Timothy Leary's Christ happening, performance artist and NYSCA bureaucrat Ken Dewey's anti-war demolition derby, an early Hermann Nitsch action, Moorman performing at Howard Wise Gallery, and more. "John Cage Mushroom Hunting in Stony Brook" is a short and charming film-portrait of the composer's leisure time. "Us Down by the Riverside" sets impressionist footage of USCO's light exhibition at Riverside Church to the Beatles' "Tomorrow Never Knows."
Program two is centered on Moorman, with extensive footage of her 4 th Annual New York Avant-Garde Festival at Central Park. Yalkut emphasizes the more hallucinatory aspects of the gathering, which included works from Allan Kaprow, Takehisa Kosugi, Jackson MacLow, Bill Dixon, Cecil Taylor, Moorman herself, et cetera, set to a sound collage soundtrack. "Chocolate Cello,"the most straightforward document of the bunch, captures Moorman's transformation into a chocolate sculpture for a realization of a Jim McWilliams piece on Easter Sunday, 1973. As an interpreter, the brilliance of Moorman – christened by Edgard Varèse as the "Jeanne d'Arc of new music" – lied in her ability to treat each realization, however outlandish, as sacred.
Yalkut's eye is towards the quasi-religious – he falls in with the more spiritual strain of techno-utopian McLuhanites. The implicit romanticism of the era, a time when massive public arts spectacle and earnest engagement with technology were possible, make the screening good escapism. This is sometimes a fault of Yalkut, who, in doing his own thing, has the tendency to eclipse some of the events' heavier political content. Still, as with A Feast of Astonishments, Moorman's supreme friendliness shines through, the art world roll call is astounding, and it constitutes a frequently untold tale of the emerging counter-culture.