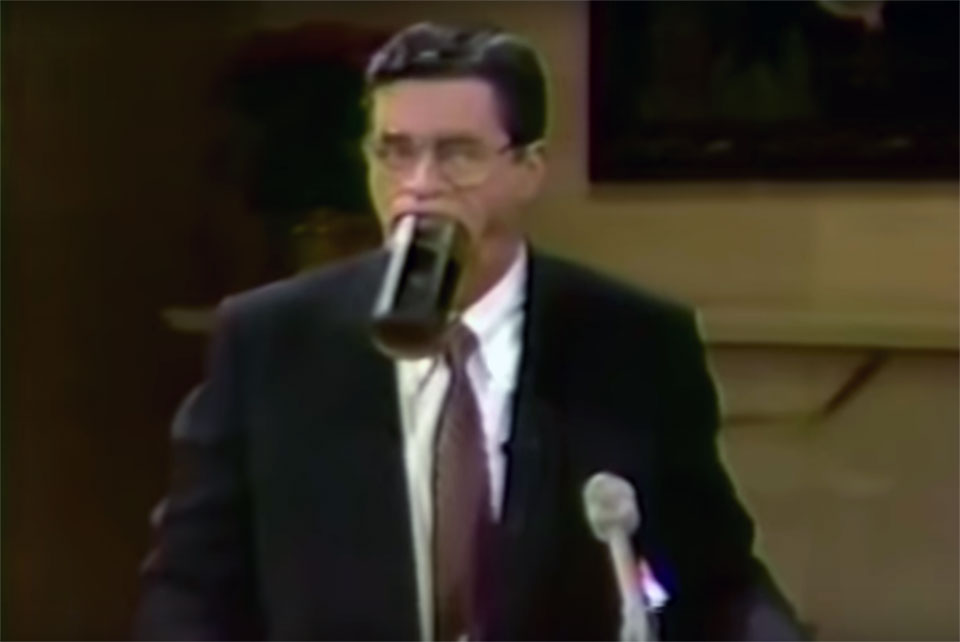 April 6th 2020
Like a psychiatrist, a good host is a supporting character in their own show. Johnny Carson, Ed Sullivan, Dick Cavett, Alex Trebek, Terry Gross, Chris Harrison – these people maintain a delicate balance, coming across as smart, but endlessly curious; funny, but gently so; opinionated, but open-minded; dominant, but capable of making anybody feel like they're in a safe space. These people are some of the most comfortingly familiar presences in American culture, but they also tend to be fiercely protective of their privacy, and viewers keep coming back to them because they're unknowable.
A man of many talents, Jerry Lewis was not a good host. Nothing in Lewis's achingly personal films suggest a man interested in probing the minds of other people, and his public appearances – in which he could veer abruptly from heavy shtick to mawkish sentimentality to rage – hardly suggest a graceful emcee. Despite conquering virtually every other sphere of entertainment, he endured a conspicuous failure in 1963 when he spent 13 weeks at the helm of a primetime talk show. Lewis's greatest television success, The Jerry Lewis MDA Labor Day Telethon (1966-2010), had a tightly-wound, high-wire, ticking-clock 22-hour format that was uniquely suited to its combustible frontman. It probably wouldn't have been quite so successful had it aired every week.
Nevertheless, as his performance in The King of Comedy demonstrates, Lewis was the sort of multitalented showbiz legend who always seemed like he could have been a successful TV star – and it was the Scorsese film that inspired Metromedia Broadcasting president Robert Bennett to offer Lewis one more shot. From June 18 to 22, 1984, five episodes of The Jerry Lewis Show were syndicated to stations across the United States, with the possibility of a full-season order in the fall if ratings were encouraging. The order never came, but thanks to YouTube, the last and least of Jerry Lewis's TV vehicles lives on.
How do you know if you're the target audience for The Jerry Lewis Show? Well, does the idea of Jerry's sidekick being veteran journeyman comic Charlie Callas send you into ecstasy? How about the prospect of Callas introducing the host via a 40-second impression of Cary Grant? Are you excited by the prospect of a Brycleemed and barrel-chested 58-year-old Lewis reprising Julius Kelp from The Nutty Professor? How about, instead of an opening monologue, each episode begins with an audience Q&A in which the hoi polloi take turns heaping praise on Le Roi du Crazy? I know, it sounds like heaven for us Jerryphiles, but incredibly enough, the rest of America disagreed.
For his first guest, Lewis landed Frank Sinatra, who coolly soaks in praise ("a marvelous, beautiful human being and my dear friend") as his birthright. One can forgive Lewis for being a little over-excited about getting Frank, but it's a problem that the back-slapping only intensifies in episode two, where the guest is William Shatner. Lewis tells the T.J. Hooker star, "You're good, and I say this to you because I enjoy your work, and that's very genuine. You're good because I see the creative process is important to you – that you want to excel. Now, there are actors who aren't terribly concerned with the creative process. They do as they're told, they stand on the mark, and they do it…" From here, Shatner probes Lewis on his film career, providing Jerry the opportunity to play the part of Serious Director: "Every frame of the picture is prepared months and months in advance. I storyboard everything, then I get my actors in an atmosphere of work…"
Sinatra and Shatner are some of the heaviest hitters on the guest list, which mostly comes from the dustier sections of Jerry's Rolodex: Mel Torme, Shecky Greene, Norm Crosby, etc. In an apparent bid for younger viewers, episode five brings out "a wonderful, new, bright performer that I think will be around for a long time," who turns out to be Joe Piscopo. Piscopo's appearance climaxes with his Phil Donahue impression, which is at least a step up from when Jerry donned buck teeth and yellowface in episode four.
"I think that if the show gets a fair shot this fall, it will find an audience." So said David Letterman – a rather more contemporary practitioner of the genre – in his 1984 Playboy interview. "There apparently are millions of people in this country who have a reverential attitude toward show business and show-business personalities, and those people couldn't get a more crystallized offering than The Jerry Lewis Show." However, Letterman added, "I watched it every night and found it most entertaining." If you're the sort of person who would seek out The Jerry Lewis Show in the year 2020, you will too.
Will Sloan is a writer and raconteur from Toronto. He has two, count 'em, two podcasts: The Important Cinema Club and Michael and Us. You can follow him @WillSloanEsq.