Featured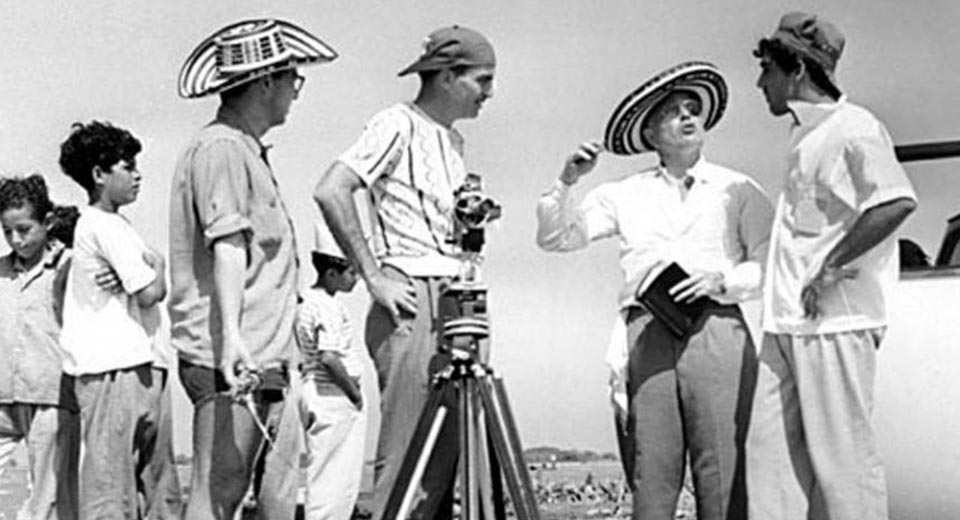 November 26th 2018
The first program of the touring "Ism, Ism, Ism: Experimental Cinema in Latin America" series, which starts tonight at Anthology Film Archives, contains lesser known examples of absurdist humor in Latin American cinema. The centerpiece of the opening program is Álvaro Cepeda Samudio and Gabriel García Márquez's La Langosta Azul, perhaps the earliest known example of experimental cinema in Colombia. Though the film is credited to the two, it was a much broader collaborative effort, given the fact that neither of the two had any formal training as filmmakers. They were part of the Barranquilla Group, a circle of writers and intellectuals who convened at a bookstore in the city. With the help of Luis Vicens, a Catalonian bookseller who had worked on Abel Gance's Napoleon and just happened to be on business in the city at the time, they were able to complete the film.

Shot in a community of fishermen near Barranquilla, La Langosta Azul involves a foreign agent, known only as The Gringo (played by photojournalist Nereo López) investigating radioactive lobsters in the area when a cat steals one of them from his hotel room. From there, the film juxtaposes The Gringo's search for the lobster with the daily lives of the villagers. Also included in this program is La Maleta, an early film by Raúl Ruiz that was considered lost until 2007, when it was found at the University of Chile. The film plays in part like a creature feature without the creature, accompanied by an eerie score and the strange grunts of an unknown voice while the sounds of traffic linger in the distance. It shows many of the dream-like spaces Ruiz would later be known for in Europe while also experimenting with elements of horror and comedy.

Horacio Coppola's short Traum (Sueño) and Mariana Botey's El Dedal de Rosas also contain images characterized as a dream, though the films are separated by seven decades. One is a chase with objects magically appearing along the way, the other a re-creation (or re-interpretation) of an Aztec ritual accompanied by layers of voices and music. Luís Ernesto Arocha's Las Ventanas de Salcedo serves as a median between the two films, showing the playfulness of creating while also commenting on the socio-political climate in Colombia at the time. Together, all films serve as documents to a region whose cinema still feels underrepresented in discussions of experimental work.