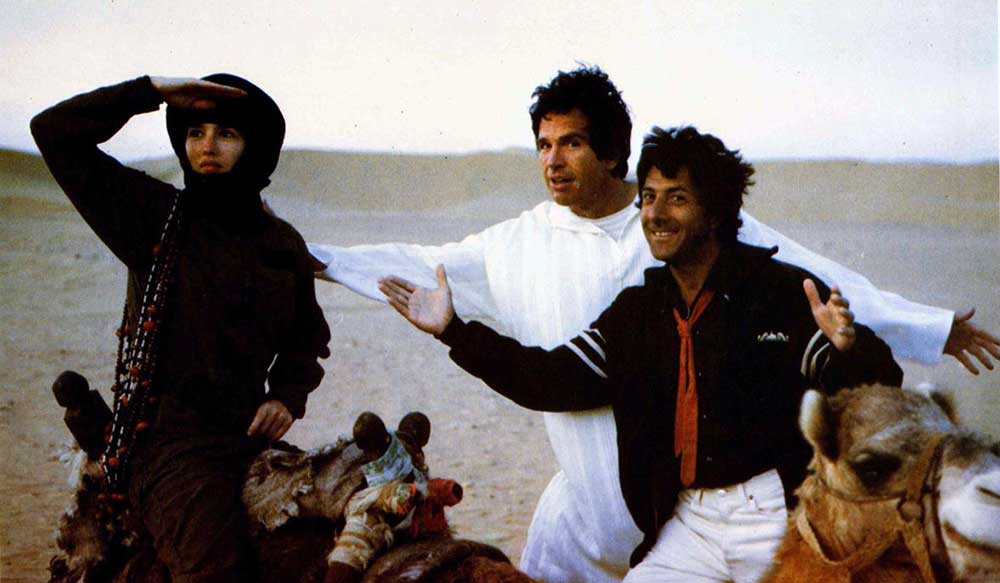 November 27th 2022
Arguably second only to Michael Cimino's studio-killing 1980 epic Heaven's Gate in that decade for production and distribution woes is Elaine May's geopolitical buddy comedy of errors Ishtar (1987). The film was a studio disaster of near mythical proportions—it was dubbed Warrensgate, in dubious honor to producer/star Warren Beatty. It has, fortunately, been reappraised by audiences and critics in the years since its release, and re-edited by May.
In 2011, May premiered the long-gestating (or at least long-rumored) director's cut of Ishtar at the 92nd Street Y in New York City, offering its small legion of fans hope of seeing excised footage, and giving its detractors a window into what May and Beatty were thinking during the production. But, lo and behold, the director's cut delivered the opposite of what viewers had come to expect from the term, landing two minutes shorter than its original runtime.
May's revised cut of Ishtar is an interesting exercise in reassessment by a creator rather than a dynamic overhaul. Despite the various complaints lobbed at the film over the years, May didn't see fit to "correct" anything outside of removing certain moments that felt culturally insensitive decades later—material that, in truth, felt out of place to begin with. What's most interesting about this approach to the re-edit isn't what was cut out, but what wasn't added in. Nearly every aspect of Ishtar's chaotic production has become legend, including the massive amount of film shot, totaling 108 hours of material. Naturally, the vast majority of that is multiple takes that littered the cutting room floor but any hope for additional comedic bits (or musical performances) has been squashed by May's definitive cut.
May's re-edit is clearly not a massive overhaul or extension that addresses the issues that people had with the film when it was released in 1987. Its reappraisal has much less to do with the content than the contemporary climate; in hindsight, Ishtar was all around a strange project for a major studio to spend $51 million on and release in a summer movie season populated by titles like Spaceballs and Predator, in a year where two of the highest-grossing movies, The Untouchables and Beverly Hills Cop II, had budgets that were half the cost of Ishtar's. It's a testament to the power of movie stars and the whims of their collaborators that something like Ishtar—in which Beatty and Dustin Hoffman, as a low-rent Simon & Garfunkel, bungle into a CIA Cold War plot in North Africa—could even get a greenlight, let alone see actual distribution. It was just a few decades too early.
Ishtar screens this morning and afternoon, November 27, at Nitehawk Prospect Park and the Museum of the Moving Image. It will also screen on December 3 at the latter venue.