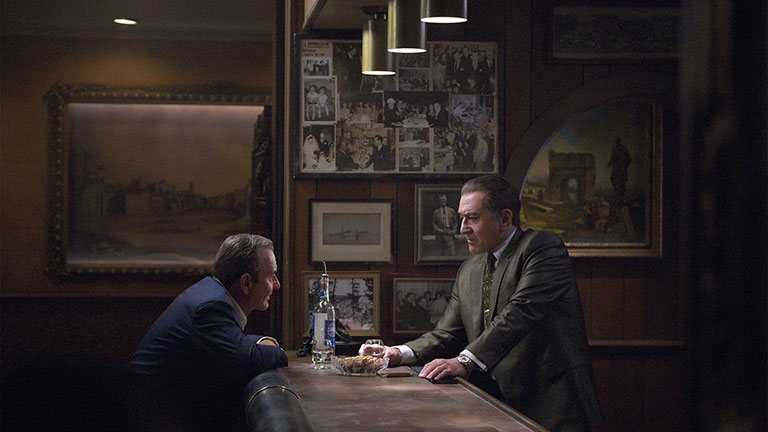 September 27th 2019
At the screening of The Irishman I attended, someone complimented Martin Scorsese on the fidelity of the film to the events described in Charles Brant's I Heard You Paint Houses, the memoir of mafia hitman, Teamster muscle, and confessed Jimmy Hoffa assassin Frank "The Irishman" Sheeran. But the audience member wanted to know about the conspicuous absence of one of the book's show-stopping moments: Sheeran's claim to have couriered a duffel bag of rifles used in the Kennedy assasination. Scorsese phrased his words carefully, saying something to the effect of wanting to avoid including anything that could be thought of as "conspiracy theory," thereby distracting from the characters and narrative. It struck me as a little odd — this a movie that rather matter-of-factly dramatizes the unsubstantiated confession of a man allegedly behind one of the most famous disappearances of the 20th century. Why not roll with it?
The Irishman is in part a throwback to vintage Scorsese, a reunion of the filmmaker with the tough-guy subject matter and male leads of Casino, Goodfellas, Raging Bull, Taxi Driver, and Mean Streets. But compared to his other mob dramas, The Irishman is a much larger project on the scale of era-spanning, historically weighty films like The Aviator. While it's fair to say that organized crime and casino capitalism have always functioned as societal commentary in his films, this is Scorsese's most ambitious attempt to map the machinations of organized crime onto postwar American history. And for all of the film's patently suspect foundation on the deathbed boastings of a sociopathic career criminal — a, let's say, problematic technicality that the film doesn't quite engage with in a truly meaningful sense — The Irishman is still quite satisfying.
The non-linear but roughly chronological narrative introduces Sheeran (Robert De Niro) as a Teamster Local 107 driver who gets caught lifting meat from his truck. He loses his job but earns the respect and attention of Teamster lawyer Bill Bufalino (Ray Romano) for refusing to name names, and he and links Sheeran up with his cousin, Northeast Pennsylvania mob don Russell Bufalino (Joe Peschi). They begin to assign Sheeran hit jobs, and he performs them; as he says, "It was like the army. You followed orders. You did the right thing. You got the reward." Eventually this pulls him into the orbit of Hoffa (Al Pacino), who's in need of personal protection. "I heard you paint houses," Hoffa says. "And I do my own carpentry work," Sheeran responds.
Once Hoffa enters the picture, The Irishman hits its stride. On one hand, Pacino delivers what is instantly recognizable as a major performance, one almost entirely pitched in the "Shouty Al" register. On the other, the narrative begins to implicate Sheeran in a dizzying array of interconnected schemes: the election of JFK, the mob's desire to oust Castro from Cuba, the Bay of Pigs invasion, the perceived overzealousness of Attorney General Bobby Kennedy's crusade against Hoffa, and, of course, the mob skimming loans off the Teamsters' pension fund. Meanwhile, the film portrays Hoffa and Sheeran's relationship as a professional arrangement that grows into a close friendship.
After Hoffa is incarcerated on fraud charges and later sprung off a sentence commuted by Nixon, he struggles to regain control of the Teamsters and becomes an increasing thorn in the side of the mafia. From there, the story is one of conflicting loyalties between Bufalino and Hoffa, and Bufalino and Sheeran's attempts to level with the impetuous Hoffa. "It is what it is," Sheeran is tasked with telling Hoffa. When Hoffa disputes what "it" is, Sheeran's given orders to paint house.
There are aspects of The Irishman that recall David Lynch's work on The Return. Both see major auteurs reuniting with a career-spanning cast of collaborators and thematic concerns with reportedly greater creative control afforded by non-studio financing. And in each, extended runtimes give the directors more breathing room for entertaining tangents. (In the case of The Irishman, there are two memorable, protracted scenes of nearly absurdist banter, one about timeliness at meetings, another about… fish.) And accordingly, as advanced-career works, both deal explicitly with themes of aging and death. Late in The Irishman, within a span of ten minutes or so, we see a marquee for John Wayne's self-reflexive, career-capping role, The Shootist, and witness De Niro/Sheeran shopping for his own coffin. The final stretch seems to function as a coda that offers a reckoning not only for Sheeran, but Scorsese's entire rogues' gallery of gangsters operating under an ethos of principled amorality. The Irishman suggests this code has secretly guided the 20th century — and principle often wavers, whereas amorality does not. Where have these games of power led us today? "We're all falling apart in the freezing fuckin' cold," Sheeran says.