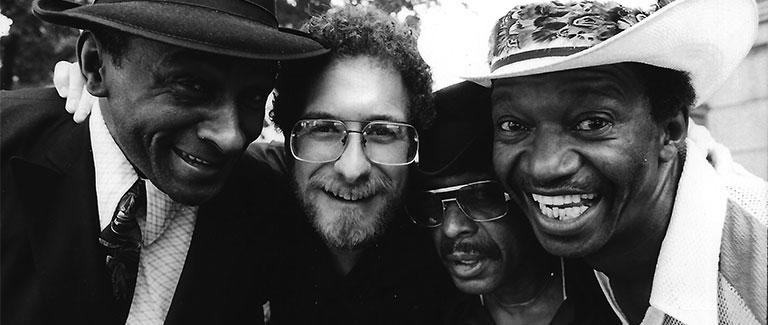 July 11th 2017
George Nierenberg's career has spanned the worlds of network, cable, and international television; independent features; and corporate productions. In his documentaries on American music and dance, he has been able to meld subject and culture with a deep compassion and respect for the people involved. Through his lens, early rock 'n' roll comes alive in PBS's That Rhythm Those Blues (1988) , and the rich history of gospel gets the star treatment in Say Amen, Somebody (1983). His pair of tap films— No Maps on My Taps (1979) and About Tap (1984)—showcase the talent of legendary hoofers and brought their charisma to a broader public. Nierenberg's documentaries are as much about performance as they are human interest, leaving viewers with enduring memories of figures on screen.
Out of active distribution for many years, new restorations of Nierenberg's No Maps on My Taps and About Tap are now playing together at the Quad Cinema through July 13.
Erica trained as a dancer for over 20 years; three year old Tanya did not survive ballet class for 20 seconds. Luckily, George was happy to meet with both of them to discuss the films and the rivalry and respect shared among the tap dancers.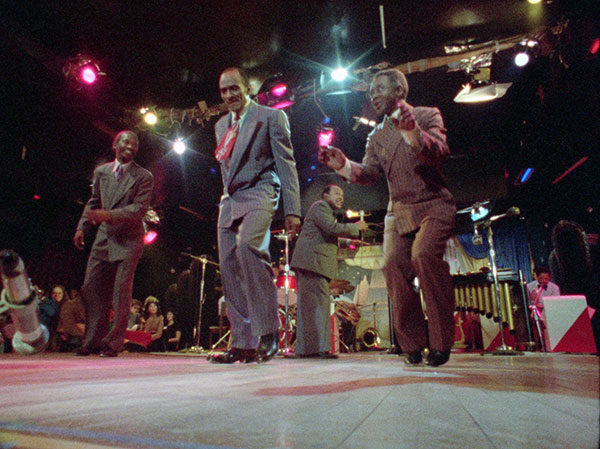 TANYA GOLDMAN: Can you tell us about the origins of No Maps on My Taps? And then how did you find [stars] Bunny Briggs, Sandman, and Chuck Green?
GEORGE NIERENBERG: I had seen "Sandman" Sims perform at a club on Lower East Side and I was kind of fascinated by his personality and sand dance.
I decided to dig deeper into the subject matter so looked up Sandman in the phone book and, sure enough, there he was on 123rd Street in Harlem. I call and he said "come up!" We immediately connected. He told me about how tap dance was on the decline, there was no work. From his perspective it was a dying art, under recognized, but he knew that there was an audience for it.
I was inspired by his passion and immediately recognized that I knew what my next film project would be. Sandman took me under his wing and he started introducing me to all the other tap dancers around New York City.
I spent over a year essentially living in the tap world. I wanted to pick dancers that were distinctively different personality, dance style, and could collectively tell the story of tap's culture and history. I chose Sandman Sims, Bunny Briggs, and Chuck Green who I felt were national treasures, which they ultimately were recognized as after the film's release.
I'd get on the subway up to 123rd Street with my Nikon camera and followed Sandman around the community taking stills. Having been a still photographer all my life, my process is to create a photo-essay, that would start to visualize the film and tell the story.
ERICA GOLD: So a way of storyboarding then?
GN: Yes, and it's also a way of raising money. It's easier to say "no" if you do a video trailer that tries to give an idea of the film than present an abstraction, which is the photo essay. The photographs were engaging, they told a story, and captured a mood and a feeling. That's how I raised the initial funds to do the film. They also showed that I had access to the community and gave me legitimacy. Remember, I was only 26 when I started the project. There were a lot of doubters.
When I had started production, I had spent over a year getting the to know my characters and earning their trust. I had a feeling for them. We shared many experiences together. My goal was to create a film experience in which the audience could share the emotions I felt while making the film. That's how I would measure my success.
TG: Was there ever a sense of rivalry between the performers? There is a scene towards the end of No Maps, when we have Bunny, Sandman, and Chuck and they're outside and playfully challenging each other before the performance. But, as you said, since Chuck had difficulties expressing himself verbally, it becomes a little uncomfortable. This moment, to me, felt like an outlier within the context of both films, which focus on artists devoted— and downright jubilant and reverent—about their craft.
GN: There was camaraderie but there's always rivalry, that's just part of tap dancing. When you dance on the street and you're competing. When you dance on the stage and you're competing. Sandman refers to himself as Muhammad Ali. He puts it in boxing terms! When Bunny he gets on that stage…he shifts from this sweet guy to "I'm gonna really show 'em!" He's been tap dancing since he was three. He knows he's great. You had to be competitive to have succeeded the way that he did. He exuded a certain presence when he was on stage that was really extraordinary.
EG: So you've mentioned the idea of the men competing amongst each other, but one of the things I loved is Sandman's efforts to teach the next generation how to dance. The scene where he dances with his son is one of my favorites.
GN: Sandman was very committed to carrying on the art form. He was a natural teacher. That's why the scene where he's teaching his son is so poignant.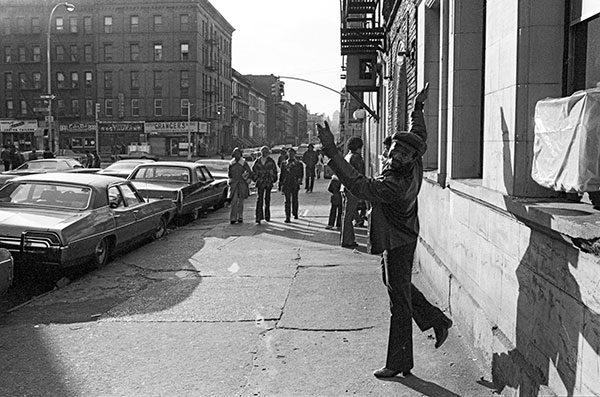 EG: I know in beginning of About Tap, Gregory Hines says the same thing. That Sandman taught him between shows in the alleyway of the Apollo. He really taught a new generation of dancers. Is that accurate?
GN: I think he was one of many—because his style is specific. One of the things that Gregory talks about is that, when he was a child, the dancers encouraged him to find his own style. Up until that point he was copying other dancer's steps. It wasn't until he saw Teddy Hale dance at the Apollo. He wanted to copy his steps, but each show was different. It was improvisation! That's when Gregory realized what he wanted to do.
TG: Did you find these improv, personal styles mirrored the real life personalities of the dancers?
GN: Each one of these dancers had a very unique personality. Each one has a different life story. It has led them to their own distinct style of dancing. You can't separate them.
EG: Steve Condos in About Tap mentions that he felt like he was part of the music when he performed. I think you get that feeling in both films among all the performers. Do you think the men mostly saw themselves as dancers, musicians, or both?
GN: I think they see themselves as musicians, absolutely. Because they are making sounds and the sounds accompany the music. Even if it's a cappella, it's still music. Tap has very specific sounds. It is music. And each dancer has a different way of putting their taps on their shoes. – it's the sound they are creating. Bunny's taps, for example, are looser because that is the sound he wants. Chuck's were not. If you look at Chuck's dancing there's no excess. He is so precise. He wants you to hear every tap.
EG: It is interesting to watch Chuck in both films, in the first film he is a lot more introverted. In the second, he seems more outgoing…
GH: He was just more present. There were times in the first film, like the performance at the Small Paradise when he didn't show up! He was nowhere to be found. The show was starting at 6:00 and we didn't find him until 3:00. We had 150 people coming to the performance. And Lionel Hampton's band was playing. It was an expensive day.
After Chuck arrived there was a break in the rehearsal. There is this kind of wide shot of stage and Chuck. And the camera slowly moves in to an extreme close up of his face and he tells the story about coming up with a song, with the lyrics "no maps on my taps." It was incredibly beautiful. Chuck was a poet. People have asked "what does it mean?" He's saying there are no boundaries to my dancing. To come up with that concept that is really so…
And remember I told you that Chuck hadn't shown up. His last performance he was in another state of mind. In the dressing room after the show he is doubting his performance, criticizing himself. Sandman and Bunny are reassuring him, but it didn't seem to penetrate. It's very intimate and revealing. Here is the most revered dancer doubting himself.
These aspects all give No Maps life. If my films are not speaking on multiple levels at the same time, I am not doing my job. When I talk about my role as a director, I create an environment in which the characters can be who they are. They elevated it to an entire other level.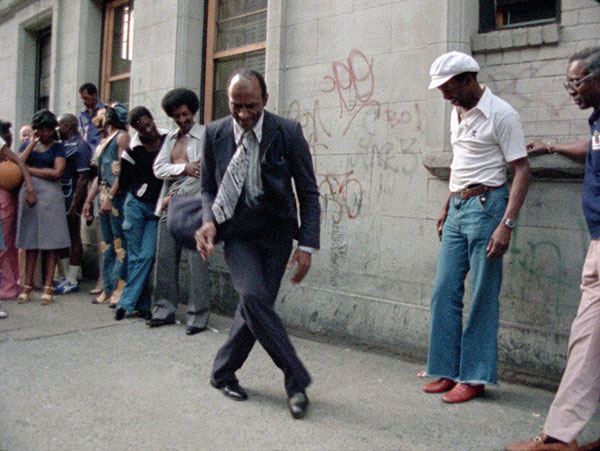 EG: You also staged sequences in About Tap. How was the experience different? You seem to have had a more controlled environment.
GN: After I completed No Maps, I felt I that I was successful in capturing the culture and personality of the dance. However, I felt there was more story to be told. I wanted to do a film on the art form. I wanted Chuck Green because I felt like he had more to say, and could be articulate in a way that he wasn't in the first film. I always loved Jimmy Slyde. I wanted him to be in No Maps on My Taps, but he was in France. Steve Condos was so different, so passionate and deserving. AI shot About Tap without a live audience because I wanted the focus to be on the dance and have control over the staging and shooting.
EG: Do you feel that the films and tours had direct impact on revival of tap?
GN: No question. The film premiered at the Telluride film festival, a very prestigious festival. And it was a major hit there. At the completion of the fil we got a standing ovation and then… Sandman came out and performed. People were blown away! It got spark. If I could tour the film with the dancers, it would be an incredible experience for an audience. It became very successful. We did over 60 shows in the US and Europe. The reviews were great.
The film also aired television all over the world – Italy, Germany, Japan. I think all of this exposure played a significant role in terms of reviving the general public's interest in jazz tap. Suddenly people were talking about tap, people were recognizing these guys, not just as tap dancers but as significant figures. Younger tap dancers wanted to learn from them, they wanted to absorb their knowledge. Jazz tap is a dance forms in which there is tremendous regard for masters who came before. They're treasured. The reverence is very deserved. The dancers in the film and the others of their generation were finally recognized for their contributions and were given a new career because many opportunities opened up for them.