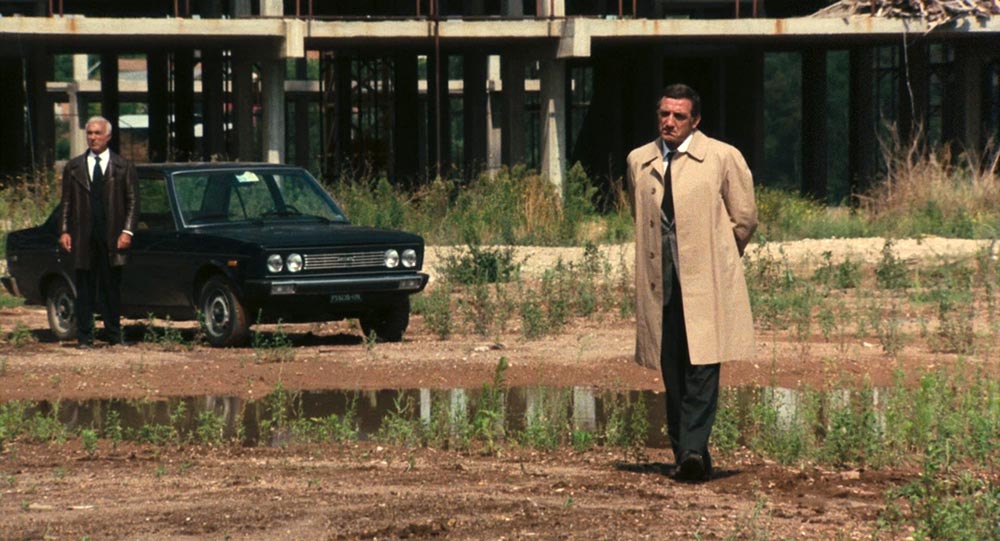 October 9th 2021
In Francesco Rosi's 1976 thriller, Illustrious Corpses, the director crafts a somber and contemplative political whodunnit set amid the violence and radicalism that pervaded 1970s Italy. Inspector Rogas (Lino Ventura) is investigating the murder of several prominent judges throughout the country. The powers that be (the Christian Democrats) believe it is the work of communists, who have mobilized mass demonstrations, but Rogas is not so certain. As the inspector begins to uncover a motive leading away from the Left, his investigation is hamstrung by his superiors. The closer Rogas gets to the truth, the more he descends into a world of paranoia, surveillance, and secret alliances.
The first thing we see in Rosi's film is a crypt filled with mummified corpses dressed in splendid clerical vestments. An aged man enters and silently observes the dead. The sequence is unhurried and, in its poetic simplicity, profound. Rosi's camera focuses on the gaping mouths of the long dead and the milky eyes of the old man who reverently watches them. The veil between life and death seems thin, setting the tone for what's to come. The subsequent action of Illustrious Corpses moves through the opulent villas and apartments of the powerful.Through Rosi's critical eyes, these spaces are not unlike the crypt, filled with decay and silence. The stultifying drabness of it all, expertly rendered by Rosi's frequent collaborator, the cinematographer Pasqualino De Santis, resonates with a hum of quiet reproach for the bourgeoisie's moribund political status quo.
The poetry and humanism of Rosi's film does not impede it as a thriller but instead puts it in league with Melville's existential gangster movies. Lino Ventura, one of Melville's best tough guys, perfectly embodies the pensive, world-weary inspector with his tired eyes and pursed lips. Ventura's face is a work of art on its own, sad and serious and, like Rosi's film, never giving too much away. When Rogas finds himself no longer investigating the web of politics and murder but caught within it, the cracks that emerge in his stoic visage are all the more frightening.
A new restoration of Illustrious Corpses runs at Film Forum through October 21.