Featured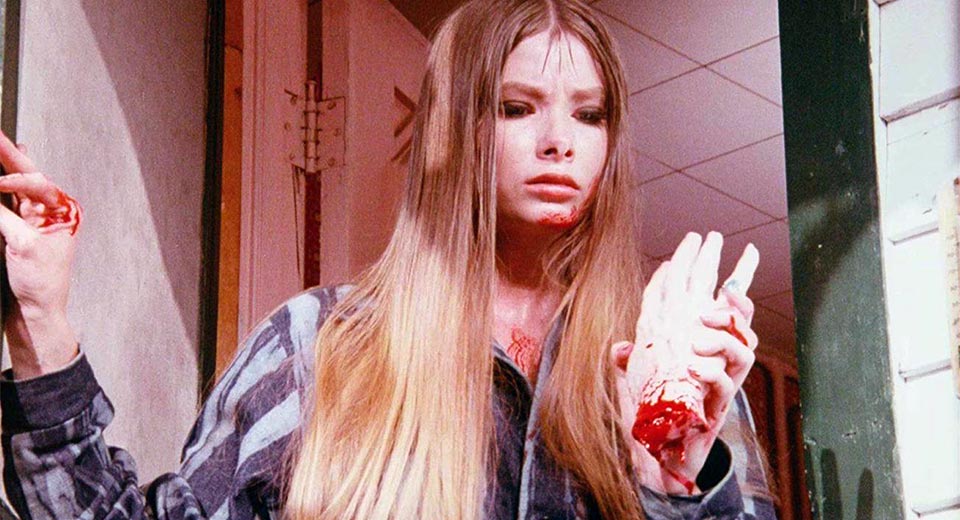 December 16th 2018
I Drink Your Blood opens with a Satanic ritual: a group of sexy young people stand naked around a fire as a Manson-esque figure recites a spooky incantation. An innocent woman watches spellbound from behind a tree until she's spotted and chased down by two men. In a twist out of The Virgin Spring, the little cult's love bus breaks down on the outskirts of the same quaint yet faded New York valley town where the young woman lives. One of her neighbors runs the last business standing: a bakery that specializes in… meat pies.
The violent, unrepentant hippies—an impressively diverse bunch, including dancer Bhaskar Roy Chowdhury in a charismatic performance as the leader, a bit player from Year of the Dragon named Jadin Wong, a pregnant woman, and Lynn Lowry of Shivers and The Crazies—take over the abandoned hotel, hunting rats for dinner, chanting, torturing one another and generally raising heck. Unfortunately for them, their traumatized victim has a younger brother who thirsts for revenge. Encountering a rabid dog in the woods, he gets a really twisted idea that involves a rifle, a gigantic syringe, some creative salesmanship—and those damn meat pies.
The second half of the film follows the deterioration of the cult members into a rabid horde and the disease's spread among workers on the local dam. One of the earlier films to receive the MPAA's X rating, I Drink Your Blood features truly remarkable and gruesome practical effects, likely the accepted reason for the "unsuitable for children" mark. Or perhaps the MPAA recognized the film's nuanced condemnation of a dying small town allowing itself to be overtaken by an infectious rot, through the welcoming of sex-mad dam-workers and leaving its evil children to run amok, looking for danger and violence in the fashions of late-60s occultism and the unwatched wilds of the surrounding wood. In any case, it's a powerful cautionary tale.