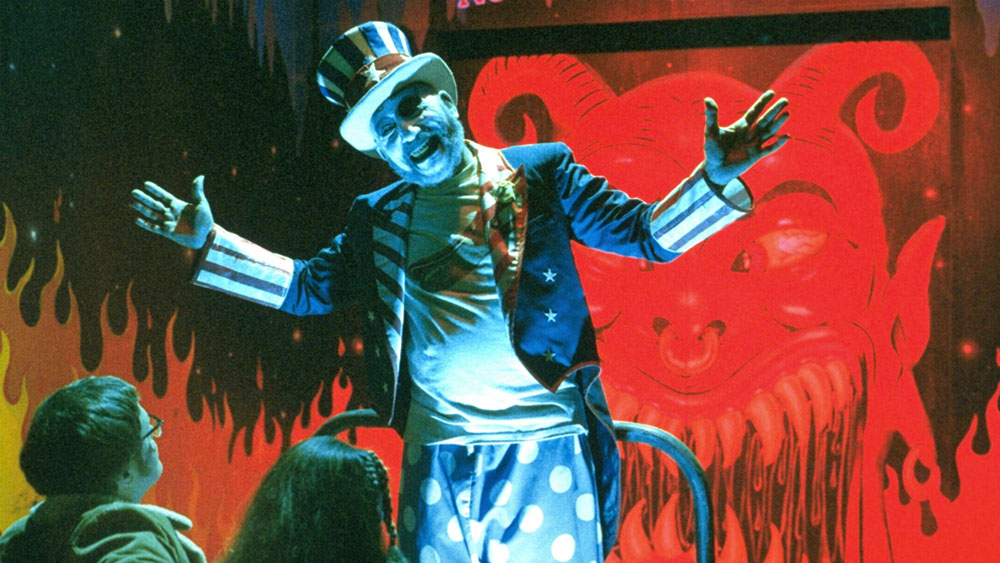 September 12th 2022
My brain is frozen! Locked! I need to break free from this culture of mechanical reproductions.
Rob Zombie's debut feature, House of 1000 Corpses did not make positive waves upon its troubled release in 2003, having been passed around by multiple distributors and undergone a bevy of cuts in order to avoid an NC-17 rating. While Zombie has gone on to hone his directorial skills and become somewhat of a horror auteur, his first film emits the sensation of someone throwing everything at the wall in anticipation of never getting another chance to do so. What results is part kaleidoscopic grindhouse homage, part meta black comedy, and yes, part Rob Zombie music video. However, the film's faults are also what make it a fascinating work recontextualized nearly two decades later, as horror film fandom has calcified into the vision that Zombie purposefully presents: a pastiche of references and icons, merchandise, and images that traffic in nostalgia.
House of 1000 Corpses opens Halloween eve, 1977, in the backwoods of Texas. Two road-tripping young couples on the hunt for offbeat attractions stumble upon Captain Spaulding's Museum of Monsters and Madmen, where they learn the urban legend of a deranged serial killer surgeon named Dr. Satan. While searching for the site where he was killed, they pick up a giggly but sinister hitchhiker named Baby (Sheri Moon Zombie's debut acting role), who brings them back to her family's compound after they get a flat tire. There, they meet the murderous cannibals in the Firefly clan, who trap them and subject them to a grisly array of torment and torture. While the plot may be typical exploitation drive-in fare, the performances are menacing and memorable; one can see why they led to career resurgences for Sid Haig (Spider Baby, Foxy Brown) and Bill Moseley (The Texas Chainsaw Massacre 2). And while Rob Zombie has certainly earned the comical label of "wife guy" for casting spouse Sheri Moon in key roles in all of his films, she is convincing as a horror-hillbilly femme fatale, and her natural charisma and chemistry with the other actors is a key reason why sequels were even possible.
Released a year before Saw (2004), House of 1000 Corpses narrowly predated the "torture porn" boom, but it was in the company of other "hicksploitation" of the era, such as Wrong Turn (2003) and the 2003 remake of The Texas Chainsaw Massacre. (Zombie's film is undoubtedly a tribute to the original.) While dark and gory, Corpses is less of a slog than its contemporaries, eschewing the over-seriousness of the aughts slashers for more of a demented funhouse ghoulishness. Zombie's jagged, chaotic editing splices in grainy home video footage of midnight-movie hosts, Bettie Page lookalikes, and other recreations of '70s sleaze iconography. Twenty years on, his directness is refreshing and more self-aware than he was initially given credit for. In retrospect, its funny that a meta-commentary bore like The Cabin in the Woods (2011) would be granted the "postmodern" label when Zombie's characters are literally quoting Walter Benjamin before torturing someone.
House of 1000 Corpses screens tonight, September 12, at Nitehawk Prospect Park on 35mm.