Featured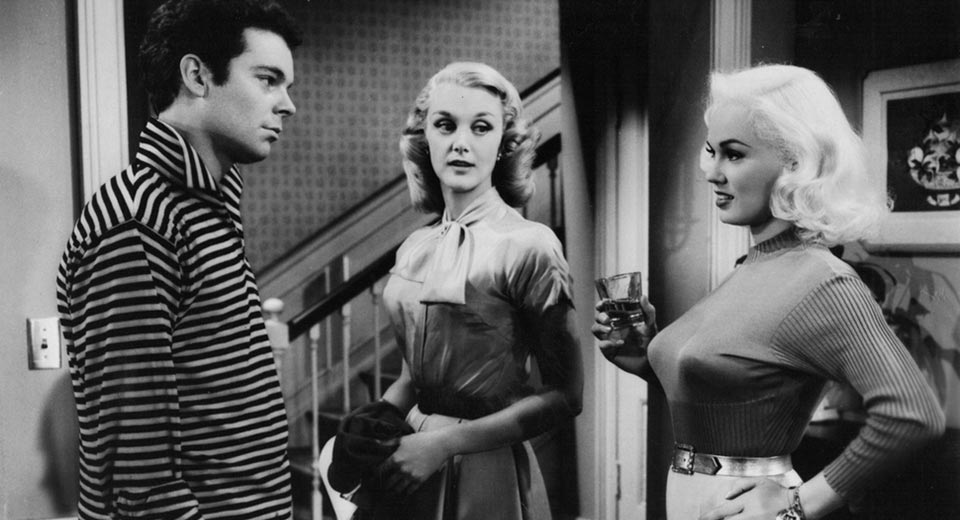 November 5th 2017
Teen dreams reign supreme in Jack Arnold's High School Confidential, playing today at MoMA as part of their exceptionally sleazy "You Are Now One of Us: Film at Club 57" series. The program boasts a stellar line-up of camp masterworks from the golden age of kitsch, with titles that run the gamut from foreign art house classics (Luis Bunuel's El) and hard-boiled noir (Joseph H. Lewis' The Big Combo) to heretofore misunderstood works of bold genius (Russ Meyer's Beyond the Valley of the Dolls), with a special emphasis on strong looks from the Swingin' Sixties (don't miss the teeny-bopper concert doc The T.A.M.I. Show and Warhol's Vinyl).
From the opening strains of its theme song, growled to raucous perfection by the Killer himself (an angel-haired Jerry Lee Lewis, very much at home among the kids), Confidential promises to walk the fine line between hepcat authenticity and hysterical teensploitation. Like any high school film worth its carpet letter, the shoestring plot is economically established within the first ten minutes, setting the stage for inevitable rumbles, tough-love life lessons, and necking sessions at Makeout Point.
Pug-nosed troublemaker Russ Tamblyn wastes no time stirring the pot, tumbling onto campus with a thesaurus of dated beat slang in his back pocket and a fat "J" dangling from one cherubic lip. This kid is a real no-goodnik, but his Rebel Without a Cause shtick is a little too on the nose, even for a high school exploitation film. Tamblyn's nonchalance might fool his spinster principal, curvaceous English teacher, and circa-1958 audiences, but from our lofty vantage point in the present day his true motives couldn't be more obvious. It's all too perfect – the golden-tongued jive, the hot wheels, the "tough guy" attitude. What's his angle? If you can't make this cat by the end of Act One, you must as square as they say, daddy-o.