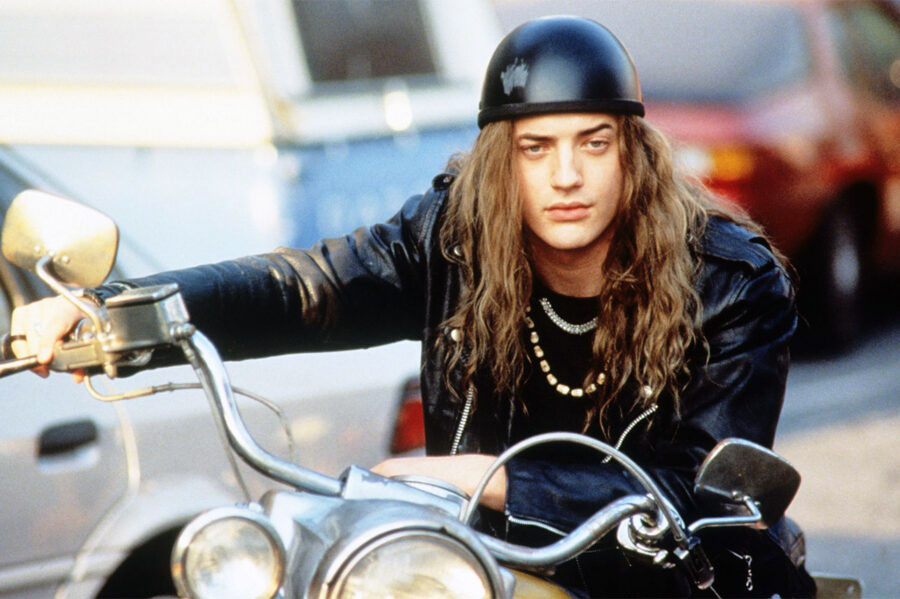 May 7th 2022
"Modern man is not for me, the movie star or Dapper Dan," croons a deliriously horny Ann Miller in Stanley Donen and Gene Kelly's toe-tapper On the Town (1949). "Give me a healthy Joe from ages ago, my Prehistoric Man." Tired of neurotic fops, Miller's salacious anthropologist belts a yearning paen to those seemingly obsolete qualities of paleo-manhood: powerful physicality, an absence of hang-ups and, above all, a bodily freedom unencumbered by cummerbunds. Fitting that Brendan Fraser, the subject of a month-long series at Nitehawk Cinema, caught his rising star as a thawed-out Neanderthal in the 1992 screwball comedy Encino Man: who better to embody the awkwardness and appetites of our ancient forebears than a WPA bas-relief made flesh?

Surely On the Town's songwriters Betty Comden and Adolph Green were onto something, but could they have anticipated the emergence of a heartthrob who splits the difference between suave leading man and naked ape? For a generation of cinephiles raised in the brief heyday of Clintonian prosperity, Brendan Fraser represented the softer potential of butch masculinity—a precursor to the 21st-century "good boys" so artfully catalogued by Mark Asch in Animus magazine.

Spotlighting Fraser's underappreciated range across an array of genres, Nitehawk's four-film series is a perfect encapsulation of the star's multifarious career. As treasure-seeking adventurer Rick O'Connell in The Mummy (1999), he routinely puts his chiseled body through a battery of pratfalls and donnybrooks; in the hair metal comedy Airheads (1994), Fraser imbues Lone Rangers frontman Chazz with sympathy that befits the waning rock genre; his clearly Canadian politesse is in full flower alongside wary working girl Alicia Silverstone in the Boomer humor fallout shelter comedy Blast from the Past (1999); and for tragic beauty you could do worse than his dramatic turn as James Whale's gardener-cum-companion in Bill Condon's Gods and Monsters (1998).
More than just a pretty face and rippling physique, Brendan Fraser's early career moves reflect the many facets of his acting chops, giving artistic heft to an already towering presence. After a decade of Reaganite machismo, Fraser's sudden ubiquity was a welcome salve—an indicator of our newfound political quietude and economic stability, personified by a leading man whose strength lies not within the barrel of a gun, but within the chambers of his too-large heart.

Fraser's reign began to wane in conjunction with the decline of the American Century. In his 2018 GQ profile, "Whatever Happened to Brendan Fraser?," Zach Baron details the physical toll of Fraser's box office reign and the financial fallout of his dissolved marriage as contributing factors to his dimming star power. Taking stock of his meteoric rise and injurious fall, a sense of sad bewilderment hums beneath Baron's profile, the contrast between past and present Brendan Fraser depicted as a kind of tragic loss for American filmmaking and manhood alike.
Lifelong fans are sure to find a shred of hope in Fraser's recent reemergence, squeezing his commanding bulk into memorable parts in No Sudden Move (2021) and Martin Scorsese's forthcoming Killers of the Flower Moon. Beyond those classic Hollywood good looks and goy-next-door demeanor, there is an inherently nostalgic quality to Fraser's early star-making roles. His trajectory from schoolgirl crush to well-respected character actor follows in the footsteps of bygone beefcakes like Tab Hunter or Rock Hudson. The Brendan Fraser of our seemingly crisis-free childhood may have gone the way of budget surpluses and bipartisan détente, but like the body politic itself, the show must go on. Thankfully, Nitehawk's tribute presents an opportunity to bask in the past ahead of what's to come.
"Blast from the Past: The Early Films of Brendan Fraser" runs in mid-morning matinees every Saturday and Sunday of May at Nitehawk Williamsburg.