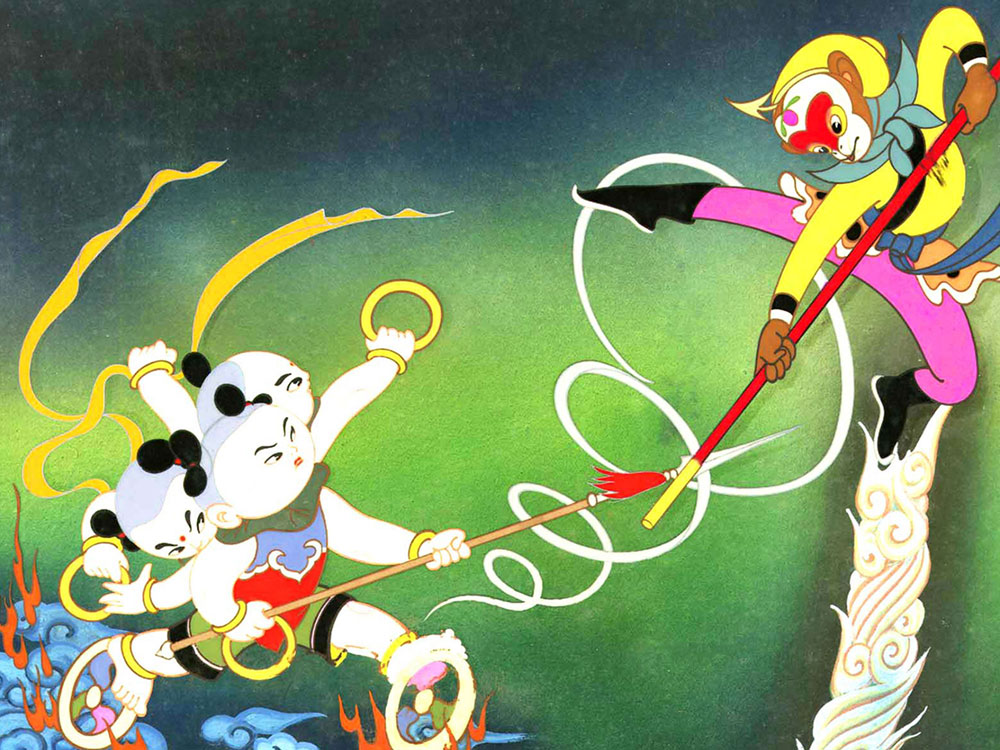 August 24th 2021
In a story wholesome enough to make one feel good about humanity as well as the internet, a group of animation buffs at fan-edit forum originaltrilogy.net spent the latter months of 2008 scouring decades of physical media releases and bootlegged television broadcasts to restore the landmark Chinese animated feature, Havoc in Heaven (1965) to its original length. The group, led by user satanika, color-corrected material from disparate sources to create a consistent look, cleaned damaged frames, massaged the audio and provided new English subtitles for sequences previously unseen in the US. The triumphant result won't cost you anything to see tonight at Light Industry's free screening.
Inspired by Disney's Snow White, twin brothers Wan Laiming and Wan Guchan produced China's first animated feature, Princess Iron Fan, in 1941. Two decades of war delayed their followup, Havoc in Heaven, which took its story, like its predecessor and literally dozens of other Chinese films from the silent-era up to now, from the immortal 16th-century novel Journey to the West. Havoc was initially released in two parts, the first in 1961 and the second in 1965 before becoming a television staple. The Wans may have cited Disney as an initial inspiration, but their vision mercifully lacks the mawkishness and technical grandiloquence that forever stamped childhood worldwide with a stunted vocabulary rooted in a middle American obsession with European royalty.
The Wans's swooping, proto-psychedelic film captures the episodic, cumulative power of mythic storytelling, in which the escalation of spectacular feats trumps psychology and narrative economy. Their star is Sun Wukong, The Monkey King, a mischievous sage who lives atop a lush mountain of flowers and fruits alongside a devoted monkey army. After stealing a magic cudgel from the undersea Dragon King, The Monkey King is summoned to heaven by the Jade Emperor and given a celestial post to keep him out of trouble. But the defiant monkey proclaims himself "heaven's equal" and battles the deities in breathtaking sequences set to an ecstatic, percussion-led score inspired by Peking Opera. Where Disney fussed over the seamless physical verisimilitude of his cute animals, Havoc in Heaven presents its characters alternately as stiff 2-D comics and gaseous forms seeping between flattened planes inspired by centuries of Chinese watercolors. Yet the figures here are more vibrant and alive than their American cousins, despite the latter's ostensible fealty to physics. And now, thanks to a handful of semi-anonymous forum browsers, their antics can be enjoyed in their entirety. A communal effort like this earns the sentiment that Disney's orphaned princesses desperately crave.