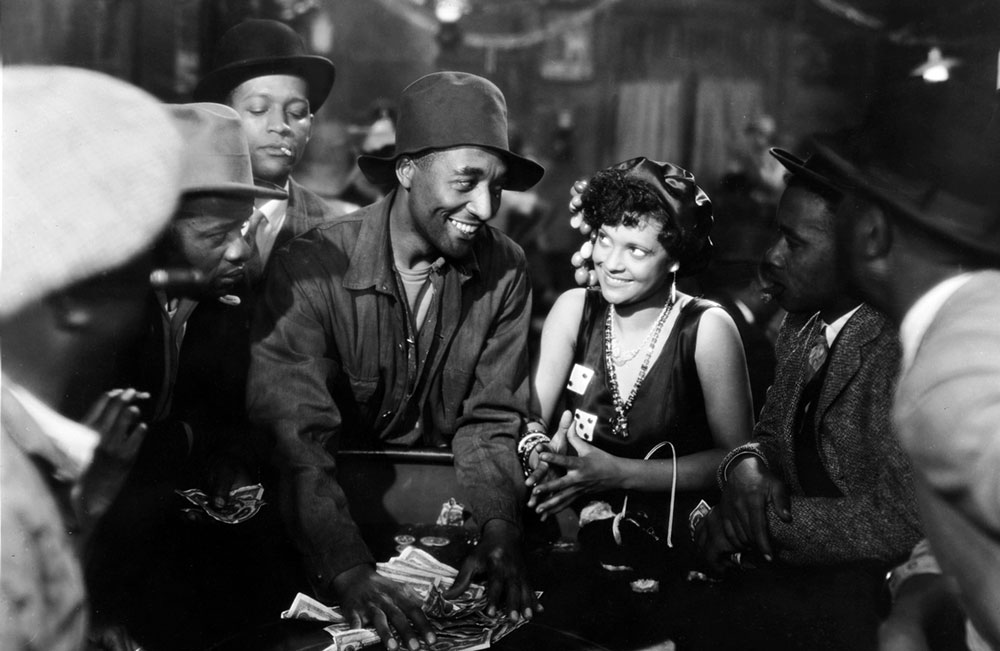 November 24th 2021
A new 35mm restoration of King Vidor's early sound epic Hallelujah! (1929), sometimes cited as "the first Black musical," comes to Film Forum today. The artistry of Vidor's film shines like a beacon through the fog of the past with majestic, lustrous photography; stirring, organically integrated musical numbers; and powerful performances from its large, uniformly excellent cast. Sadly, Hallelujah! is also a product of a racist industry within a white supremacist society. The film, though "progressive" for its time, stereotypes rural southern Blacks as simple, emotionally driven innocents, taking a paternalistic view. But to dismiss the film completely would be, as critic Kristin Thompson has suggested, to deny both the artists onscreen and behind the camera their due.
Vidor hoped to use the newly popular sound motion picture to present what he hoped would be a non-stereotypical view of rural, southern African American life by shooting on location (in part) in Arkansas and Memphis, and by including authentic Black spirituals and using an all-Black cast. Paul Hayes, who plays Zeke, was a stage and film actor who, similar to his character in Hallelujah!, would go on to become a full-time Baptist minister. Nina Mae McKinney plays Chick with both cruel abandon and abject spiritual despair. She became one of cinema's first Black stars after her performance in the film, dubbed "The Black Garbo." The film was a risky venture, and one that the director had to insure by investing his own salary. The gamble, however, paid off both financially and artistically.
Like Cabin in the Sky (1943), Hallelujah! tells the story of a man led astray by vice and lust. Zeke, a young farmer, travels into town in order to sell his family's cotton crop. While there, he is drawn into a game of chance by Chick and her partner Hotshot (William Fountaine, alumnus of Oscar Micheaux's pioneering films). Things get violent and Zeke's brother is killed. Zeke becomes a traveling preacher, bringing revivals to rural towns by train. On one stop, he encounters Chick and Hotshot again. At first Chick mocks the preacher, but she eventually accepts his message of salvation and is baptized. Later that night, during his sermon, Zeke is overcome by passion and runs off with Chick—violence and tragedy follow. While the elemental force of this near-biblical tale packs a punch, Hallelujah!'s narrative of uncontrollable, base passion is also part of its racist legacy.
Despite the patronizing and essentialist story, what Vidor achieves on a purely cinematic level is breathtaking. Photographically, Hallelujah! is neither wholly realist, nor wholly stylized, but a purely cinematic hybrid. The film's baptism scene is like a panoramic daguerreotype from the century before, while the revival scene later that evening is fully modern, the church walls filled with sharp, dancing shadows.
Hallelujah! screens tonight at Film Forum in 35mm as part of the series "Nina Mae McKinney: Hollywood's First Black Star."