Featured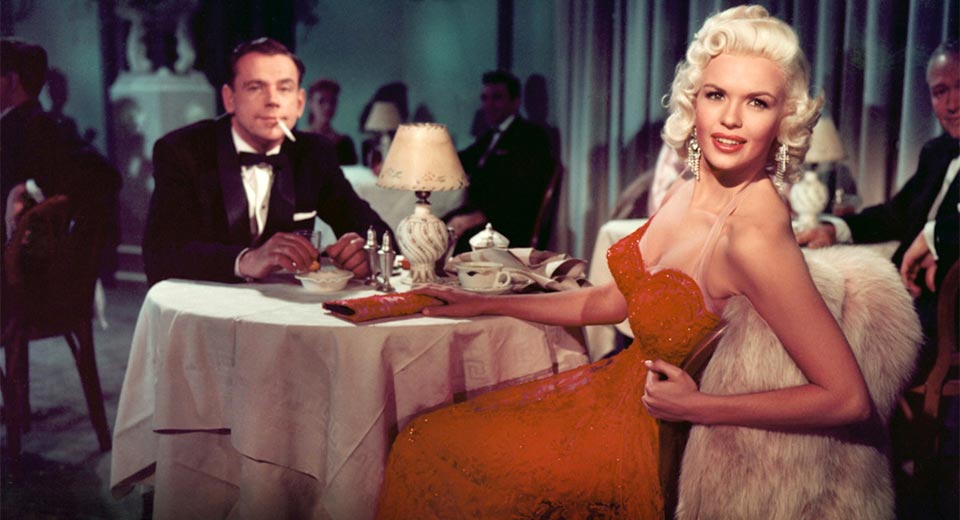 August 6th 2018
The best honest-to-God, two-for-one double feature in town screens tonight at Anthology Film Archives, and heaven help the poor sucker who sleeps on this one. Programmed as part of the theater's summer blockbuster "Rock 'N' Film" series, Frank Tashlin's The Girl Can't Help It, an exceptionally beautiful homage to rock music, breasts, and aging clumsily, plays back-to-back with Kenneth Anger's Scorpio Rising, itself an exceptionally beautiful homage to rock music, cocks, and dying young. Like leather and pomade, rhythm and blues, the two films compliment each other to such a degree that it's a wonder they aren't distributed as a package deal.
Both Tashlin and Anger are master image-makers, often building their respective films around a handful of exquisitely rendered setpieces, and dusted with the dun-colored glitter of Bad Taste. Between jokes about mafia killings and lingering (but hardly gratuitous) shots of Jayne Mansfield's splendid caboose, Girl arranges itself into a kind of altar to youthful abandon and cacophonous modernity. But it is the star-studded line-up of early rock revolutionaries that anchor the film's wholly-self aware, paper-thin plot, and none but Tashlin could capture that antic energy with sufficient pizzaz.
Those of us raised on late-20th-century "oldies" radio seldom experienced the strikingly visual performing styles of Little Richard, Eddie Cochran, and Fats Domino – rendered here in dazzling Cinemascope, color by Deluxe, against a backdrop of cascading curtains and proto "bisexual lighting." Permit me to go out on a historic limb, here: few Golden Age films have effectively lit such a wide spectrum of skin tones – and so lustrously, at that. Gospel powerhouse Abbey Lincoln's foundation-shaking version of "Spread the Word," especially, casts the torch singer as a towering inferno of verve and God-given sensuality.
Slinking in after a grandstanding finale, Scorpio slides down the gullet like a dank aperitif, echoing the fetishistic fixation on teenage rebellion and hip-wiggling beats of its predecessor. Anger's own take on the jukebox musical – a flimsy vehicle for Top 40 hits, cranked out with Fordian efficiency in a desperate attack on young television's increasing supremacy – reduces then-tired tropes about leather-clad rebels and menacing biker gangs to a gaudily-lit allegory that juxtaposes Jesus Christ with a new set of disciples: lip-curling rough trade, dressed within an inch of their too-short lives.
Extended sequences of sensual motorcycle maintenance, excessive preening, and homoerotic daydreams pave the open road to a death-driven climax that obliquely connects the dots between morts both petit and grand. Rock music's increasing dominance brought with it a fresh batch of good, old-fashioned American moral panic – mostly concerning white kids grooving to black music, and the sexual implications therein – but Anger is hip to that jive, cooly tossing in genuinely subversive references to the occult and Nazism alongside puppy-eyed portraits of James Dean and Marlon Brando.
Rock 'n roll is, essentially, a kind of male drag: a "safe space" for ostensibly heterosexual men to experiment with bad boy dress-up, elaborate new hairstyles, and deep reservoirs of messy feelings. From Little Richard's kohl-rimmed eyes to the flashy, shark-skin suits of "the Killer," Jerry Lee Lewis, rock music's infancy resembled more the crowning of a new imperial infanta than the bastardized, Boomer by-product it would soon become. The laws of nature that cast males as flamboyant, mate-seeking showmen against their female counterparts' more sedate plumage and behavior has always puzzled this writer, but in Girl and Scorpio the tables are turned, and order restored.