Featured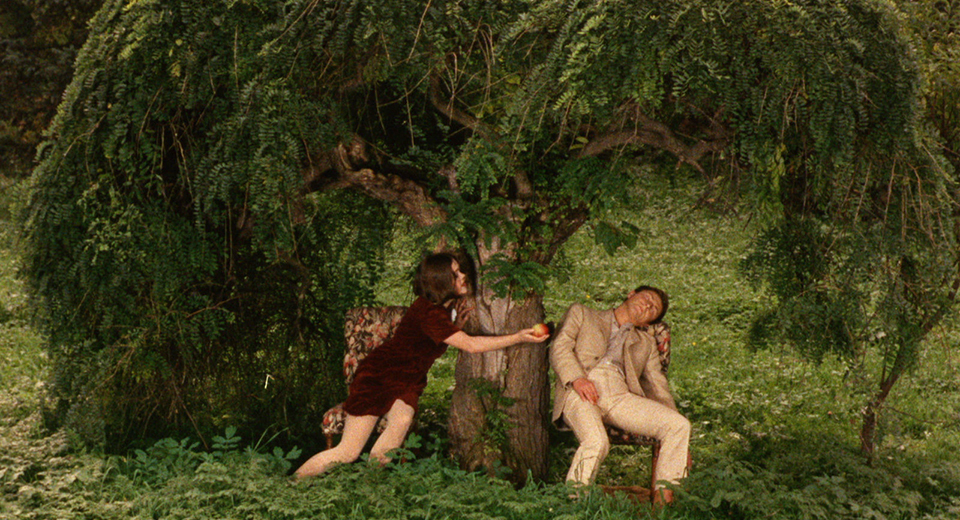 September 16th 2018
A flower of unusual beauty blossoms today at Film Society of Lincoln Center, where our uptown mainstay pays homage to the Prague Spring in a series of banned films from the Czechoslovak New Wave. Alongside Daisies, also screening this weekend, Film Society had the good sense to nab Vera Chytilova's psychedelic follow-up Fruits of Paradise, a surreal adaptation of the Adam and Eve parable that casts its protagonists east of Eden and into the decrepit remains of a European spa town.
Orgiastic and ambient, Chytilova's Garden of Eden is the ultimate pleasure trip – until the trip turns ugly! Even patient cinephiles – with a true appreciation for Chytlova's unrivaled brilliance – have their work cut out for them in Fruits, a blatantly political film unapologetically obfuscated by visual tricks and tics. Beginning, as it does, in the raw – light on plot, performed in the nude – makes our heroes' inevitable exile that much more jarring. Lovers Eva (Jitka Nováková) and Josef (Karel Novák) fulfill their prophecy quickly, succumbing to the cosmopolitan charms of Robert (Jan Schmid), a velvet-clad spa master who may or may not be a serial killer.
Their fall from grace, while short and subtle, continues to resonate with us through film's end. Using optical effects, including her hallmark fisheye lenses, slow shutter speeds, and multilayered montage, Chytilova couches her political commentary in the visual grammar of the magic lantern show. As she sneakily bids us take from the tree of knowledge, we know the resulting revelation will be every bit as painful as it is tasty.
With 2018 nearly two-thirds over, the clock is ticking on commemorative 1968 programming – a shame, for there are countless cinematic stones left unturned. Fruits would be Chytilova's last film for eight years, a sort-of swan song before the Soviet ban that attempted to staunch her prolific and incendiary output. So slake your curiosity this afternoon – it's not like you'll be punished for it!