Featured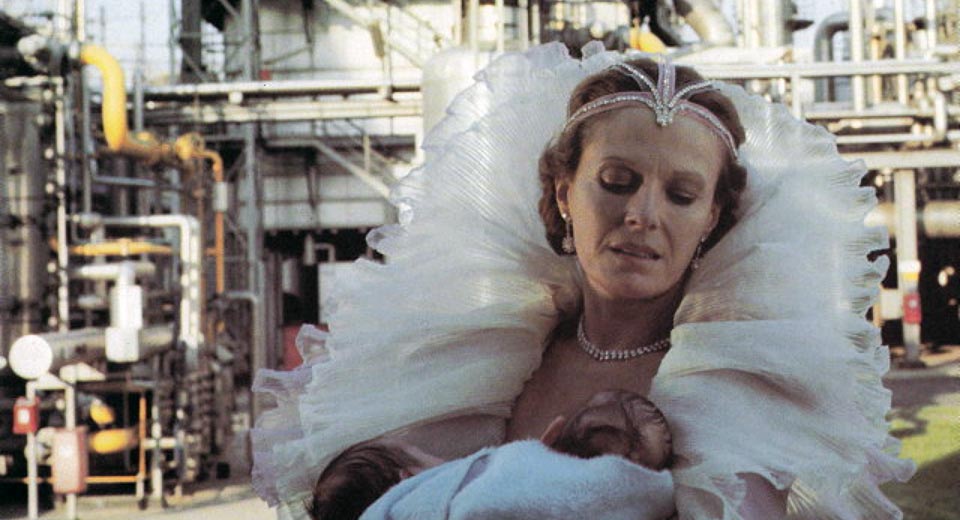 April 2nd 2017
If Sally Potter's Orlando is regarded as a spiritually faithful adaptation of Virginia Woolf's literary classic of time-space and gender fluidity, Ulrike Ottinger's Freak Orlando utilizes the uncited source material as the barest point of departure for a freewheeling, confounding, frequently hilarious, often opaque, and awe-inspiring picaresque paean to, indeed, letting one's freak flag fly.
German avant-garde superstar Magdalena Montezuma stars in the title role, one of her most substantial outside the films of Werner Schroeter, joined by Delphine Seyrig as Orlando's femme foil. The film is described by Ottinger as a "histoire du monde," or "small theater of the world," and the pair cycle through a series of mythological, carnivalesque tableaux among natural, industrial, and quasi-futuristic settings. As Montezuma's shifting persona sees its fortunes rise and fall—from pilgrim, to a kind of Sisyphus/Hephaestus figure enslaved in a techno-totalitarian shopping mall, to an inquisitor, to a carny—our protagonist is followed by dueling processions of little people and a band of Tom of Finland-esque flagellants bent on lionizing or persecuting Orlando. This is to say nothing of essentially discrete segments like that of a transgender Jesus on a neon crucifix wearing a white dress undergirded by Christmas lights singing about father issues in volatile intonations of cabaret, operatic falsetto, and proto-black metal screaming—or when Eddie Constantine randomly pops up for a Beware of a Holy Whore reunion. And late in the game, the great French New Wave editor/Zanzibar filmmaker/New York film programming legend Jackie Raynal nearly steals the show as Seyrig's lush siamese twin and a gum-chewing dancing bunny.
Freak Orlando can be difficult to parse: Ottinger traffics in myths, archetypes, and symbols—but above all, she is one of cinema's greatest and most underrated designers, and her films construct meaning and pleasure through her detailed sets, costumes, make-up, colors, and compositions. Her work is rooted more in painting and Happening-style performance than traditional narrative. Although visually sumptuous, Freak Orlando is not available on disc (to say nothing of streaming) anywhere in the world—meaning that even in this age of seemingly unlimited availability and artisanal speakeasy torrent tracker networks, your best bet to see it outside of a theater is going to be a lowres bootleg of a cruddy, cropped VHS tape. The good news is that the 35mm print at Anthology is rich and vibrant, surpassing even a restored digital version Ottinger presented at the Flaherty Seminar in 2015. It shouldn't be missed.