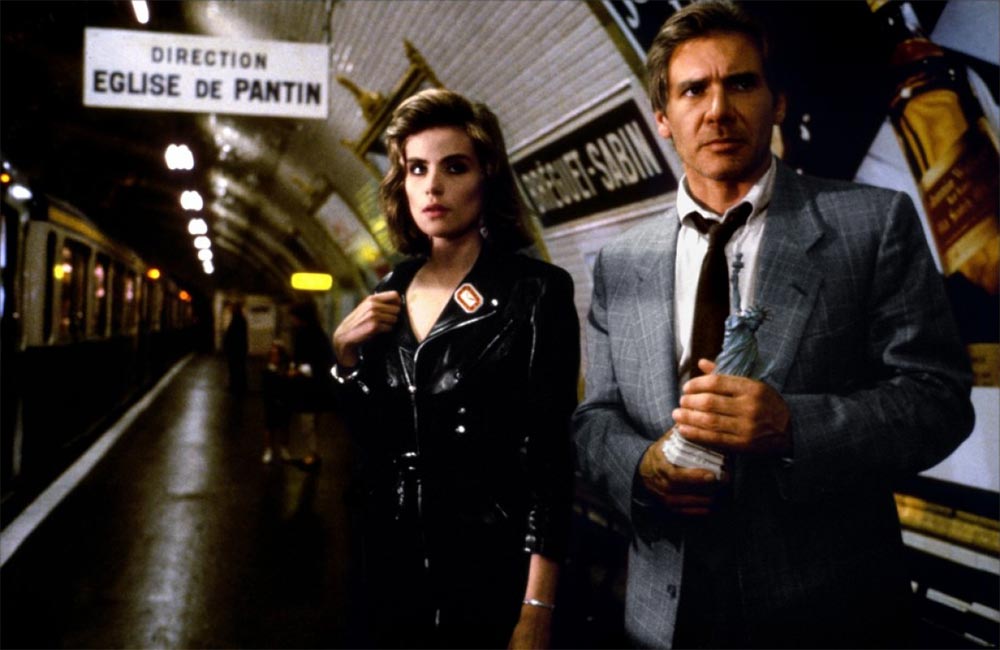 March 2nd 2023
The high-stakes Parisian escapade Frantic (1988) marked a return to disturbing form for Roman Polanski. Since the release of Tess (1979) nearly a decade prior, his only contribution to cinema had been the 1986 swashbuckler Pirates—ill-starred in all respects bar one: It was during that film's pre-production that he met Emmanuelle Seigner, the much younger model who would become his second wife and constant muse; his "sorceress in white sneakers," as per Bitter Moon (1992), their second and most indelible collaboration of six to date. In the prenuptial Frantic, their first, Seigner appears as a punk nymphet enmeshed in the local drug trade, and with minimal fuss sets the latter half of the film to smoldering.
She makes for an unlikely second fiddle to the straight-laced American surgeon played by Harrison Ford. Dr. Richard Walker has just arrived in Paris with his wife Sondra (Betty Buckley) and is looking to relive a few honeymoon memories in between the demands of a medical conference. Before they've even had a chance to enjoy petit dejeuner, however, Sondra has vanished from their hotel room—abducted for reasons obscure. Richard throws himself into finding her but is hampered by his minimal French (the photo he shows to a florist elicits only the suggestion of roses) and a series of unbothered bureaucrats ("What would you like us to do, exactly?" is the response at the American embassy). A billfold full of franc notes can only get him so far.
His gonzo detective work leads him into a demimonde of seedy clubs and off-the-books political maneuvering, wherein he intercepts Seigner's Michelle, who begrudgingly takes on the role of bubble-blowing Charon. She is bound to him, and to poor Sondra, by an innocuous suitcase mix-up, apparently the catalyst for the troubles of all three. It's a scenario that recalls Susan Seidelman's Desperately Seeking Susan (1985): Like Madonna's thieving bohemian, Michelle is unaware of the true value of her cargo—smuggled across the Atlantic, only to be plucked from the baggage carousel by someone with even less of a clue. Naturally, Polanski's film skews much darker than Seidelman's (more Kiss Me Deadly than "happily ever after"), and Seigner, for her part, doesn't mirror the heavily accessorized spunk of early Madonna so much as the feline haughtiness of Debbie Harry.
Aged 21, Seigner still has a touch of gawkiness; intimations of vulnerability soften her inscrutable mask of a face. Michelle, street smart but ultimately in over her head, is the least supernatural of the femmes fatales she would go on to play for Polanski. In The Ninth Gate (1998), Johnny Depp gawps at the sight of her green eyes aglow with Satanic fire; in Venus in Fur (2013), Mathieu Almaric kneels and kisses her leather thigh-highs, questioning whether she could be a manifestation of the titular goddess herself. The attainment of such hypnotic heights is nevertheless foretold in Frantic: Much as Richard spends the film's duration in search of his wife, so too does Roman.
Frantic screens tonight, March 2, and on March 5, at Roxy Cinema on 35mm as part of the series "Shoot Me Like You Love Me."