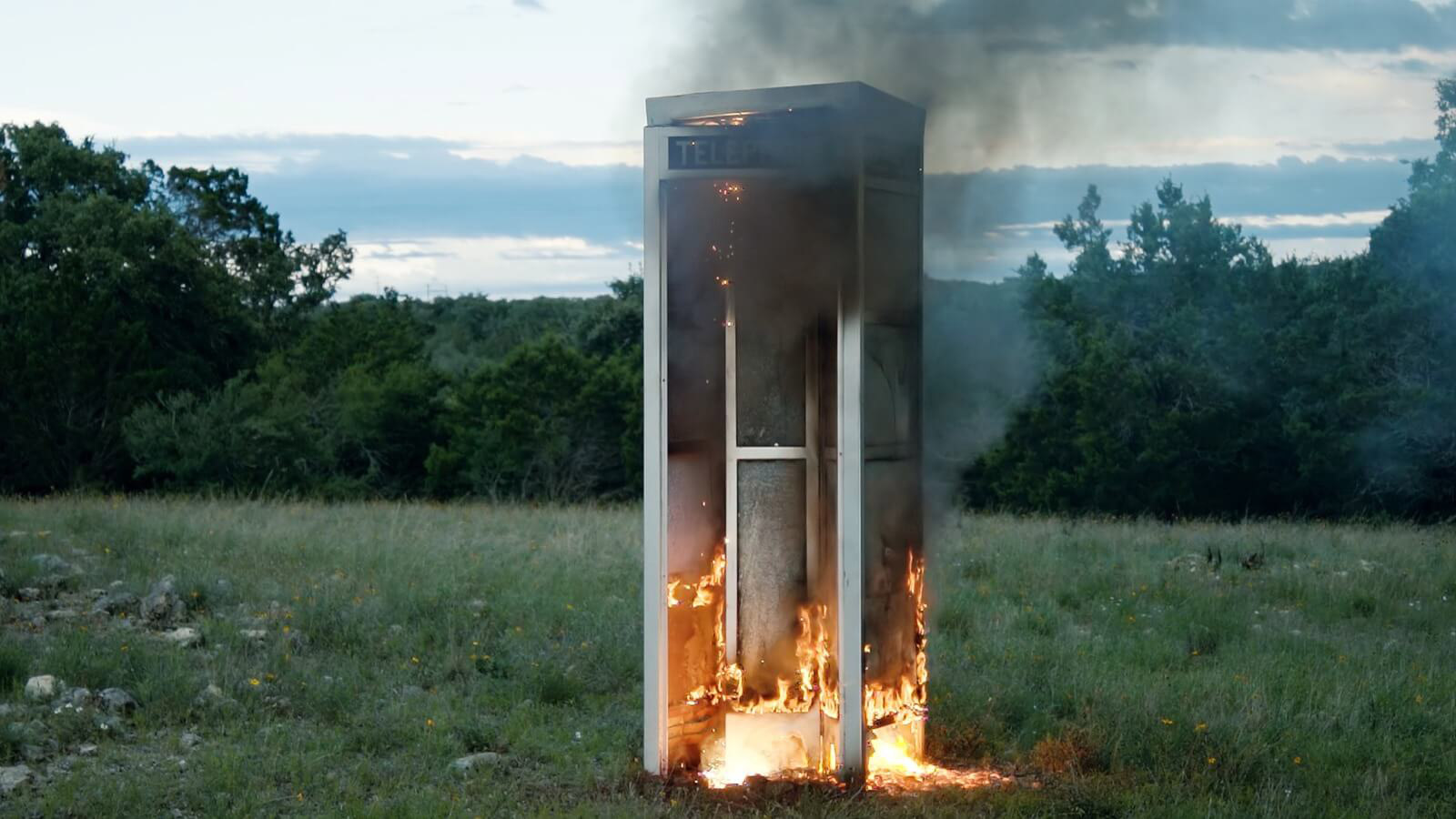 July 9th 2020
Thursday, July 9 at 8P EST
Artist in live conversation
Co-Presented by Simone Subal Gallery
Watch at twitch.tv/screenslate
No login/account required except to participate in Q&A
Frank Heath's videos interrogate vast, unfathomable subjects such as geological time, communication, the durability of human creation, and the apocalypse with shifting approaches ranging from prank phone calls to deftly composed environmental portraiture.
Much of Heath's work is fixed around particular sites that speak to these thematic preoccupations: "A Prime Condition" (2017, showing in a "director's extended cut") tours a cavernous underground Hollywood storage vault located in salt rock beneath Hutchinson, KS; "There Is Nothing Underneath the West Virginia Wing" (2018, showing in an extended cut) explores a massive Cold War-era fallout shelter designed to hold all members of Congress underneath West Virginia's luxury Greenbrier resort. While these works function as short documentary portraits of elaborate systems designed as a bulwark against time and manmade destruction, they're amplified by droll, absurdist humor and conceptual change-ups, such as "A Prime Condition's" parallel, semi-scripted narrative thread about the two-person crew's search for the last video store in Manhattan. (They locate an impressive one in the bowels of the 42nd Street subway station.) Similarly, "Path of Totality" (2018), filmed in the artist's native St. Joseph, MO, directly beneath the trajectory of the 2017 total solar eclipse, observes a once-in-a-generation gathering that unfolds as sort of a cosmic Heavy Metal Parking Lot.
The screening also includes two of Heath's surreal prank call videos, "The Hollow Coin" (2016) and "Asymptomatic Carrier" (2013), which double as awesome and disquieting landscape essay films. Espionage-themed "The Hollow Coin" features an unnamed caller (voiced by actor Jesse Wakeman, also of "A Prime Condition") filing a claim with a phone company representative about an "accidentally" spent artificial nickel. He explains that the coin contains a Micro SD card holding the only copy of footage of a payphone engulfed in molten flame in a fashion that's "sort of Terminator 2." Parallel to this footage, Heath's camera probes the imposing, Brutalist architecture of the windowless AT&T Long Lines Building skyscraper near Tribeca, subsequently reported to be an NSA peering site. "Asymptomatic Carrier" explores New York City's abandoned North Brother Island, the site of a former quarantine hospital that housed "Typhoid Mary," presently crumbling amid dense, overgrown forest. A man claiming to be living off the island for many years calls a vendor to negotiate the particulars of a flag purchase, digressing into a frank discussion encompassing time, isolation, and disease.
Following the screening, Frank Heath will appear with Screen Slate founder and media art conservator Jon Dieringer for a live discussion followed by Q&A.
Program
Path of Totality (2018, 13 min)
There is Nothing Underneath the West Virginia Wing (2018, extended cut, 17 min)
The Hollow Coin (2016, 12 min)
A Prime Condition (2017, extended cut, 18 min)
Asymptomatic Carrier (2013, 15 min)
(Runtime 75 min)
About the artist
Frank Heath is an artist and filmmaker based in New York. He has had solo exhibitions at Simone Subal Gallery, New York; Swiss Institute, New York; and Art Basel Statements, Basel. His work has been included in group exhibitions and screenings at the Kitchen, New York; International Film Festival Rotterdam, the Power Plant, Toronto; Centre Pompidou, Paris; and the High Line, New York, among other venues. His film The Hollow Coin (2016) was awarded Best Documentary Short at Indilisboa and the Kurzfilm Hamburg Deframed Audience Award. He is also the editor of Donald Cried (2017).